104 Shots From Running Around London Toy Fair 2023 On Press Day
Today is Press Day for London's Toy Fair 2023, and so that's where I am writing Bleeding Cool from. If you see me, say hi! That's part of the fun!
---
Today was the opening Press Day at Toy Fair London 2023. I managed to turn up as the door opened and wandered around Olympia Hall taking photos where I was allowed to (and through windows of places where I was not). Lots of stuff to talk about in upcoming articles, but I thought I'd burn through the remains of my data plan and get these photos up for your browsing pleasure. My bias, of course, was for IP stuff, so see plenty of Marvel and DC, as well as Harry Potter, Star Wars, Games Workshop, Bandai, Doctor Who, Funko, Todd McFarlane Toys and a little Peppa Pig as well. The mascot parade was also out, with Teletubbies, Sesame Street, and Paw Patrol roaming the corridors and blocking booths. Unlike last year, the masks and vaccination checks were a thing of the past.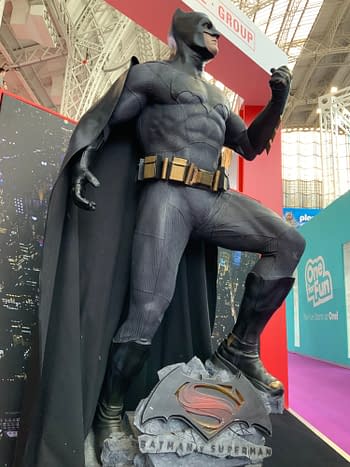 The Mystery Agency series of Escape Room games designed by Mischief Theatre's Henry Lewis probably grabbed my attention more than any other. But there was a lot to fun to be had in and around the Stranger Things license from Mighty Jaxx, who have a very fun and wide line of other stuff too. Staffed by former employees of Eaglemoss, these are people who know their stuff and know just what to play with at Toy Fair.
Hasbro did plan to have a big booth. But last week that all changed and they now just have offices in a corner of the building away from the showfloor for appointed meetings. I wonder what could have possibly caused that?
Oh and apparently, for 2023, plush is in. That comes from the very top. Time to start getting cuddly, I guess. Okay, Toy Fair, next stop Funko…
Toy Fair 2023 organised by the British Toy & Hobby Association is held at London Olympia today and for the next two says, as a trade show for retailers, distributors, manufacturers, influencers and the press. It's the UK's largest dedicated toy, game and hobby trade show with 250 exhibiting companies all under one roof including Bandai, Hasbro, LEGO, Zapf Creation, PLAYMOBIL, Funko and John Adams Leisure Limited, among many others