Albus Dumbledore is one of the greatest wizards in all of the wizarding world. I am glad Jude Law brings the character to life in a new frame in the Fantastic Beasts series. Fantastic Beasts: The Crimes of Grindelwald we got to see a different side of Albus Dumbledore that we haven't seen it before. And you can now bring your own younger version of Albus Dumbledore home with a new figure from Soap Studio. The figure is roughly 7 1/2 inches tall, has over 35 movable joints and is highly detailed and filled with accessories. One thing you can see here is that the figure is wearing clothing made of real fabrics. It was like a character that has real style clothing as it's easier to handle, on occasion, and it just looks nicer. The character completely represents the on-screen appearance of Jude Law from the crimes of Grindelwald and looks fantastic. He comes with nice Friday accessories like interchangeable hands gloves a business card his blood patch, his magic wand, a hat and even some baby Niffler's. This Albus Dumbledore figure is quite jampacked with detail accessories and is just will put together all around any fans of him should definitely get on this figure. 
The Fantastic Beasts: The Crimes of Grindelwald Albus Dumbledore figure from Soap Studio is priced at $99. This grand wizard is set to ship out between January 2020 and March 2020. Pre-orders for him are live in you can find them located here. Don't forget to check out the companion Newt Scamander figure also coming from Soap Studio.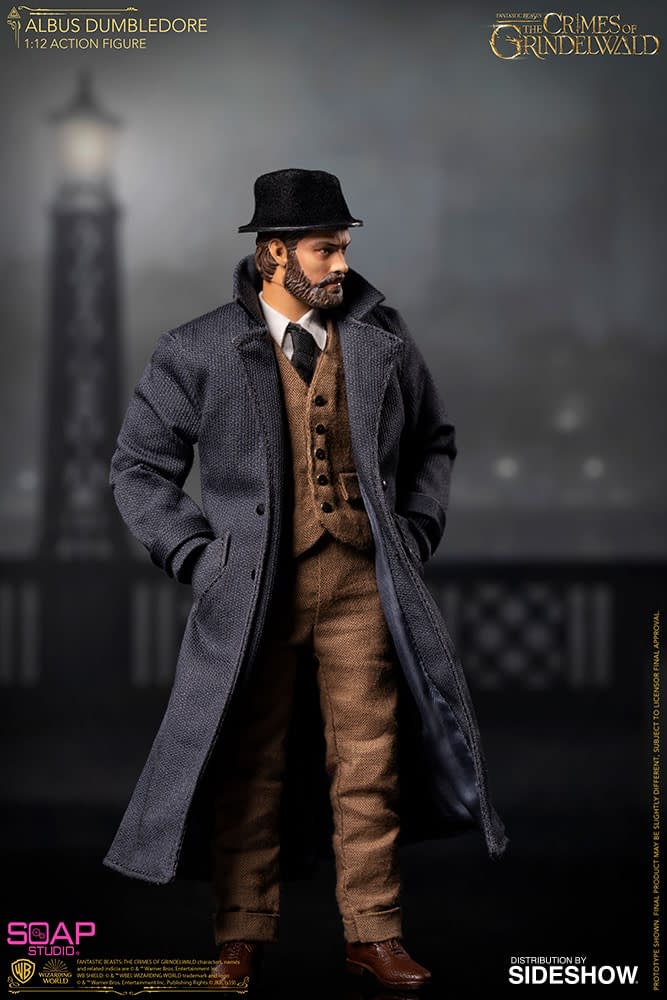 Albus Dumbledore Action Figure by Soap Studio
ABOUT THIS ACTION FIGURE
Fantastic Beasts: The Crimes of Grindelwald, a 2018 fantasy film directed by David Yates and written by J.K. Rowling, is the sequel to Fantastic Beasts and Where to Find Them (2016). It took place in New York, London and Paris and continues about the story between Newt Scamander, Albus Dumbledore, and Gellert Grindelwald.
The whole series comprise of five films, which are the spin-off and prequel to the Harry Potter film series. Albus Dumbledore has always given people the feeling of being a kind, benevolent, intelligent, powerful and wise wizard. 45-years-old Jude Law plays the middle-aged Dumbledore in Fantastic Beasts: The Crimes of Grindelwald who still had not been the headmaster of the wizarding school Hogwarts. At that time, his hair was still black and eyeglasses were still unnecessary yet. His styling is based on a standard gentleman costume. He wore the most classic three-piece suit from the 1920s and a wide wale corduroy coat. The high waisted, pleated trousers with turnups are also classic-contemporary tailoring. 
This collectible figure stand approximately 16.4cm, designed after Fantastic Beasts: The Crimes of Grindelwald (2018) characters on-screen appearance with 37 movable joints and highly detailed costumes and accessories!The figure comes with fist hands, relax hands, style hands, gloves, business card, blood pact, magic wand, baby nifflers, hat, head sculpt, blazers and coat. To allow players flexibly build their own "movie stage", a backdrop is also attached to the set. Facial sculpture with high simulation, meticulous painting and clothing made of real fabrics perfectly present the character played by Jude Law!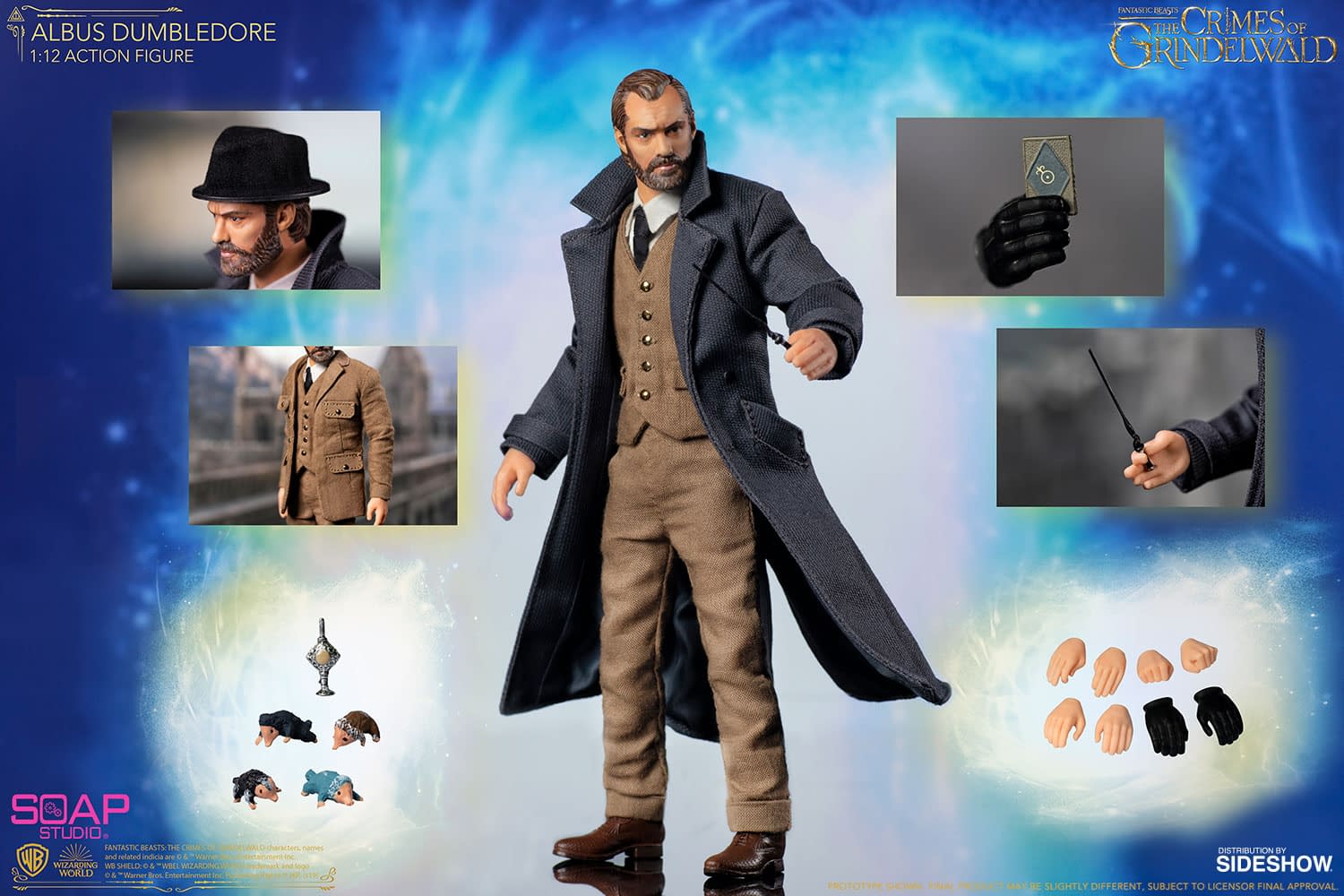 Enjoyed this article? Share it!