Bruce Lee Gets An 80th-Anniversary Tribute Statue from Blitzway
Bruce Lee is one of the greats that we lost too soon. He was an icon for martial arts, the film ministry in the 1970s and has even been a cultural icon that has easily influenced many. From his fighting style to his films he has always left people in awe. It is time for one more kick to the jaw with Blitzway's new Bruce Lee tribute statue. Blitzway spent a lot of time and effort into researching this legend just to give fans the best statue they could and do right by the man himself. The statue is a 1/4 scale and features a mixture of polystone, PVC, and fabric type elements for the most realistic looking statue on the market. The statue stands about 21.5 inches tall, features a stylized base and a flag diorama. This highly detailed tribute statue is easily so realistic you would think a miniature Bruce Lee is in your house and this would be a perfect collectible for any fan of his.
The Bruce Lee Tribute Statue Version 3 from Blitzway is priced at $499. He will be released between the end of this year and the first quarter of 2020, pre-orders are already live in available here.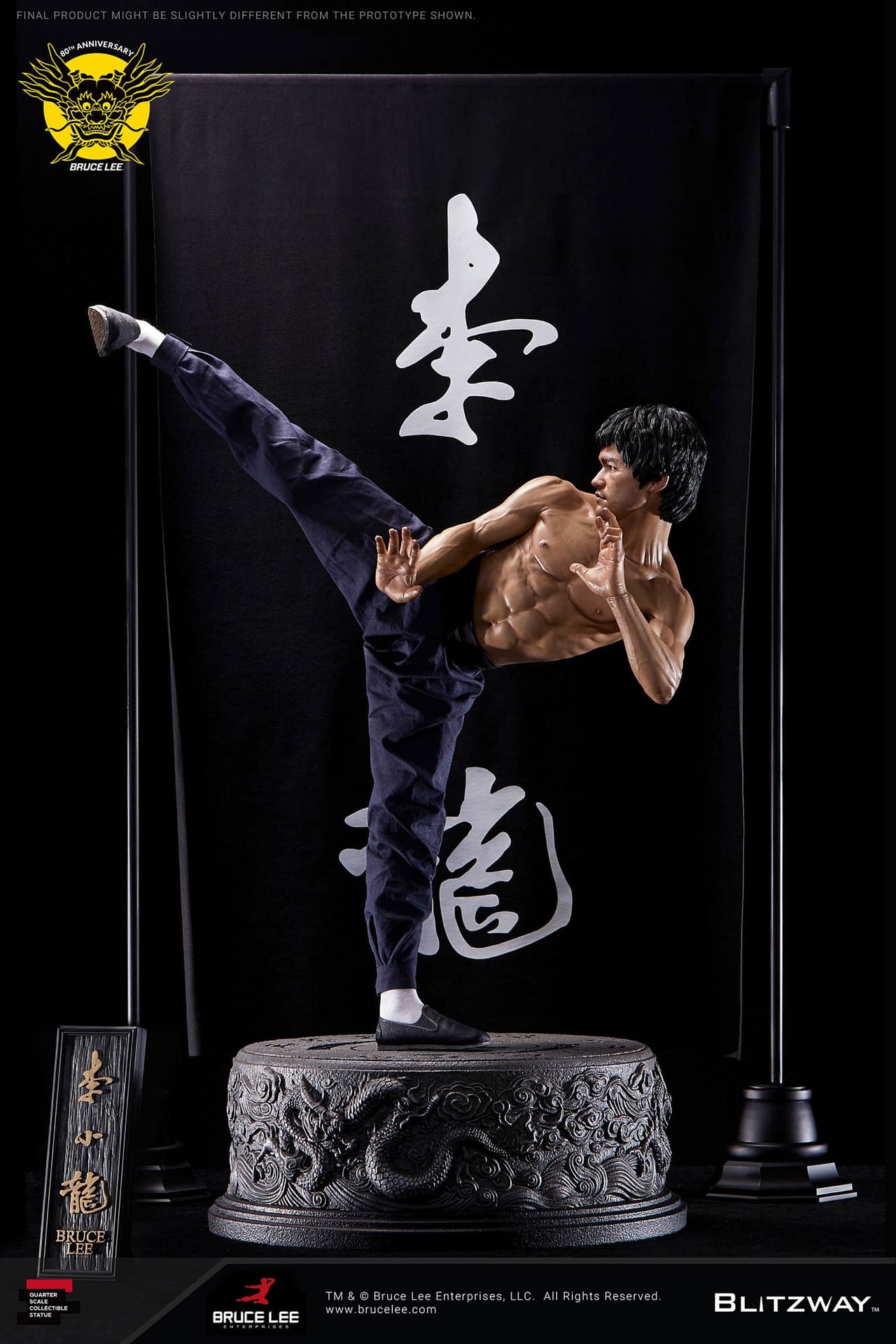 Bruce Lee Tribute Statue – Ver.3 (1/4th Superb Scale Statue)
"Be Water, My Friend"
– One of the greatest stars of the film industry in the 1970s and a cultural icon who had a significant influence in
the 20th century
– The incomparable fighter and philosopher born with natural talent
– The founder of Jeet Kune Do
These are some of the accolades that Bruce Lee received. Celebrating his 80th anniversary, Blitzway wakes the legend up once again!
In this project, Blitzway spent a long time researching and developing in order to express Bruce Lee's artistic movements which made the audience hold their breath and his strong expressions which have reached the highest perfection. As if Bruce Lee showed his incredible kick in front of us, we portrayed the vivid expressions of muscles and the exact martial arts pose. We also designed the dragon-patterned polystone base and nameplate befitting the fame and image of Bruce Lee, and the majestic flag diorama enhances the magnificent charm of the statue.
Bruce Lee, a true hero, is always alive in our hearts. Now, watch the beauty of his passionate movement right before your eyes.
"All these years later, people still wonder about how Bruce died. I prefer to remember how he lived."
Features
– BW-SS 20501 – BL Tribute 1/4 scale statue – ver.3
– Highly detailed likeness portrait and body
– Exquisitely tailored outfit
– Precise and highly detailed accessories
– Newly designed realistic diorama base