Daenerys Targaryen is the Mother of Dragons in the New Team-Up Statue
Daenerys Targaryen was one of my favorite characters to come out of Game of Thrones. I do feel like they didn't really give her justice after such a build-up in the final season. So I'm excited to see a past look at the rightful Queen Daenerys Targaryen with a collaborative statue from Blitzway and Prime 1 Studio. The statue stance 24 inches tall and showcases Daenarys Targaryen on a throne with her three pet dragons around her. The statue is beautifully crafted and wonderfully artistic. I love how it captures the representation of Westeros from the earlier seasons of Game of Thrones too. It is a nice touch to have the three dragons next to her as she is the mother of dragons. One unique feature is that her outfit is actually made of fabric. This brings a whole new dynamic field to the statue and would be perfect for any Game of Thrones fans or fans of Daenerys Targaryen and House Targaryen.
The Game of Thrones Daenerys Targaryen Mother of Dragons 1/4 scale statue from Prime 1 Studio and Blitzway is priced at $1199. Payment plans will be available so no need to worry. She is set to release between January and March 2020. Pre-orders will go live Friday, November 8 at 3 PM based on Japan time. The link to find her is located here and I hope we can see more Game of Thrones statues in the future from them.
"I am Daenerys Stormborn of the House Targaryen, First of Her Name, the Unburnt, Queen of the Andals and the First Men, Khaleesi of the Great Grass Sea, Breaker of Chains, and Mother of Dragons."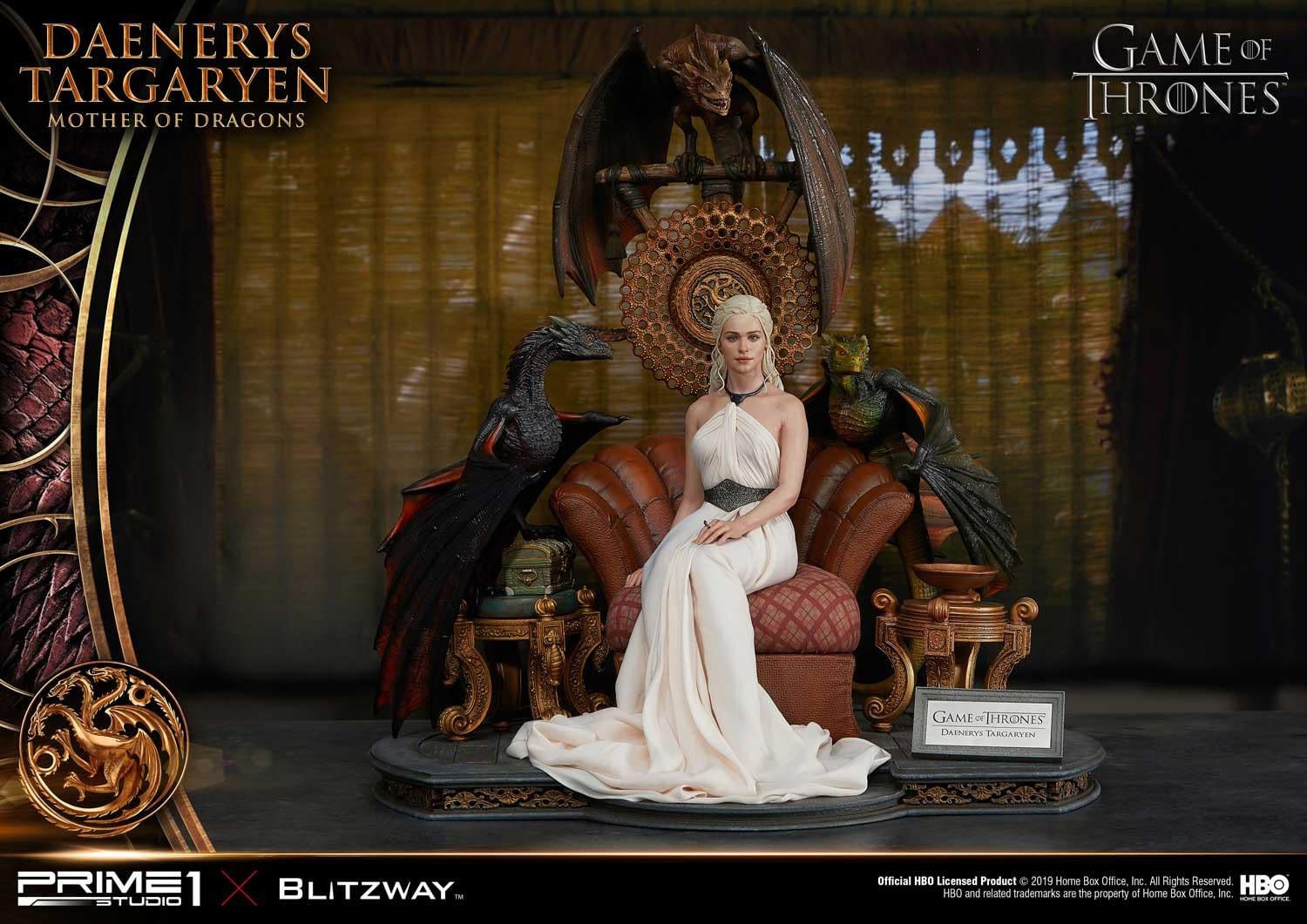 Game of Thrones – Daenerys Targaryen "Mother of Dragons" 1/4 Scale Statue
"I will take what is mine with fire and blood."
Prime 1 Studio & Blitzway are proud to present our first collaboration piece from one of the most popular American fantasy drama TV series Game of Thrones – the beautiful Dragon Queen – Daenerys Targaryen portrayed by English actress Emilia Clarke.
With Studio Hive joining us for the Concept Design and Blitzway's special top artist team with the incredible talented Blitzway's Sculptor/Painter K. A. Kim, we have created a high-quality stunning piece of art and beautiful features through the innovative collaboration and interaction between the two companies applying each other's aesthetics and technologies.
Daenerys is one of the candidates for the Iron Throne. She is described as a beautiful woman, with long, pale silver-gold hair and eyes like amethysts.
Blitzway's special top artist team did the wonderful job on the statue as they are the industry's top class in face modeling. All the characteristics are faithfully reproduced to the smallest details. The dress is made of fabric material which gives a nice touch of reality. The beautiful Mother of Dragons is surrounded by her three baby dragons – Drogon, Rhaegal, and Viserion. They are crafted with the precision and attention to details to please even the most demanding fans. Do not miss the opportunity to add this wonderful piece to your fantasy collection!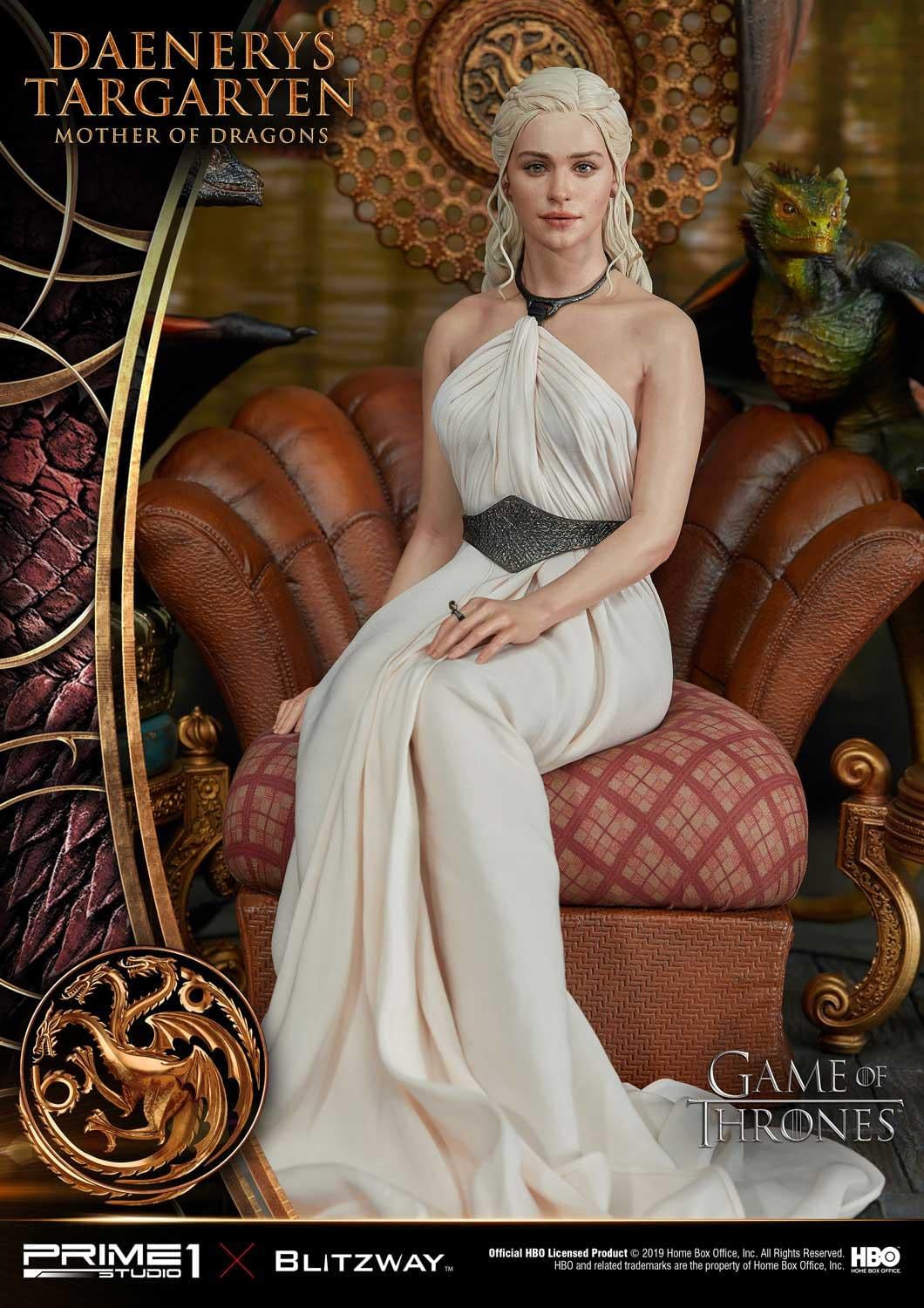 Specifications:
– Statue Size approximately 24 inches tall [H:60cm W:60cm D:57cm]
– One (1) designed theme base from one of the iconic scene in the S03E07
– One (1) movable Nameplate