Dark side Rey was definitely a shocker to us fans in the D23 exclusive Star Wars: The Rise of Skywalker trailer. Who knows how this movie will end this long saga, will return to the dark side? Will Kylo Ren become the savior? How does the Emperor fit into all this? These questions can only be answered with Star Wars: The Rise of Skywalker that will premier December 20, 2019. Until then we have collectibles to collect in theories to create. EFX is allowing us to own a piece of Star Wars history and that trailer with dark side Rey's replica red double bladed lightsaber. This lightsaber is the double bladed saber that we saw in the trailer and even has an actual functioning hinge as was the same used on the on-screen prop. It does have a hardwood display base, machined from solid aluminum and has metal detailing components. This is a great lightsaber all around is insane how much detail has for only the quick a couple of seconds of screen time we saw her in. We don't even know if this will happen or if it could be a deleted scene. Only time will tell but the schedule is still great all around. It is perfect for fans of Rey and any Star Wars sith collectors out there.
Star Wars: The Rise of Skywalker Dark Side Rey Lightsaber Limited Edition Replica from EFX will be priced at $1599. It is set for release in the first quarter of 2020 perfect timing for the end of the movie collectibles. Pre-orders for this are already live and you can find them located here. Don't forget there will be only 750 pieces available so act fast.
Let the ahte flow through you

Star Wars: The Rise of Skywalker "Dark Side" Rey Lightsaber Limited Edition Replica
Product Description
Based on the first trailer of Star Wars: The Rise of Skywalker when fans witnessed Rey with a red lightsaber. Has Rey been seduced by the Dark Side?
EFX is proud to offer the Limited-Edition prop replica of the "Dark Side" Rey! It is machined out of solid aluminum with all metal details pieces. This replica is based on a detailed study of the actual prop and reference materials supplied by the Lucasfilm production team. This lightsaber is screen accurate not only in the geometry, but down to the detailed weathering, as well. Also, the hinge mechanism is the same one that was used in the actual prop.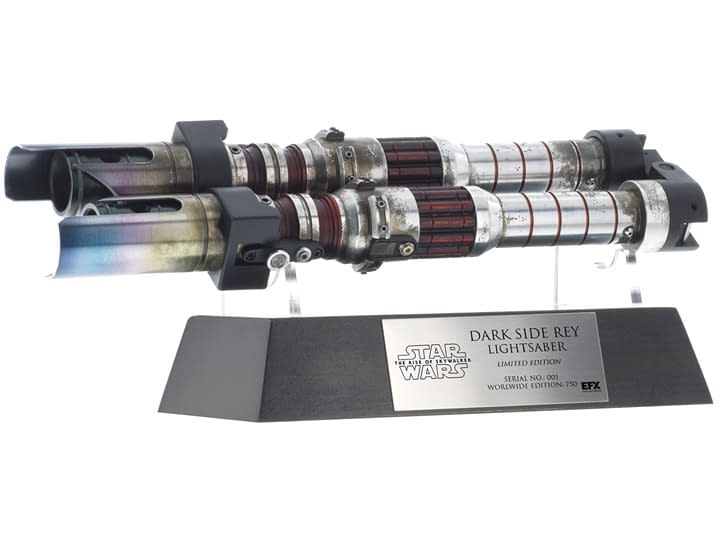 Product Features
Full scale replica
Machined from solid aluminum
Metal detail components
Limited edition of 750 pieces
Actual functioning hinge as used on the screen-used prop
Hardwood display base
Can be displayed two ways
Box Contents
Lightsaber
Display base
Numbered metal plaque
Enjoyed this article? Share it!