Deku Is Ready to Prove Himself with New Funko Pop Figures [Review]
My Hero Academia Season 4 is in full blast and it is just kicking down the doors with this season. A world full of heroes defending the world from villains is nothing but the norm in this modern era. The stories coming from Marvel and DC have been around for generations and it's no surprise that the Japanese have captured it perfectly in there manga and anime. Nothing says My Hero Academia like the main character Izuku Midoriya / Deku. Funko Pop has released another amazing wave of My Hero Academia Funko Pop vinyl figures, covering villains, heroes and, students. In the newest wave, we get Izuku Midoriya in his full-fledged hero outfit and before him, we got an Entertainment Earth Exclusive Deku. This review will be covering both of those figures and why you should pick them up.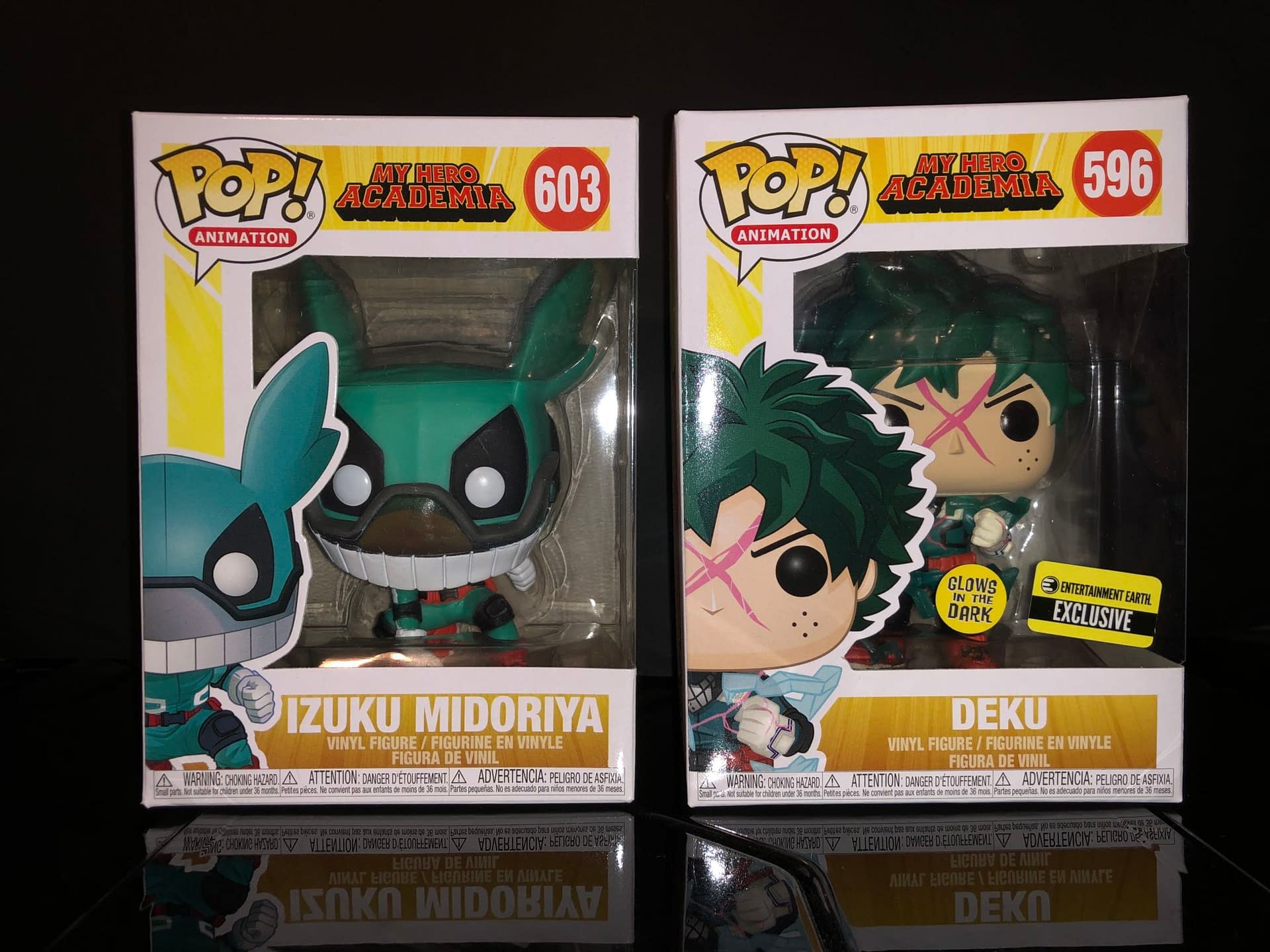 First up is the Entertainment Earth exclusive Deku Funko Pop! He is more detailed than ever and even shows off his newly updated costume. We could see this in Season 3 when he focused more on his legs as units of All for One. This Deku is unique from more than just a costume he does glow in the dark!. The giant red X on his face does show the power surrounding along with full-body electricity around his body. We have seen this before in a lot of the Dragon Ball Z Funko Pop's and I enjoy it on this figure. Deku glow features aren't represented here in these photos but I can assure you it is awesome. The detail on this character is definitely given off amazing energy and is perfect for any My Hero Academia.
The last part of this review is the fully superhero costumed version of Izuku Midoriya. Unlike the other ones, this one is finally titled as Izuku Midori you which is kind of odd because when he's in costume he should be referred to his superhero name. This is a new and interesting outfit and I love the detail on it. With the teal colors and the face mask, it brings Izuku full circle. We were able to capture half of this style in the Hot Topic exclusive Battle Damaged Deku. Which was hard to find at one point but it definitely has dropped off in value and fallen off the eyes of collectors since.
I am sure we will see a lot more My Hero Academia Funko Pops in the future. With a long cast of characters from pro heroes, teachers and students there is a nice variety Funko can pick from to be in their next wave. I am sure this is not the last time we will see Deku as a Funko Pop either, and you can bet we will see another All Might. Only time will tell what the future holds but for now, we have these and you can add them to your collections today and now are. You can find the Entertainment Earth exclusive glow-in-the-dark Deku here and you can find the new superhero costumed Izuku/Deku located here.
Plus Ultra!