This year has not at all turned out how we all thought it would turn out. As days continue, things seem to get worse and better at the same time. The pandemic has shaped not only the world but the community of pop culture as companies shuffle conventions, concerts, and movies. Larger companies continue to plan for the future and some are taking the ultimate sacrifice. Funko has just announced that they will be adapting to the changes the world is facing with limiting their production supply. We all hope this pandemic can subside but if it doesn't, places need to prepare for ways to save the places we love for when things do continue to normal.
In an effort to adjust to the closed retailers around the county, Funko will be reducing its products sent to the market. This will make it quite difficult for collectors to find Funko Pops, Mystery Minis, PEZ, Funko Soda, and many more collectibles to get a hold of. Of course, we have plenty of more important things of concern at the moment but this means the rest of 2020 will be a rough time after this all ends. Retailers will be notified that certain products will be put on hold or moved to future release dates. Rumors are already spreading that the newest wave of My Hero Academia has been already stopped as well as some other franchises.
2020 will be a rough time for all of us, everything has already been shifted to the fall so the summer will be slim. Collectors can stay safe now and not continue the hunt as the virus hopefully goes away. These times are tough for everything so stay safe out there and shift your retailer hunt to a cyber hunt. Pre-Orders will lock down any collectible you want and will save you the stress of hitting the store so take advantage of it. Check out the official statement below: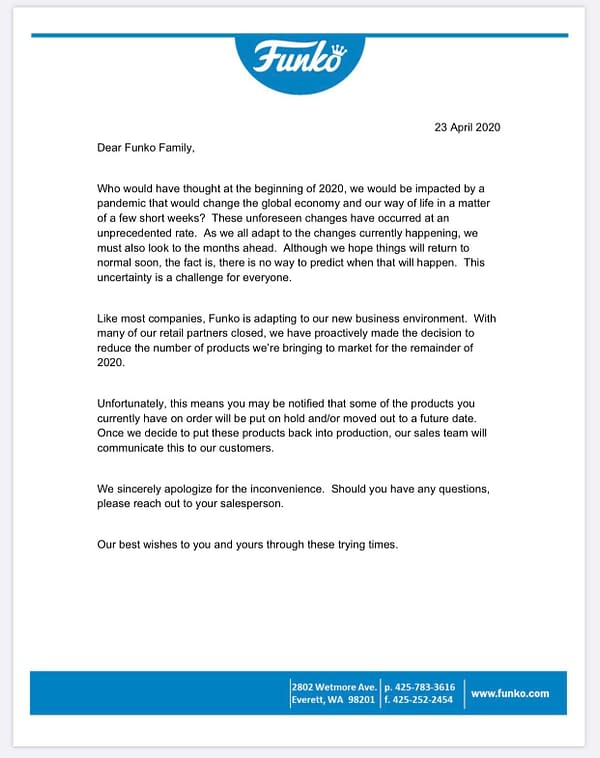 Enjoyed this article? Share it!