Funko Supports Pride as They Announce New Pop Vinyl Figures
Funko has announced some new Pops are on the way but these ones are special. No, they are not exclusives or super limited edition but they are here for a special celebration. To help support the It Gets Better Project they have announced 3 new figures. These figures are here to help support and connect the LGBTQ+ youth around the globe through the world of collecting. Iconic characters Batman, Hello Kitty, and Spongebob will all be getting new rainbow paint jobs. It also looks like they are shown as being transparent but hard to tell with the pictures. These are great Pop figures that show the love of collecting can connect everyone.
Pre-orders for all of the figures are already live. They come in special boxes and you can find them all located here.
Check out all the info below: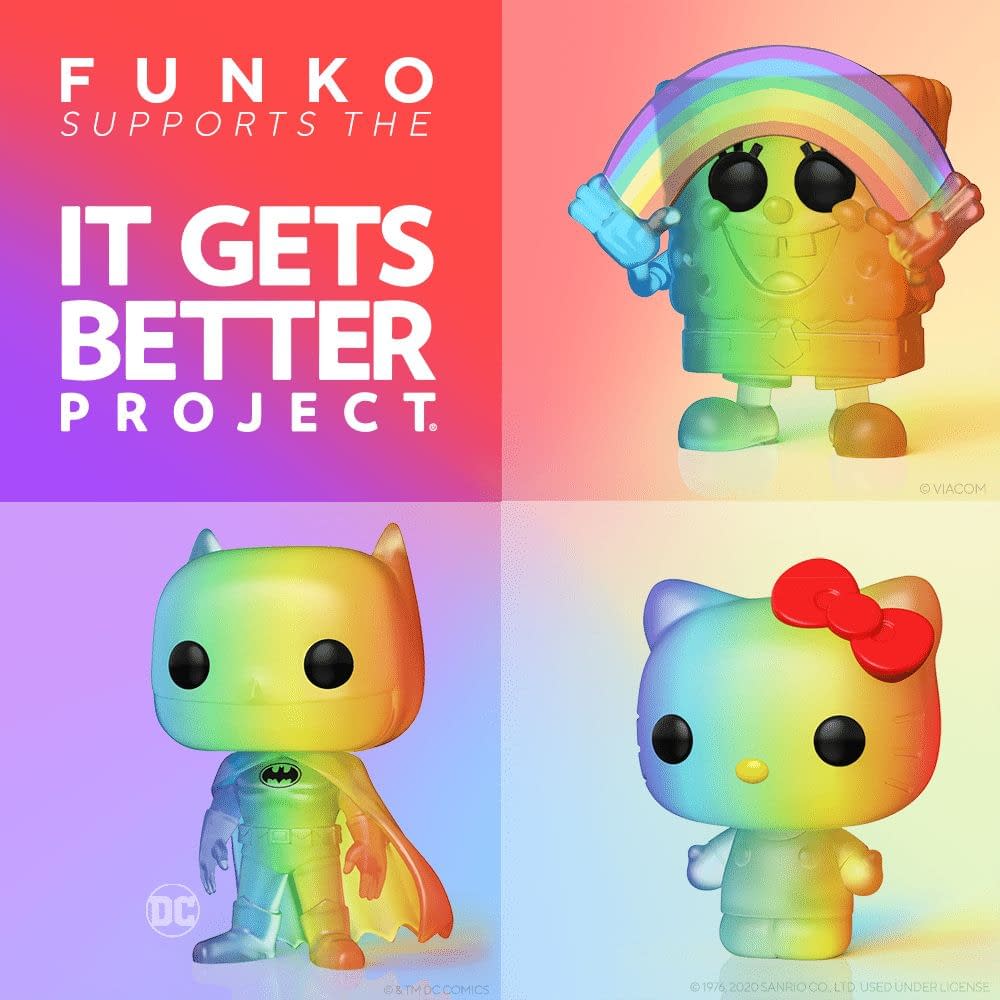 Funko Supports Pride!
Our FUNKO PRIDE POP! collection is a celebration of inclusivity and acceptance. Funko supports the LGBTQ+ community and rejects intolerance and discrimination. At Funko, FUN is for EVERYONE! A donation from Funko has also been made to the It Gets Better Project, an organization that uplifts, empowers, and connects LGBTQ+ youth around the globe, in support of this program. The It Gets Better Project inspires people to share their stories and remind the next generation of LGBTQ+ youth that hope is out there, and it will get better.
Show your support and pride with these special edition rainbow collectibles: Pop! Batman, Pop! Hello Kitty, Pop! SpongeBob.
We would like to thank our licensing partners, Nickelodeon-Viacom, Sanrio, and Warner Bros. Consumer Products on behalf of DC for their partnership and support in the development of the first Pride collection.
Coming soon!
Find more about It Gets Better Project here and the link to the original Funko article here.