James Bond is just as iconic as most movie series out there to this day. He has traveled across generations and has been recast over and over again. The 007 franchise is defiantly the blueprint of what made spy movies and action thrillers what they are today. Dr. No debuted back in 1962, with Sean Connery taking up the role as Jame Bond and Joseph Wiseman as Julius No. BIG Chief Studios recaptures these two classic characters with their new figures models. Both are tailored after their retrospective actors and the details of these figures are quite lifelike. These sixth scaled figures showcase an authentic styled and handmade outfit, an illuminated name plaque, and base. Each character gets a great assortment of accessories like James Bond gets his pistol, gun case, cigarette, lighter with so much more. Dr. No's gets items accessories like his tarantula in a cage, a crush statue, champagne, and interchangeable hands. This is a great collector's item and something unique to own for James Bond fans young or old. 
James Bond and Dr. No preorders are love and available here. You can preorder the set together, which looks like it is a limited edition to only 800 pieces. If you do not want the set and just James Bond, you can get two exclusive add-ons; a bowler hat and a outer jacket. The release is in August 2020 and each character is over $200, with Dr. No being around $210 and James Bond being $250. The collector's limited edition set for both is priced at around $500 on the UK site. Single versions of each should be able to be ordered from your local comic shop. 
"Bond, James Bond"
Product Description
BIG Chief Studios are proud to present the Dr. No Sixth Scale Character Replica Figures. From the fully realized portraits to the authentically styled, hand-tailored costumes, our artists have developed the most faithful, meticulously detailed replicas in miniature.
James Bond
James Bond is dispatched to Jamaica to investigate the disappearance of a fellow British agent. The trail leads 007 to the underground base of Dr. No, who is plotting to disrupt the American Project Mercury space launch with a radio beam weapon.
Dr. No
Dr. No is a brilliant scientist who offered his skills and expertise to the Americans and then the Soviets. Rejected by both superpowers he relocated to his island lair, Crab Key in Jamaica. Now an operative of the secretive organization SPECTRE, No embarks on his criminal plot.
Officially licensed and fully authorized by EON Productions Ltd., the James Bond Sixth Scale Collector Edition Figures are produced in a worldwide numbered limited edition. The figure comes with numerous accessories including a special display base with illuminating character name plaque.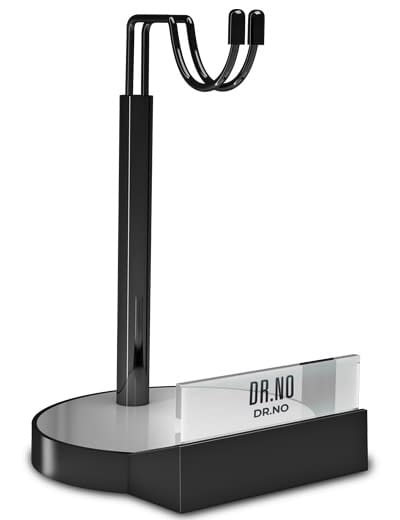 What's in the Box
James Bond
 • 1 x James Bond Portrait Head featuring Authentic Likeness of Sean Connery
 • 1 x Midnight Blue Tuxedo Jacket
 • 1 x Midnight Blue Pair of Trousers / Pants
 • 1 x Shirt with Pleated Front
 • 1 x Bowtie
 • 1 x Shoulder Holster
 • 1 x Pair of Socks (Partial)
 • 1 x Pair of Gentlemen's Shoes
 • 1 x Display Base with Illuminating Character Name Plaque
 • 1 x Cigarette Lighter
 • 1 x Cigarette Case
 • 1 x Cigarette
 • 1 x Pistol
 • 1 x MI6 issue Gun Case with Removable PPK Pistol
 • 1 x Dealing Card Shoe
 • 1 x Pack of Cards
 • 1 x Wristwatch
 • 2 x Large Poker Plaques
 • 2 x Medium Poker Plaques
 • 2 x Small Poker Plaques
 • 3 x Stacks of Money
 • 10 x Interchangeable Hands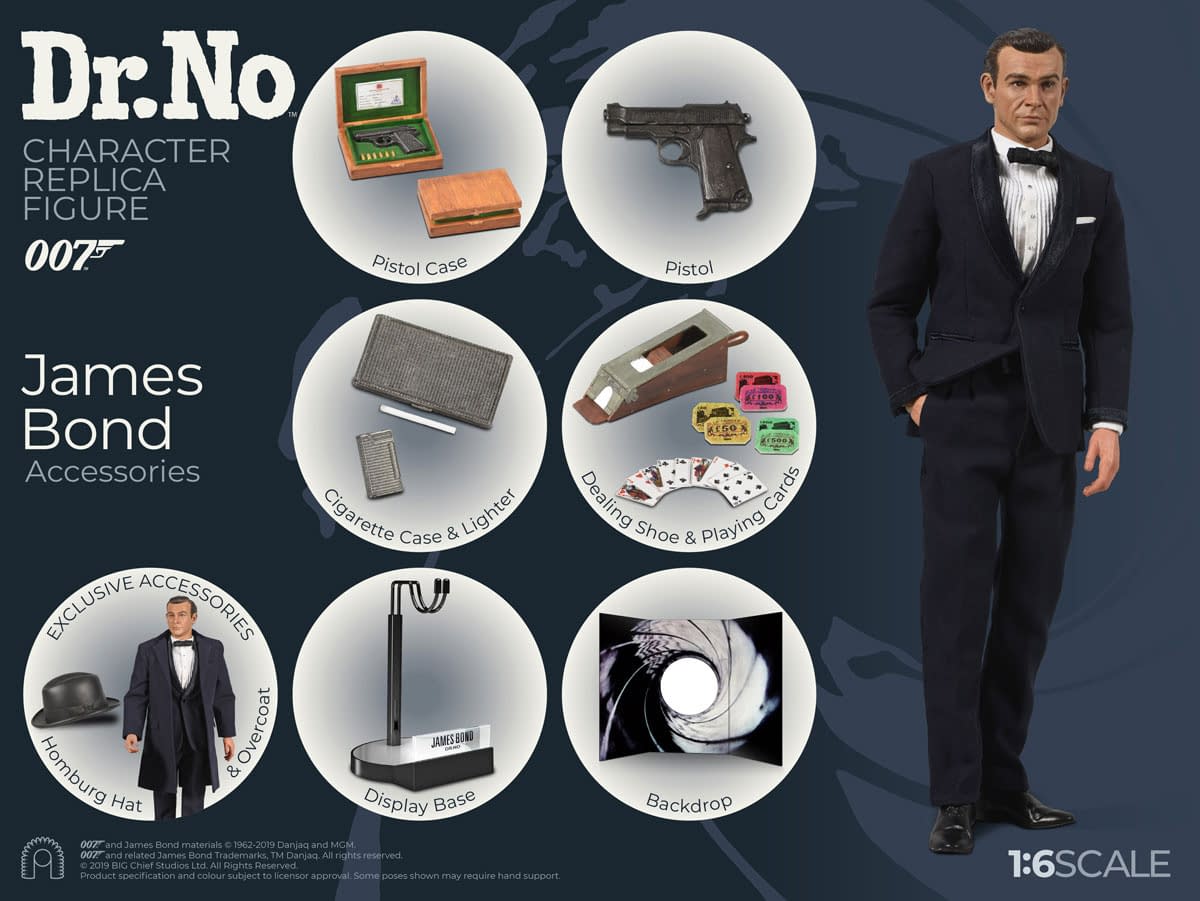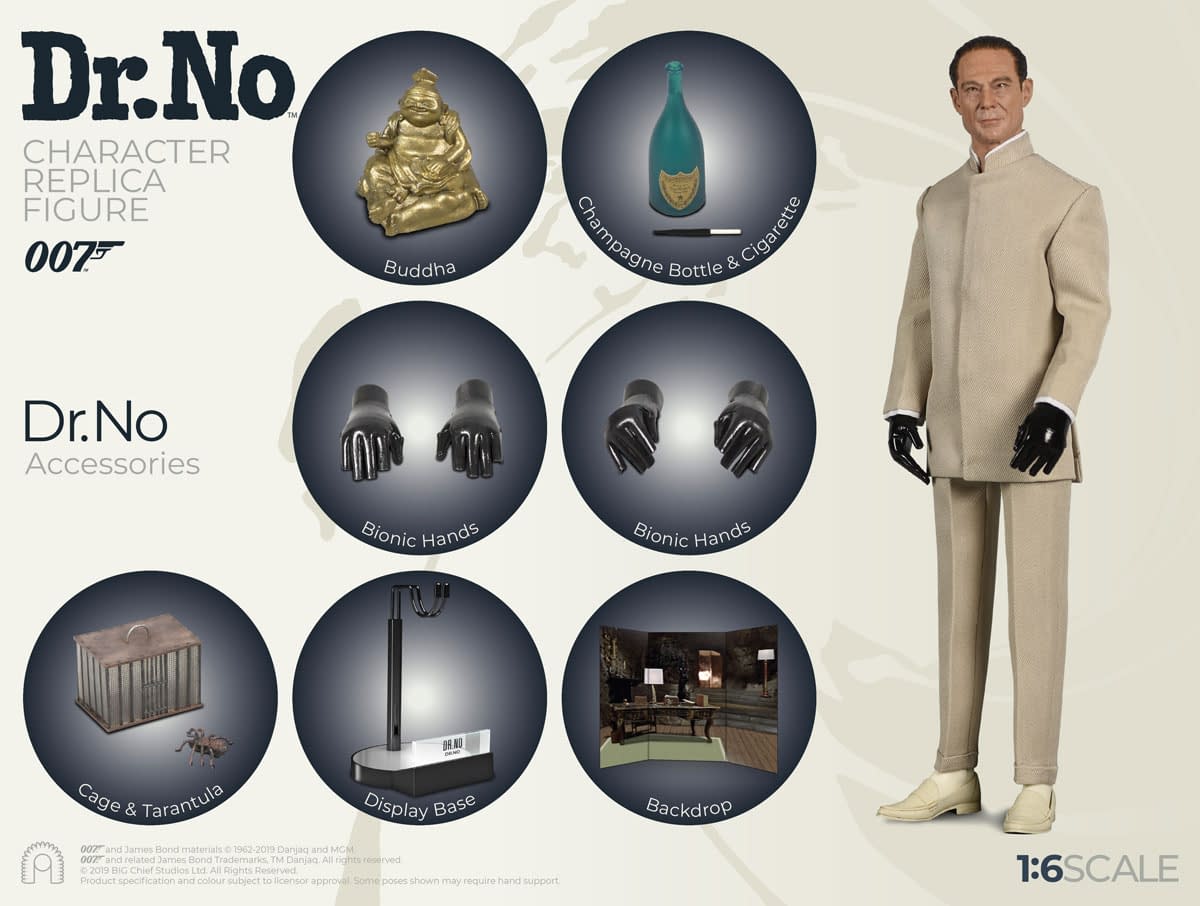 Dr.No
 • 1 x Dr.No Portrait Head featuring Authentic Likeness of Joseph Wiseman
 • 1 x Nehru Jacket
 • 1 x Pair of Trousers / Pants
 • 1 x Pair of Socks (Partial)
 • 1 x Pair of Gentlemen's Shoes
 • 1 x Display Base with Illuminating Character Name Plaque
 • 1 x Crushed Religious Statue
 • 1 x Cigarette in Holder
 • 1 x Bottle of Champagne '55
 • 1 x Tarantula in Cage
 • 4 x Interchangeable Hands