The Terminator Gets Down and Dirty with Chronicle Collectibles
The Terminator is back with the recent release of Terminator: Dark Fate. I'm glad to see some more Terminator collectibles coming into the framework. This time we will be getting a 1/4 scale statue from Chronicle Collectibles and the statue is limited edition to only 500 units. And it includes a 3-D rendering and sculpted likenesses of Arnold Schwarzenegger from his portrayal as the Terminator. The statute is pretty unique as it showcases not only the human form of Arnold Schwarzenegger but the torn away skin revealing the T-800 exoskeleton underneath. The statue stands about 18 inches tall it even includes an interchangeable arm, one with hand and one without. The figure is loaded out with LED lights so you can light up his eyes which is always pretty badass when it comes to the Terminators. The base is detailed out with some rubble and debris to give you that apocalyptic feel. The detail on this figure is quite unique with the blood and wounds. This is a great statue all around do you perfect for any Terminator fan or upcoming fan from the Terminator: Dark Fate film hitting theaters now.
The Terminator: Dark Fate T-800 Battle Damaged 1/4 Scale Statue from Chronicle Collectibles will be priced at $599.99. Don't forget payment plans are always available through Chronicle Collectibles so no need to worry. remember this figure is a limited edition to only 500 pieces so ask now before it's too late and pre-order links are located here. He will be back in onto your shelves estimated in the fourth quarter of 2020. Don't forget to check out all the other amazing collectibles available through Chronicle Collectibles.
I am back!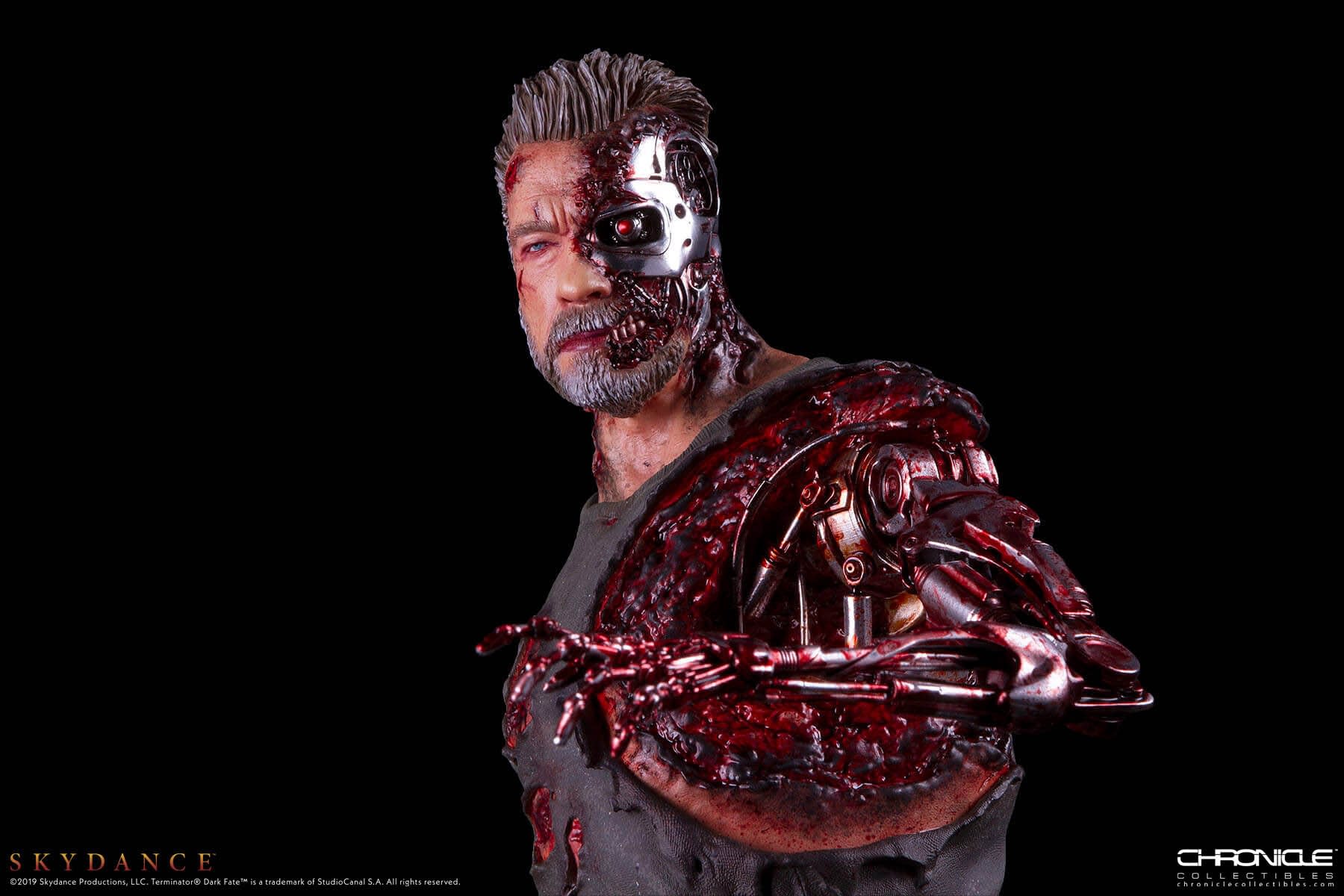 Terminator: Dark Fate – T-800 Battle Damaged 1/4 Scale Statue
Product Details:
– Official Terminator: Dark Fate collectible
– Created using 3D assets from Legacy Effects
– Sculpted in the likeness of Arnold Schwarzenegger as The Terminator
– 18 inches in overall height
– Includes two endoskeleton arms, one with his hand and one without
– Cast in polyresin with a painted metallic endoskeleton finish
– Detailed multilayered environmental base
"This has been the sequel Terminator fans have been waiting for. We're so happy to debut the world's first 1:4 scale statue from the film. As lifelong Terminator and Arnold fans, this statue is a dream come true for us." – Robert Davis, Social Media & Events Outreach