The League of Villains made a great first impression on all of the fans of My Hero Academia. Their first appearance in the JSA was quite a badass entrance. While our heroes did prevail, it did show that there are as many villains as heroes in this world. Funko announced a whole variety of My Hero Academia Pop vinyl figures. Some of which were exclusives, today we have two of those exclusives and the main villain himself all for one to review.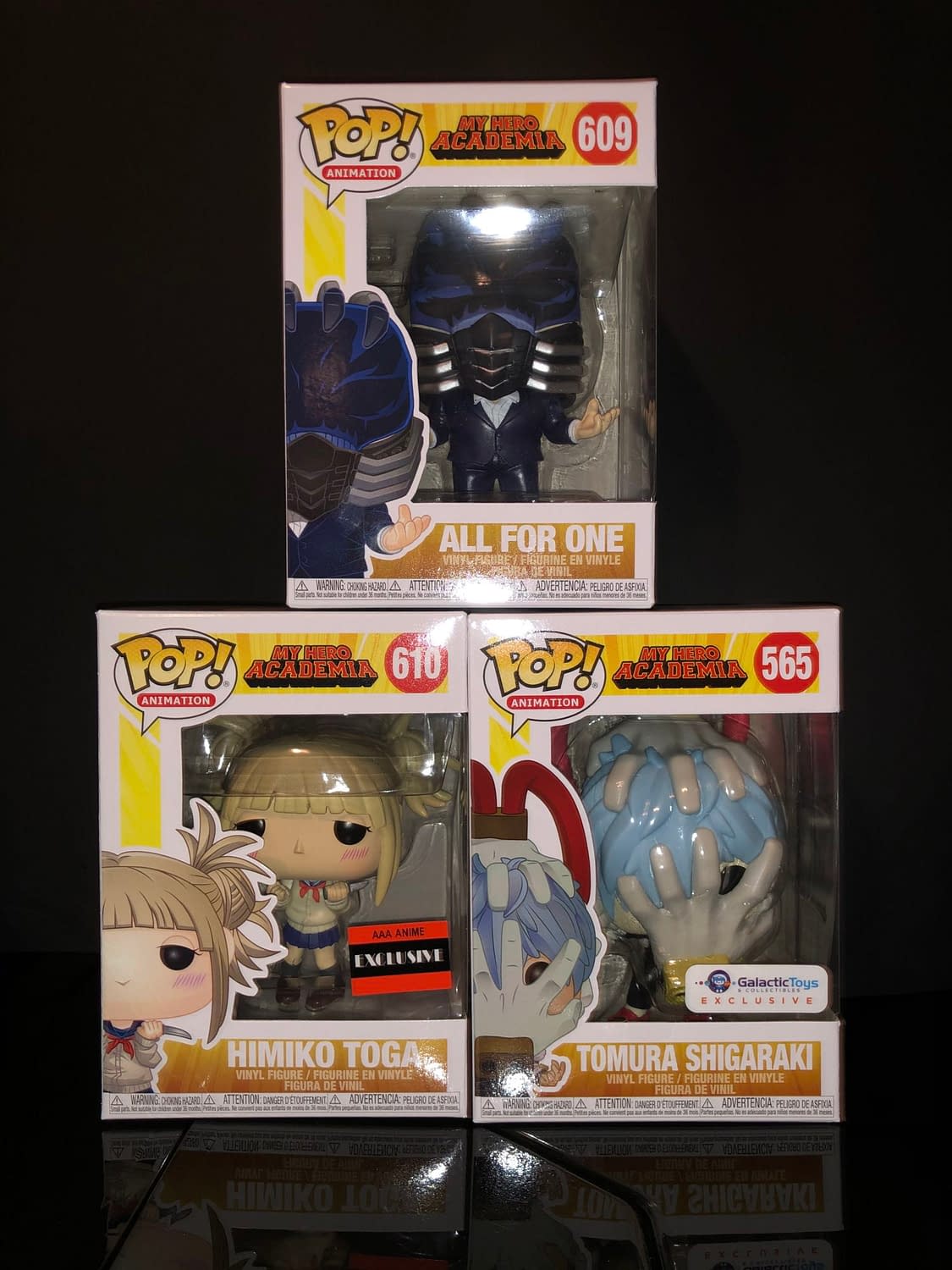 First, is the League of Villains is the mastermind and arch-nemesis of All Might, All for One. This figure was a common release and should be available in stores now. There will be a secondary all for one that will be exclusive to Big Apple Collectibles later on.. Nothing is special or any different about the box then the usual style.
The figure itself is super unique, as his mask is designed remarkably well and is something else. I did notice that his head can't fully turn left and right with only small turns of 45 degrees. This is because the front part of the mask stops that movement. The mask is pretty unique though as it grabs the anime style that we see with the face hidden underneath the mask. The design of the helmet/mask that covers the face with the shadowed face beneath the mask. The valves and pipes on the mask are nicely done too as they go around and come up with the backside of the mask.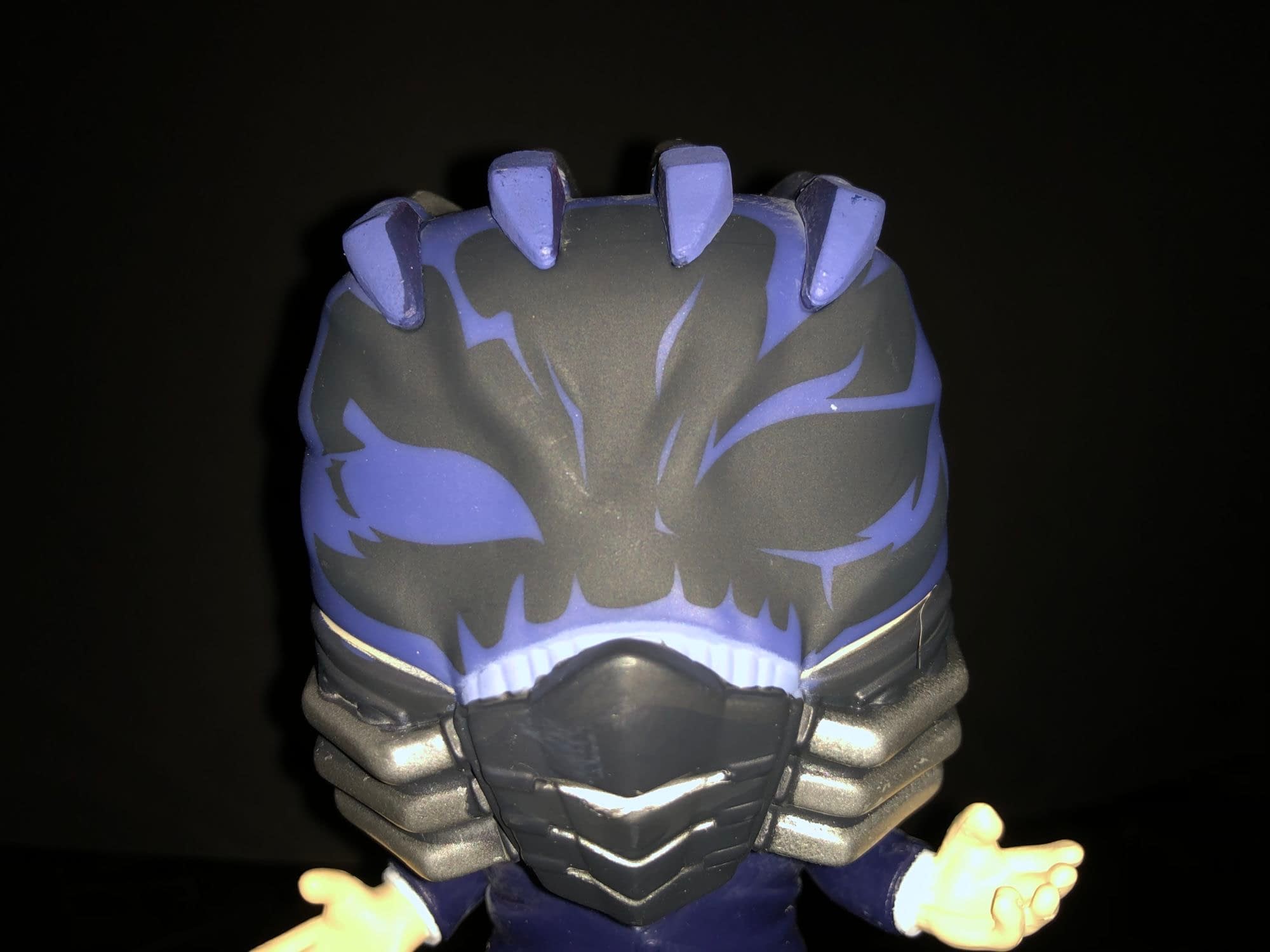 This figure is definitely unique and was a much-needed addition to the My Hero Academia Funko Pop series. I hope we can see more villains come out of the League of Villains so we have more figures us collectors can own and show off our love for the series. Next up is the Galactic Toys exclusive Tomura Shigaraki. This character design is so unique is probably one of my favorite My Hero Pop Vinyl in the series. Nothing is special about this box except for the Galactic Toys exclusive sticker placed on the front of the box.
Completely based on his look in the television show, Tomura is covered in decaying hands. This League of Villains character is amazing and I love how you can see his Pop versioned eye looking between two of the fingers on that hand. This figure does hold a lot of weight as you can see there's a lot of plastic here. It is very uniquely designed with all the little hands on his arms and the bigger ones surrounding his head. I love the colors here too, as the light blue hair shines well with this style and it makes a perfect Funko Pop exclusive.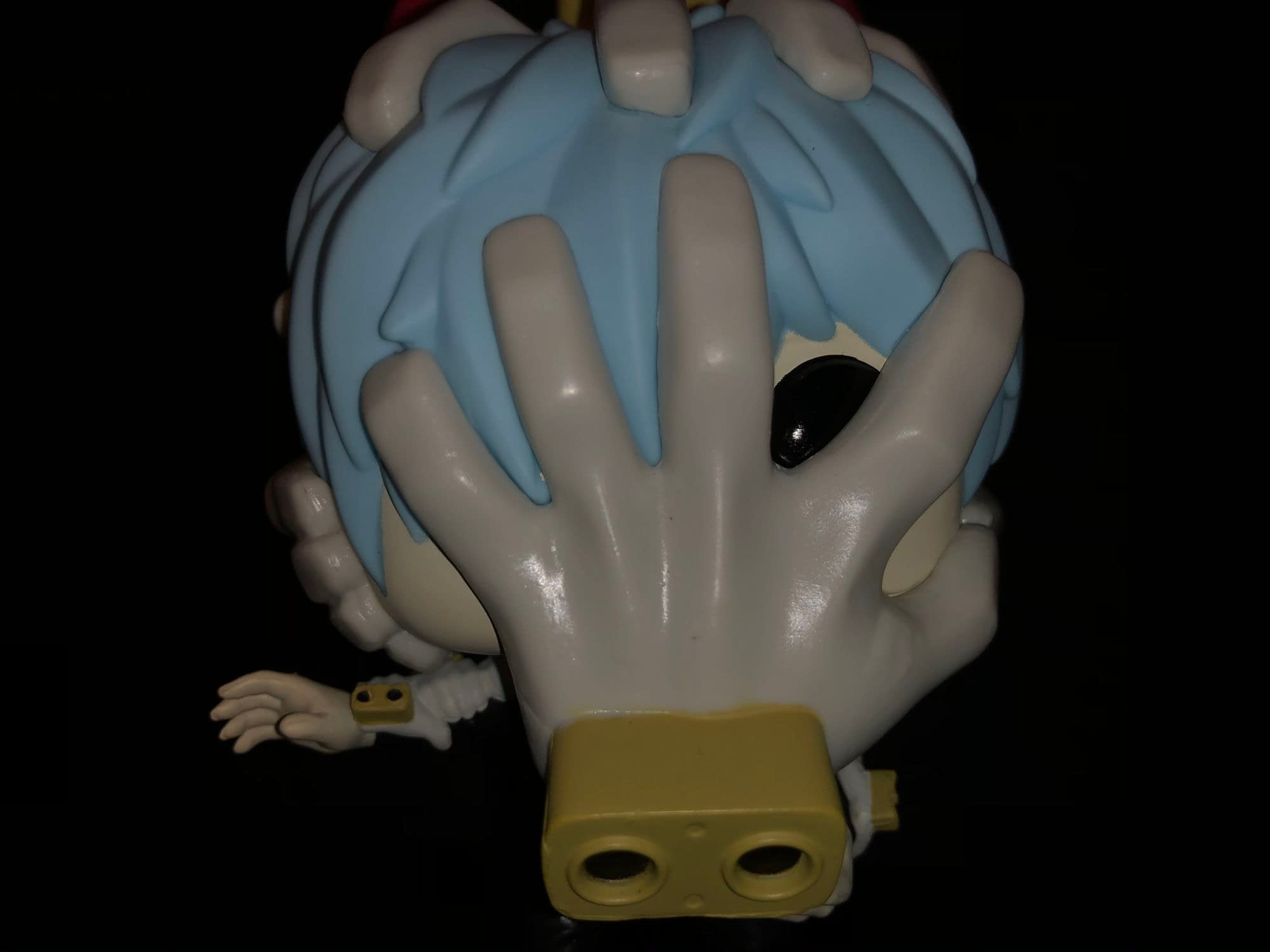 The last League of Villains and characters in this review is the AAA Exclusive Himiko Toga. This lovely, deadly lady seems to have the power to morph into other people. You can see this during the hero license exam episodes of My Hero Academia Season 3. Nothing is really special about this box compared to the rest of the series except for the AAA Exclusive sticker on the front of the box.
I do love how certain characters are getting exclusives, it keeps the hunt alive as well as some of these Funko Pop's some time to shine. The figure shows off Toga being giddy like a schoolgirl with a knife in hand. Like most of Funko's recent designs, this one is a very unique and one way to describe it I would say emotionally dynamic. You can see the style of her hair as well as blushing on her face and she's even posed showing emotion. It's kind of hard to capture emotion in a vinyl figure but Funko did it, and it is lovely. This exclusive figure is perfect for any of My Hero Fans collection. You should try her out in a blood-splattered Pop protector too as it really upgrades her lethal factor.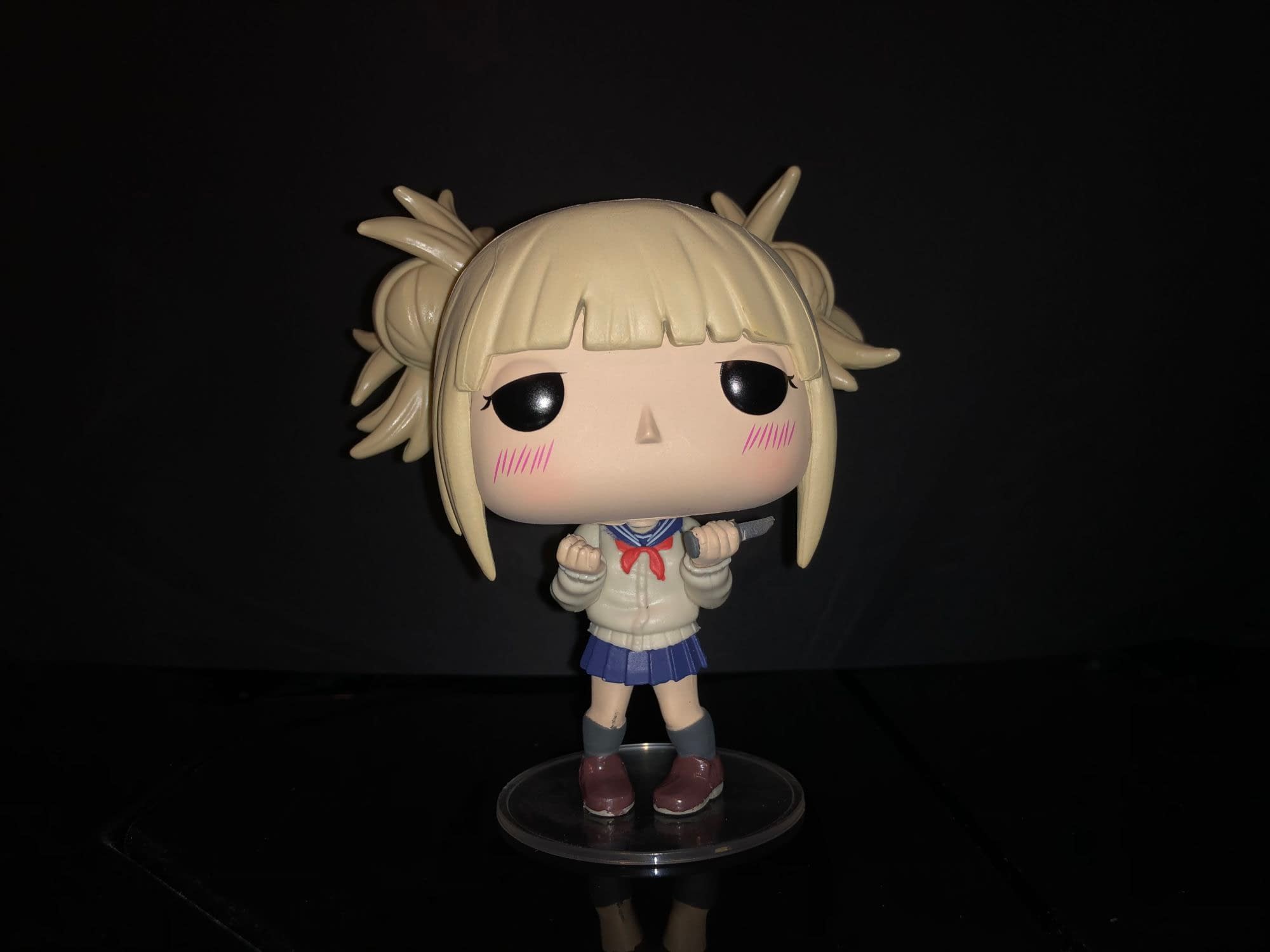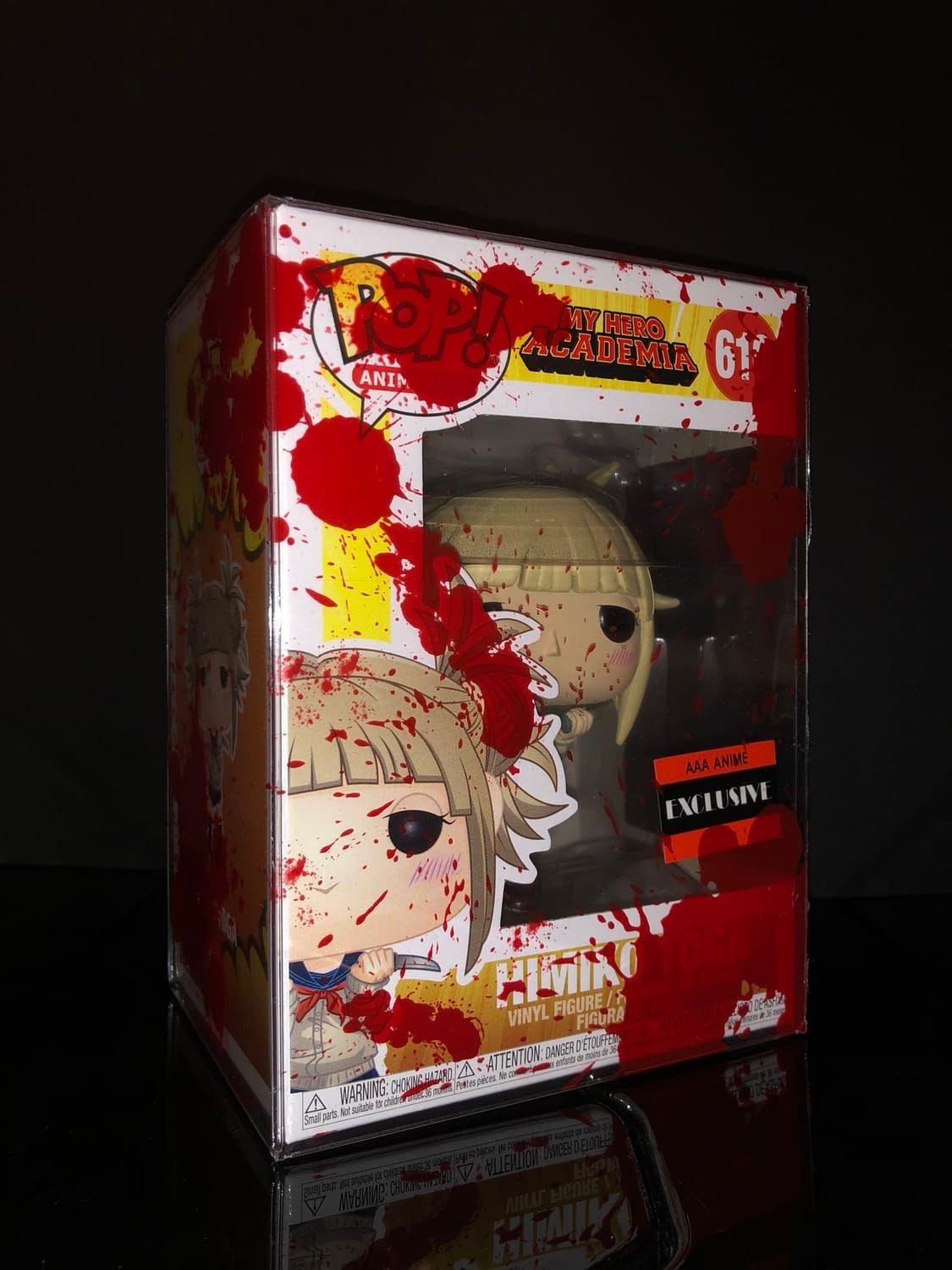 All of these League of Villain Funko Pop's are great additions to the My Hero Academia collection. Each one brings something unique to the table and that's what I just love about Funko. The All for One Funko Pop is hitting stores already and you can also get yours here. The AAA Exclusive Himiko Toga Funko Pop is still available and you can lock down yours here. Lastly, the Galactic Toys Tomura Shigiraki exclusive Pop is located here. All three of these Funko Pop figures are worth the purchase and perfect for your My Hero Academia collection. PLUS ULTRA!