NYCC exclusives are starting to be announced, and Storm Collectibles is getting in on the act. Two new Mortal Kombat figures will be offered at the show. We saw these before at SDCC, and now we know where we can get our hands on them. Rain and Smoke will come with multiple sets of interchangeable hands, effects pieces, and feature super-articulation. If you have picked up any of their other Mortal Kombat figures, you know what I am talking about. This line continues to impress, with no signs of slowing down.
Rain is a refugee orphaned by Shao Kahn's conquest and grew up under the protection of the Edenian Resistance. Rain's offense drew on the power of weather as he able to harness water and lighting. This figure is being offered as a New York Comic Con exclusively by Storm Collectibles.
Smoke is able to transform into a wisp of smoke. He has no memory of his childhood, his only family is the Lin Kuei, the younger Sub-Zero who is like a brother to him. It has been Smoke's hope that through the Lin Kuei he will discover his past-and the origin of his power. This figure is being offered as a New York Comic Con exclusive by Storm Collectibles.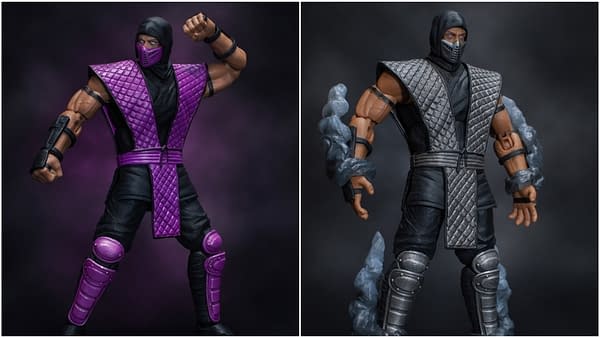 All of Storm's Mortal Kombat figures tend to sell out, and I am sure these will be no different. There are no price points available at the moment either, but when there is more information closer to the show we will keep you posted.
Enjoyed this article? Share it!