"One Punch Man" Takes it Easy with New Good Smile Company Statue
One Punch Man was definitely a delightful surprise to see with the launch of the first season. I wasn't the biggest fan of season two most likely because of the dispute within the company and a new team taking over. That still doesn't mean we can't collect collectibles and display our shelves full of our favorite characters. This time we are getting a new statue from Good Smile Company from their Pop-Up Parade series of statues. These statues a highly detailed and with nice and affordable prices are set to be scheduled for release only four to five months after pre-orders begin. That is a pretty fast distribution especially when it comes to anime statues when they usually take a year or so to drop. One Punch Man Saitama is next in their series and this time he is not in his super suit but in a hoodie. He's out for a casual stroll to get some groceries in this specially designed statue. This new One Punch Man statue brings a more humble essence to that superhero anime while staying true to the character itself. Is it also definitely change up your collection as we only really see him in his superhero outfits. One Punch Man fans can rejoice with this new elegant and relaxing statue and add it to their anime collection.
The One Punch Man Saitama Hoodie Version Statue from Good Smile Company is roughly $35. It is expected to ship out in May 2020 with pre-orders already set as live and located here. Pre-orders are only open from now until January 16, so make sure you put yours in before it's too late. Don't forget to check out on the other amazing Good Smile Company figures and statues while you're there too.
ONE PUUUNNNCCHHH!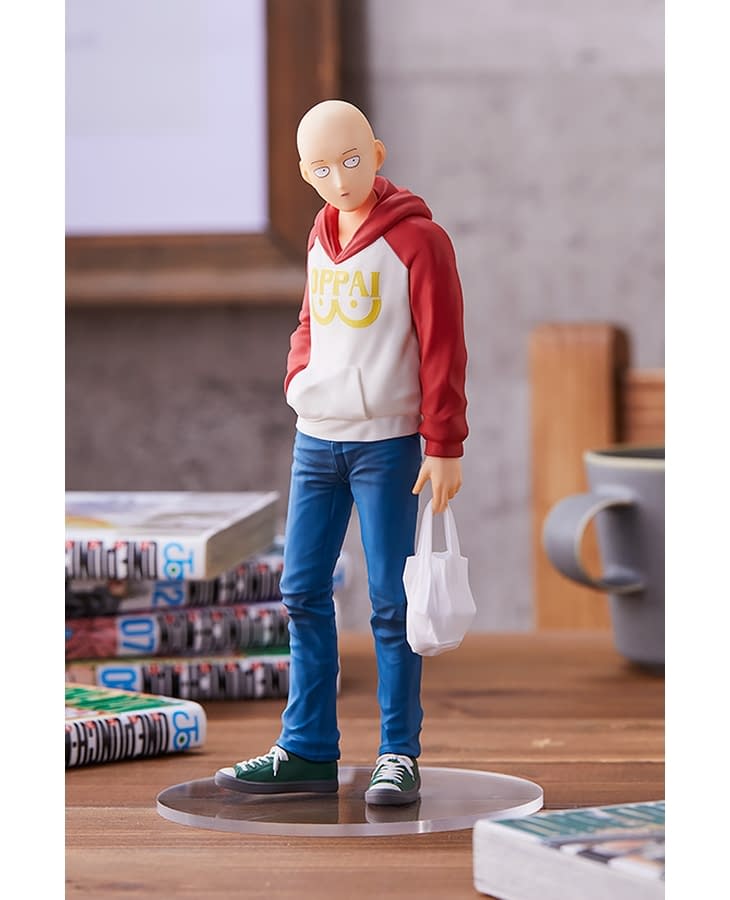 POP UP PARADE Saitama: OPPAI Hoodie Ver.
Saitama in his hoodie!
POP UP PARADE is a new series of figures that are easy to collect with affordable prices and releases planned just four months after preorders begin! Each figure stands around 17-18cm in height and the series features a vast selection of characters from popular anime and game series, with many more to be added soon!
The next figure to join the POP UP PARADE series is Saitama, this time in his hoodie! This version of Saitama features a relaxed, casual expression. Be sure to add him to your collection!