Prime 1 Studios Celebrates "Batman: Arkham Asylum" 10th Anniversary
Batman has had so many great movies, comics, shows and games over the years. Batman: Arkham City is one of the best games to come out of Rocksteady's Arkham franchise. Arkham Asylum is known for being the home of some of Gotham's most dangerous criminals. From the dealing to the Joker, to Mr. Freeze and the Killer Croc, these characters made the game a classic. Prime 1 Studios is celebrating the 10th anniversary of the game series with a 21.5" statue! Two versions of Batman: Arkham City statues are getting released, with the exclusive version coming with an extra interchangeable head that gives Batman an angry look. As well as an extra hand that has him holding the games recognizable Batarang. Both statues come with a nice set of interchangeable hands and it allows you to swap between a closed fist to one holding the games Grappling Hook. The detail and paint are Prime 1 Studio specialties so you can expect great things from it. This is an excellent celebration collectible for Batman: Arkham City and the Arkham Asylum series and it would go perfect in any Batcave or DC Fans collection.
The normal version of the statue is priced at $449 and the exclusive version is priced at $499. The date for release is scheduled between August 2020 to December 2020. This is a pretty big gap but it does give Batman: Arkham City fans time to save. Preorders are up and live and you can snag yours up here.
Celebrate Batman: Arkham City below: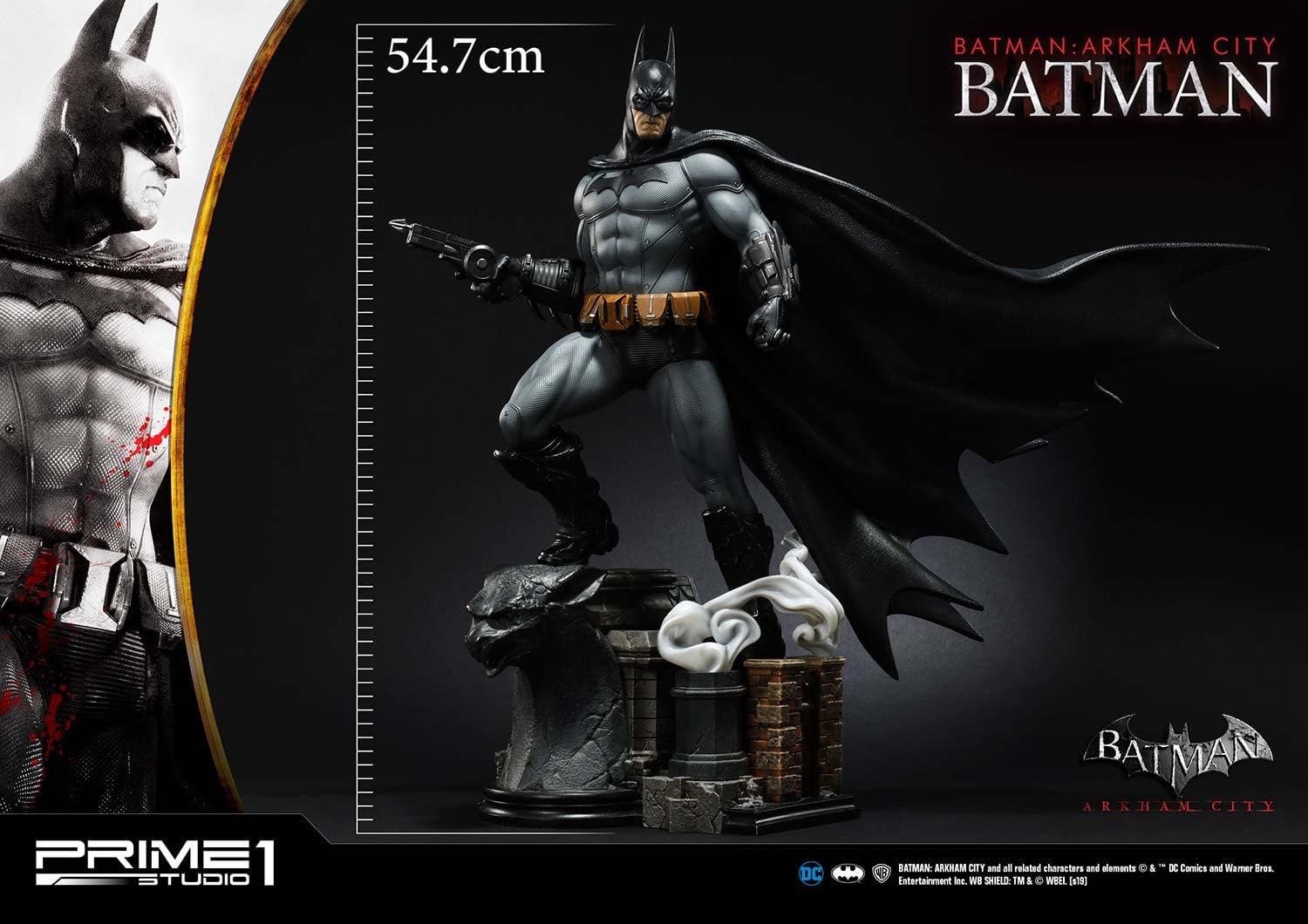 "There's still work to do here in Arkham City."
Prime 1 Studio is proud to present the 1/5 Scale Batman Statue CMDC-02: Batman from Batman: Arkham City developed by Rocksteady Studios and published by DC Entertainment and Warner Bros Games.
Batman fights alone against villains in the isolated Arkham City – a super-prison that was constructed to house all the inmates from both Arkham Asylum and Blackgate Prison. We recreated Batman's pose and gray suit with great attention to the details.
Batman measures approximately 21.5 inches tall and comes with interchangeable right hands.
The Exclusive Version includes an alternate Angry Portrait and an interchangeable left hand holding a Batarang.
This is a must-have for all Batman fans.
Specifications:
Batman Statue Size approximately 21.5 inches tall [H:54.7cm W:52.1cm D:41cm]
One (1) designed theme base
One (1) interchangeable right hand fist
One (1) interchangeable right hand holding a Grappling Gun
One (1) interchangeable Left Hand fist
One (1) interchangeable Left Hand holding a Batarang (In the Exclusive Version)
One (1) alternate Angry Portrait (In the Exclusive Version)