Rey Warms Our Hearts in New Exclusive "Star Wars" Gentle Giant Statue 
Rey is the star of the newest Star Wars franchises. With her first appearance in Star Wars: The Force Awakens, she has opened a whole new whole world. With these new movies, Star Wars and Rey's influence has expanded onto a whole new generation. The newest movies have been somewhat of controversy with some saying it has been another Phantom Menace era. To me, prequel films were great films and so hasn't been the newest trilogy. Star Wars is filled with space and wonder and that is just what Gentle Giant Ltd. has captured in their newest statue. Rey is immortalized here from one of the beautiful scenes in the Force Awakens with her looking off into the night sky. The statue will come with 2 versions of Rey. First, we get a normal version of her sitting in the Jakku sand with her bow-staff in hand. Rey is clothed with her Jakku scavenger outfit and it fits the base perfectly. The second version is my personal favorite with her wearing the older X-Wing helmet. This will be a Gentle Giant Premier Guild Exclusive so only members can use the force to get her.
Both Rey statues are up and available for preorder now and located here. Sign-in will be required for the exclusive version, however. The exclusive version will only be available to order until October 31, 2019.
Rey is priced at $150 and she will be limited to only 3,000 pieces.
"I am no one."
Star Wars' Dreamer Rey Gets Premier Guild Exclusive Edition
Earlier this year, Gentle Giant Ltd. showed off their first entry in the Star Wars Premier Collection line of statues, Dreamer Rey. Depicting Rey sitting on the sands of Jakku, gazing up at the stars, pondering her origins and dreaming of escape, the statue was shown with both helmeted and unhelmeted heads. Now, GG Ltd. is excited to announce that the helmeted head will be the next Premier Guild exclusive!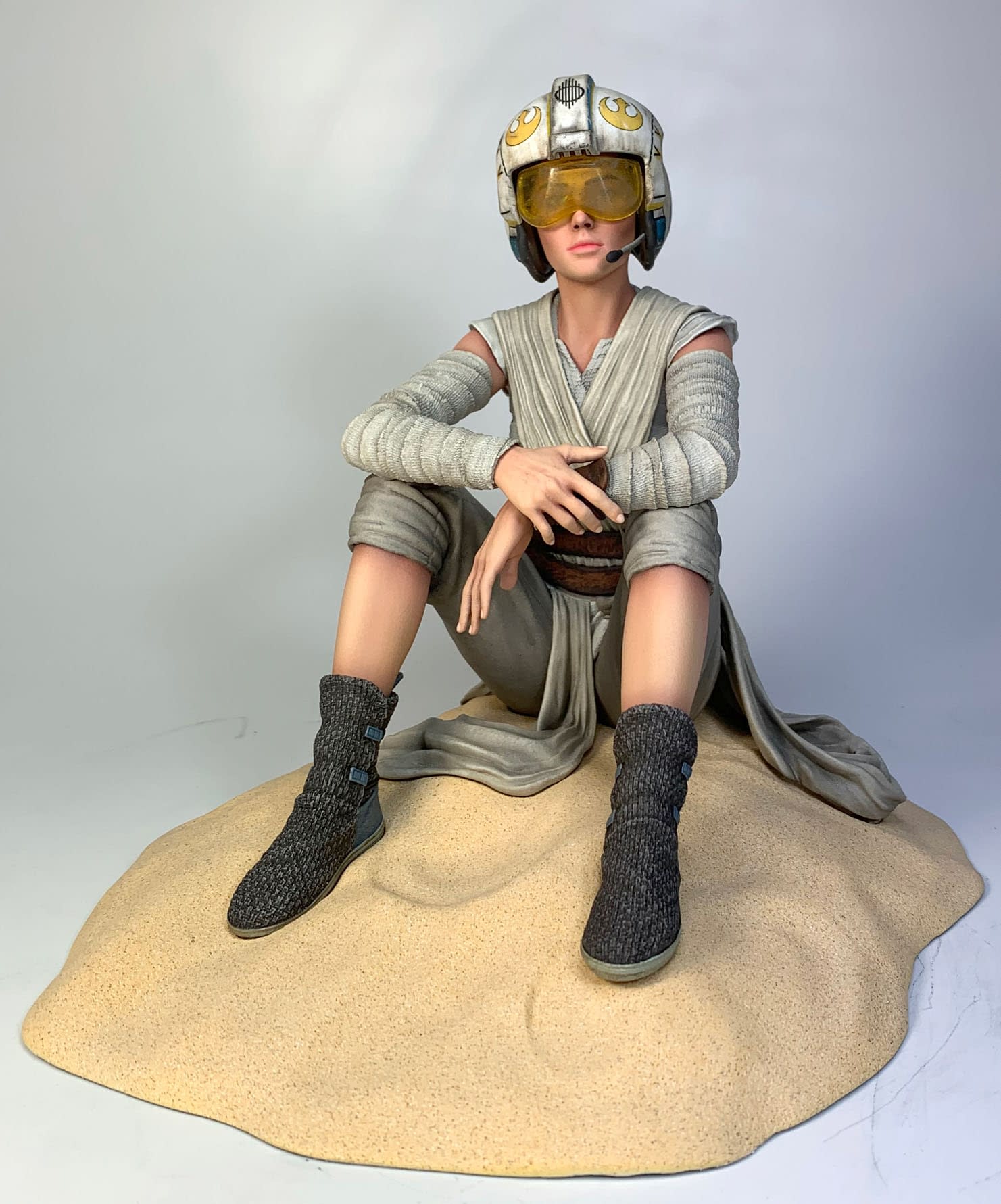 While the unhelmeted head version will be available to all customers, only Gentle Giant Ltd. Premier Guild members will be able to order the helmeted version. Additionally, the head on Premier Guild version will be interchangeable, and the unhelmeted head will be included so it can be displayed in either configuration.
Pre-orders are now open on GentleGiantLtd.com for both versions, although only signed-in Premier Guild members will be able to view and order the exclusive version. If you are not a Premier Guild member, it's not too late to sign up, order Dreamer Rey and, if you're a Gold or Platinum member, choose your free gift!