Funko Unveils the Shared Retailer List for All SDCC 2020 Reveals
Funko has finally given fans their shared retailer exclusive list. This shows fans where each one of their retrospective San Diego Comic Con exclusive Pops will be going. A lot of the reveals will of course be heading to the FunkoShop. This will include all of the limited 3,000 pieces Funko Soda figures as well as the Anchorman set. There's no specific date just yet on when these will hit stores but it will most likely be the week of July 19. Going off of past experiences, most of these end up dropping on that week's Thursday or Friday so be prepared hunt then. What is one of the most interesting details from this shared retailer exclusive this is the location of Black Lightning Pop. He is stated to be located under the "Show Only" but with the cancellation of San Diego Comic Con 2020 seems impossible to get. I am sure Funko will update us on where they expect him to go before their Virtual Con 3.0 event happens between July 19 and the 25th.
I am curious if Funko will do the same thing that they did for Emerald City Comic Con ticket holders. The gave each member a whole extra day ahead of the general public to get their Pop figures since they weren't able to attend the convention. This would be the best way to distribute Black Lightning as he is only limited to 3000 pieces. This would also be the best way to slow down some traffic before the chaos that beholds the FunkoShop on release day. With their newly updated website, there have been quite a few errors so it will definitely be a challenge to lock down some of those online exclusive or if they actually do decide to throw up all the other SDCC Pops. We are still living in a pandemic world so a lot of people might not be hitting the stores still so a whole wide online shop release would be the best way to make sure that everyone does stay safe. Will you be hunting this year? How many SDCC 2020 Funko Pops are on your list this year?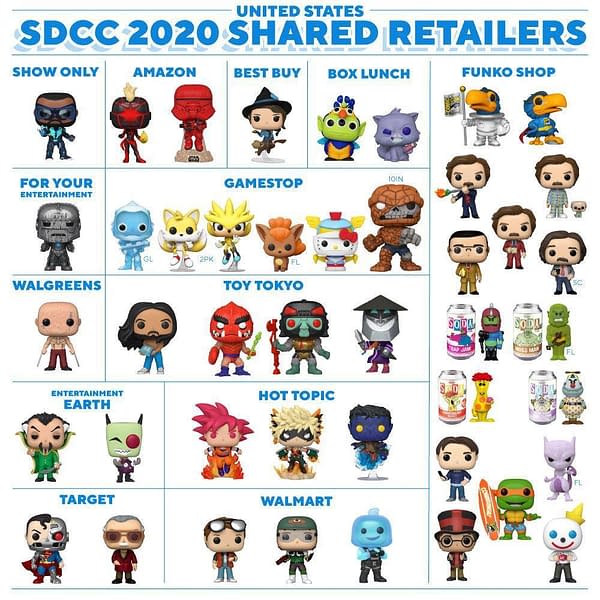 "Here's our list of SDCC exclusive shared retailers for the U.S. Do you have a favorite exclusive?"