Star Wars Jet Trooper Takes to the Skies with New Hot Toys Figure
The Jet Trooper is one of the newest additions to the trooper family in the Star Wars universe. This new sleek design is a new wave of Stormtroopers coming out of Star Wars: The Rise of Skywalker. We are all excited about the film but until then we can enjoy some grade collectibles especially from Hot Toys. The Jet Trooper stands at roughly 12 inches tall, has 30 points of articulation and a nice chunk of accessories. He does come with seven pieces of interchangeable hands and a blaster. The design for this figure is newly designed and crafted with a new helmet and armor plating. If you're a fan of Stormtroopers and this is a figure for you so you can have him join your collection ranks.
Star Wars: The Rise of Skywalker Jet Trooper 1/6 Scale Collectible Figure from Hot Toys does not have a price just yet. I would expect it to release by the end of 2020 at the beginning of 2021. When they do go live you'll be able to find them located here and stay tuned up Bleeding Cool for when they finally go live.
To Infinity and Beyond!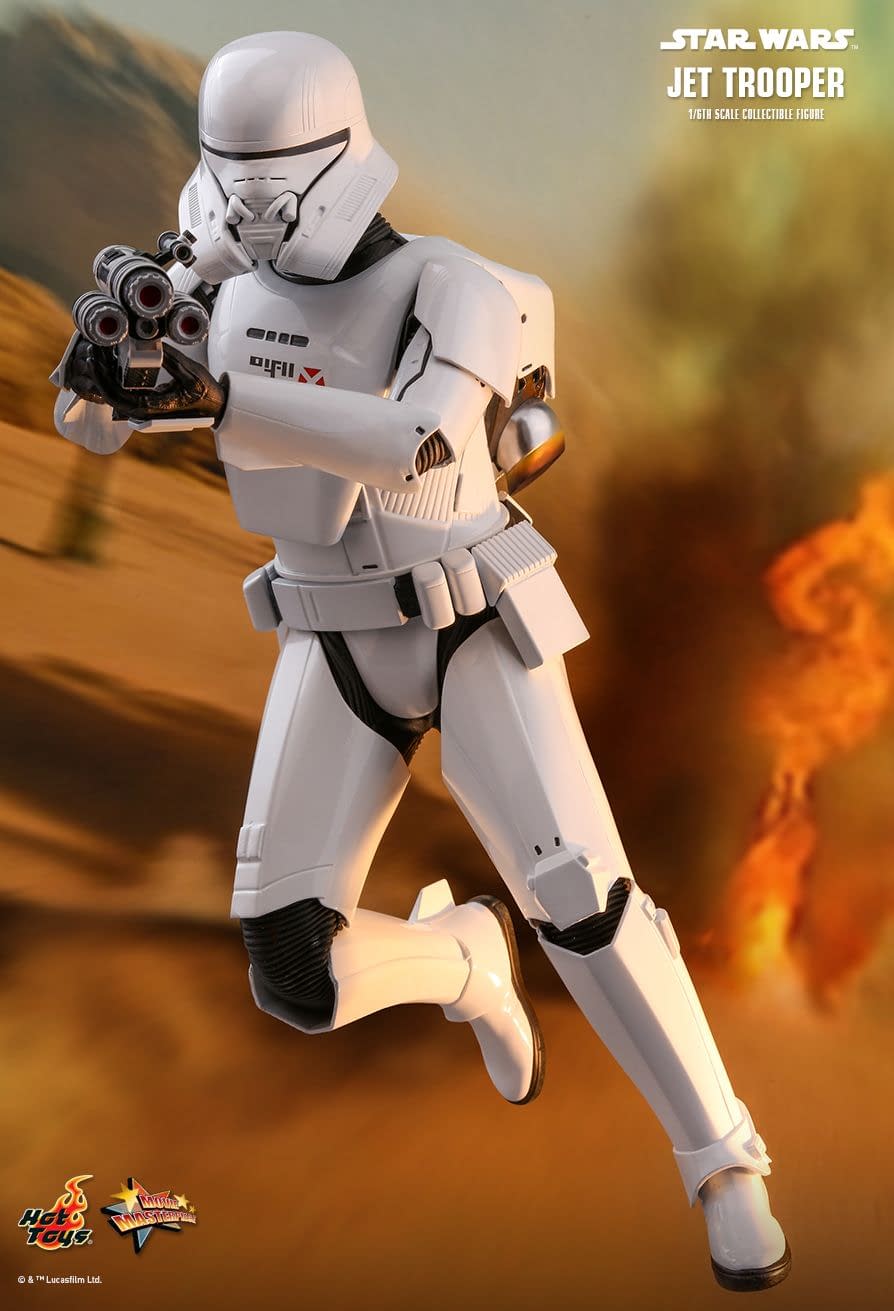 Star Wars: The Rise of Skywalker – 1/6th scale Jet Trooper Collectible Figure
Star Wars fans worldwide are anxiously waiting for the release of Star Wars: The Rise of Skywalker. In this ultimate episode of the epic Skywalker saga, a group of specialized Stormtroopers of the First Order, called the Jet Troopers will soar into battle equipped with agile rocket packs.
Today, Hot Toys is delighted to present the new masked enforcers of the Galactic Empire – Jet Trooper in 1/6th scale collectible figure to get fans ready for the upcoming adventure!
The highly accurate collectible figure is specially crafted based on the image of a First Order Jet Trooper in Star Wars: The Rise of Skywalker. This specialized trooper features a newly refined helmet and armor, highly detailed jetpack, beautifully tailored fabric under-suit, highly-detailed weapon, and a specially designed figure stand.
Don't pass up on the opportunity to add these troops to your collection of a galaxy far far away!