Stephen King Gets the Funko Pop Treatment with Two New Vinyls
Stephen King is the master of horror and supernatural thrillers. He has blessed up with some of the most iconic horror books out there which have easily been transferred into films. Stephen King's IT, Pet Semetary, The Shining, Gerald's Game, Stand by Me, Shawshank Redemption and so much more. His storytelling is easily influenced generations of writers and artists so it's no surprise that when a company like Funko decides to make a Pop vinyl figure he gets one. Funko has recently revealed that Stephen King will be getting not only one but two upcoming at fungo pop vinyl. The first one is quite common it could be located at most retailers it showcases him standing with his hand in his pocket and a book at his chest. This one is pretty cool and Stephen King fans should pick them up but there will be a Barnes & Noble exclusive that is incredible. The Barnes and Noble exclusive showcase is Stephen King with blood all over his head and an ax in hand. This Funko Pop grasps the stylings of some of his iconic films like The Shining and that metallic blood makes a statement with this figure. I'm not too surprised that Barnes & Noble got this as an exclusive as they are a book store it would either be between them or Books-A-Million to get this exclusive. Now, this right here is the perfect example of a great exclusive and it will be worth every penny. Whether you're a fan of horror or a fan of Stephen King either these Funko Pop's would be perfect to add to your collection. So be on the lookout for them hitting stores later this year or at the beginning of 2020.
The Pop Icons Stephen King Funko Pop will be priced at the usual $10-$12 depending on your local retailer. You can find three orders live for the common exclusive and those are located here. He could be expected to ship out in February 2020 or possibly sooner. The Barnes & Noble exclusive bloody version does not have a release date or a price just yet.
Here's STEPHEN!
Coming Soon: Pop! Icons – Stephen King
Bring home the artistic luminary, best-selling novelist Pop! Stephen King.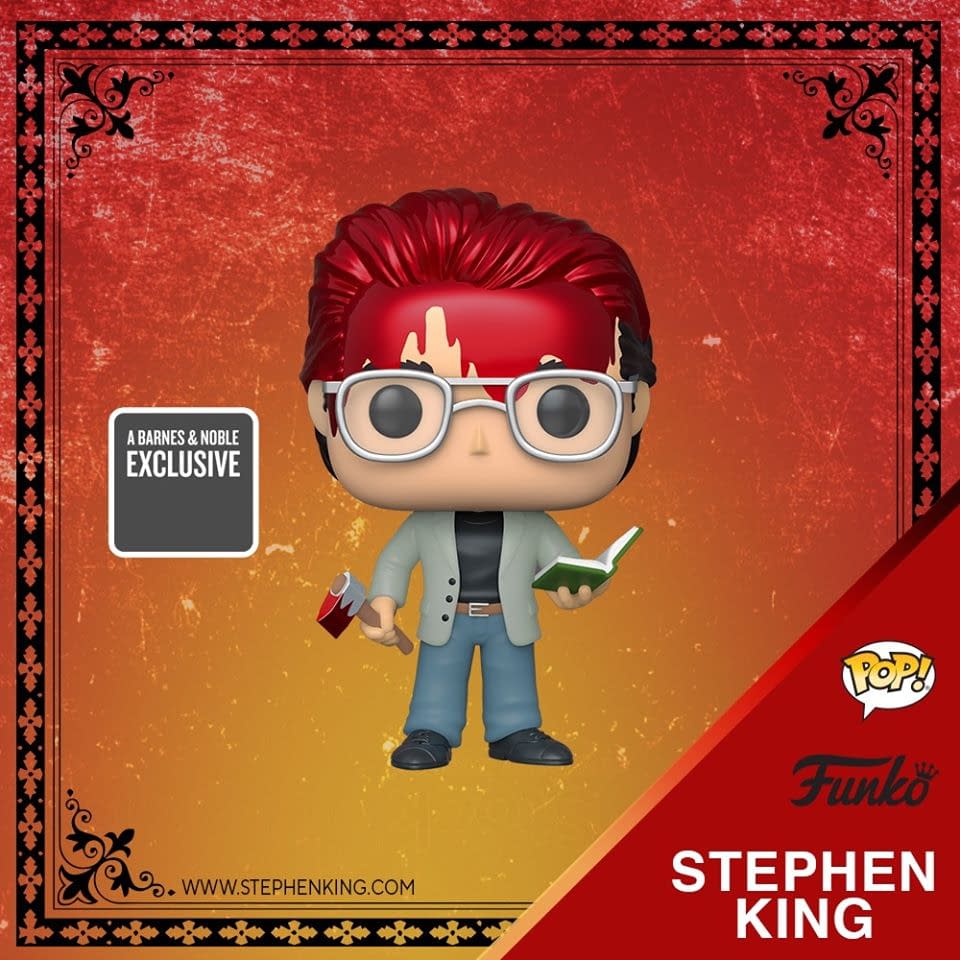 Stephen King w/Axe and Book is available exclusively at Barnes and Noble.
Coming soon!