Thanos Returns to Hot Toys with New Battle Damaged Figure 
Thanos has arrived in the future and is ready to fix his mistake. This time Hot Toys is bringing us a battle damaged Thanos figure that is ready for the endgame. This Avengers: Endgame figure rally packs a punch from not just details but accessories. This Marvel Cinematic Universe figure comes with a massive set of interchangeable hands, his double bladed sword and two Infinity Gauntlets (one open with LEDs and articulated fingers and one snapping). He will include two swappable head portraits one being shocked, the other being angry and an attachable helmet. The skin is quite realistic and the battle damaged armor is a very nice touch for a real Endgame feel.
The Avengers: Endgame Battle Damaged Thanos from Hot Toys is priced at a whopping $428. He is set to release between January and March 2021 with pre-orders already available and located here.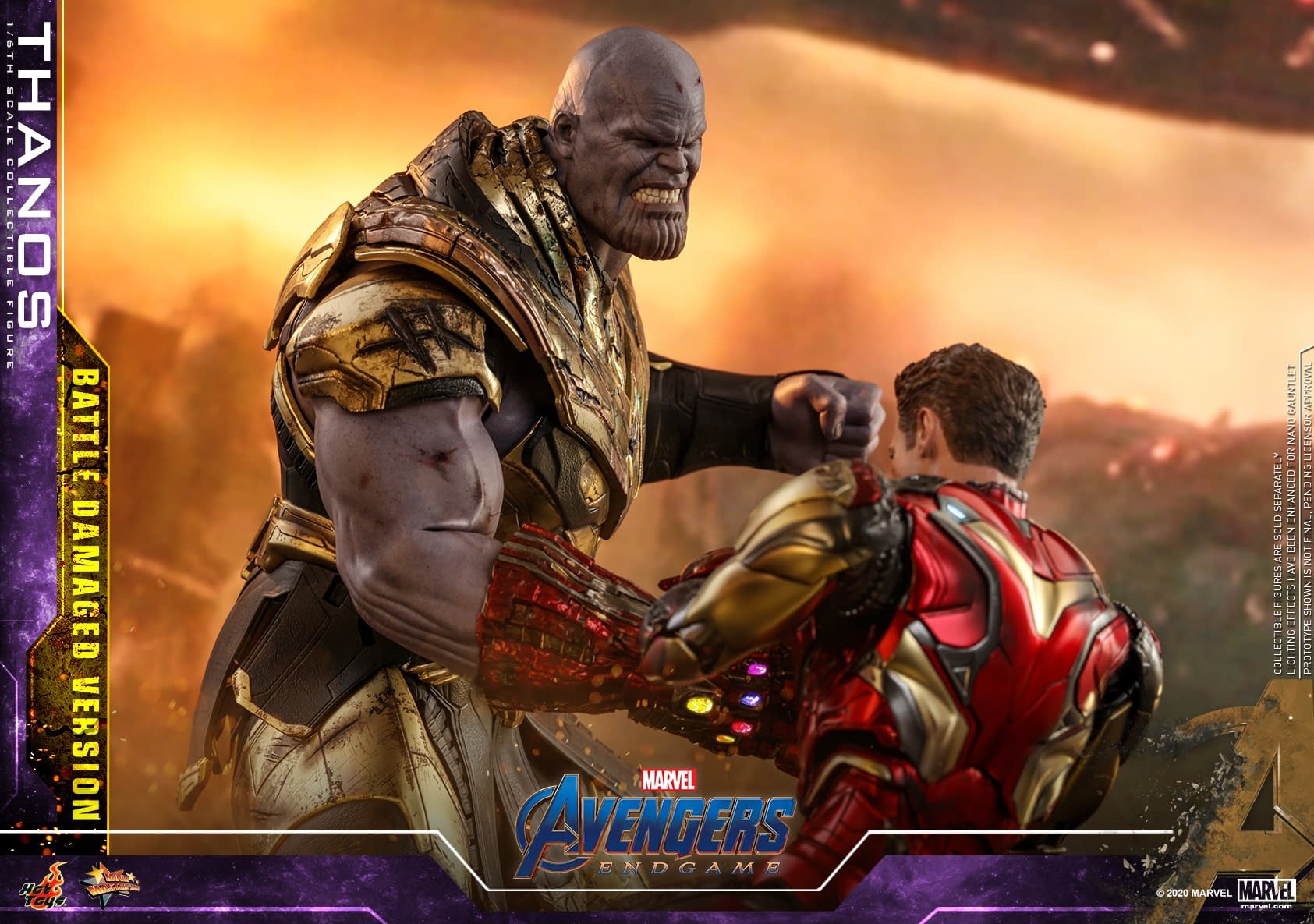 Avengers: Endgame- Thanos (Battle Damaged Version) 1/6th Scale Collectible Figure
"You could not live with your own failure. Where did that bring you? Back to me." – Thanos
Thanos' snap of decimation from Avengers: Infinity War threw the galaxy into chaos, but the menace of the universe will stop at nothing to spread his reign of tyranny. Trying to save the other half of the populations from experiencing the same loss that he dealt with, the fierce warlord intends to use the limitless power of the Infinity Stones through the Nano Gauntlet for his ultimate quest.
As a continuation of the incredible collectible series of Avenger: Endgame, Hot Toys is thrilled to unveil the all-new Battle Damaged Version of 1/6th scale Thanos collectible figure highlighting severe damages on armors inspired by the climactic battle on Earth from The Infinity Saga!
Masterfully crafted based on the screen appearance of Thanos in Avengers: Endgame, the highly-accurate figure features a newly developed head sculpt capturing the warlord's shocked facial expression with excellent craftsmanship, an interchangeable angry head sculpt, a specially designed muscular body exhibiting hyper realistic skin texture and tendons, a damaged 1/6th scale Nano Gauntlet with LED light up function and a matching hand mounted with all six Infinity Stones, an extra interchangeable hand for Nano Gauntlet features finger snapping gesture, astounding degree of battle damage details being reflected on Thanos' shiny golden armor and accessories including a newly crafted helmet, a heavy double-edged sword, as well as a battlefield inspired diorama figure base.
Dominate the universe by adding this remarkable collectible figure to your epic Marvel collection now!
Specifications
– Product Code: MMS564
– Product Name: Thanos (Battle Damaged Version)
– Height: Approximately 41.5 cm tall
– Points of Articulations: 20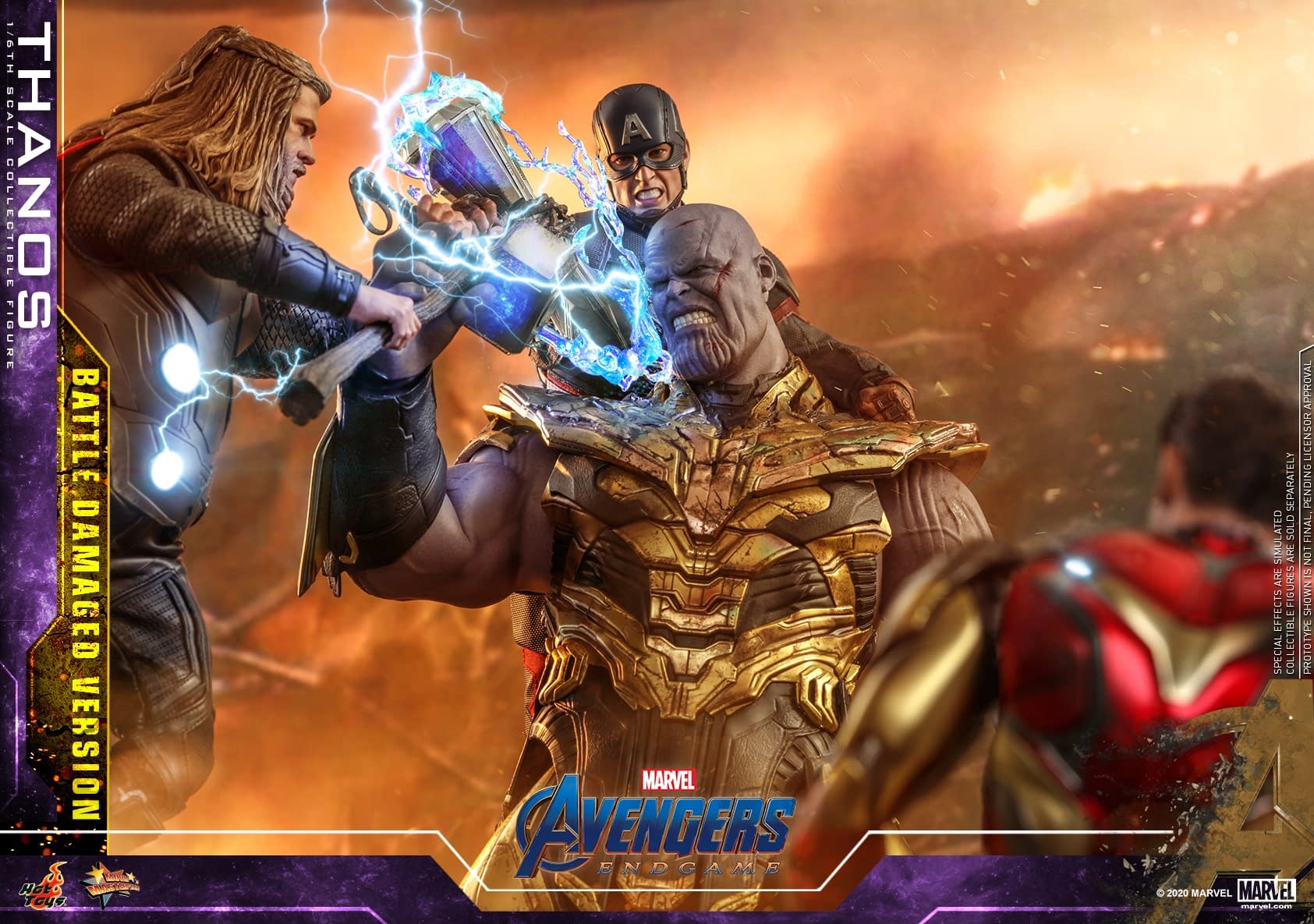 The 1/6th scale Thanos (Battle Damaged Version) Collectible Figure specially features:
– Authentic and detailed likeness of Thanos in Avengers: Endgame
– One (1) newly developed head sculpt capturing Thano's shocked expression
– One (1) interchangeable head sculpt capturing Thano's angry expression
– Movie-accurate facial expression with detailed wrinkles and skin texture
– Approximately 41.5 cm tall
– Specially sculpted purple-skinned muscular body exhibiting highly realistic skin texture with over 20 points of articulations, built-in joints in neck and arms with seamless elbow joints
– Four (4) pairs of interchangeable armored hands including:
– One (1) pair of fists
– One (1) pair of relaxed hands
– One (1) pair of gesturing hands
– One (1) pair of hands for holding double-edged sword
– Each piece of head sculpt is specially hand-painted
Costume:
– One (1) newly tailored purplish blue and metallic gold-colored armor with trim details and heavy battle damages
– One (1) pair of gold-colored armored boots with weathering effects
Weapon:
– One (1) battle damaged double-edged sword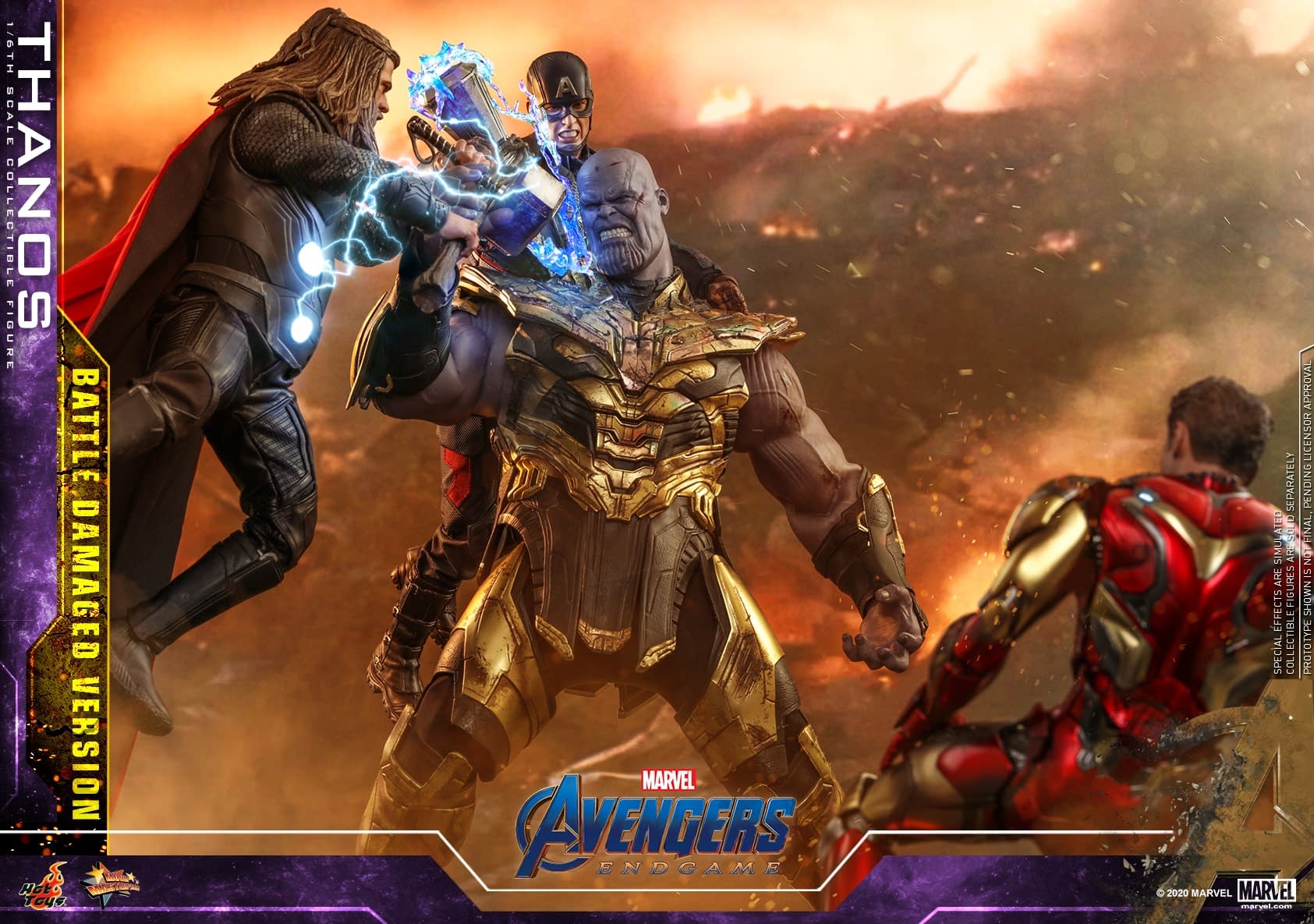 Accessories:
– One (1) damaged metallic red-colored Nano Gauntlet and one (1) matching hand with articulated fingers, mounted with six Infinity Stones (6 LED light-up points, battery operated)
– One (1) interchangeable gestured hand for Nano Gauntlet with battle damage effects
– One (1) newly crafted battle damaged helmet (wearable on head sculpt)
– A specially designed battlefield inspired diorama figure base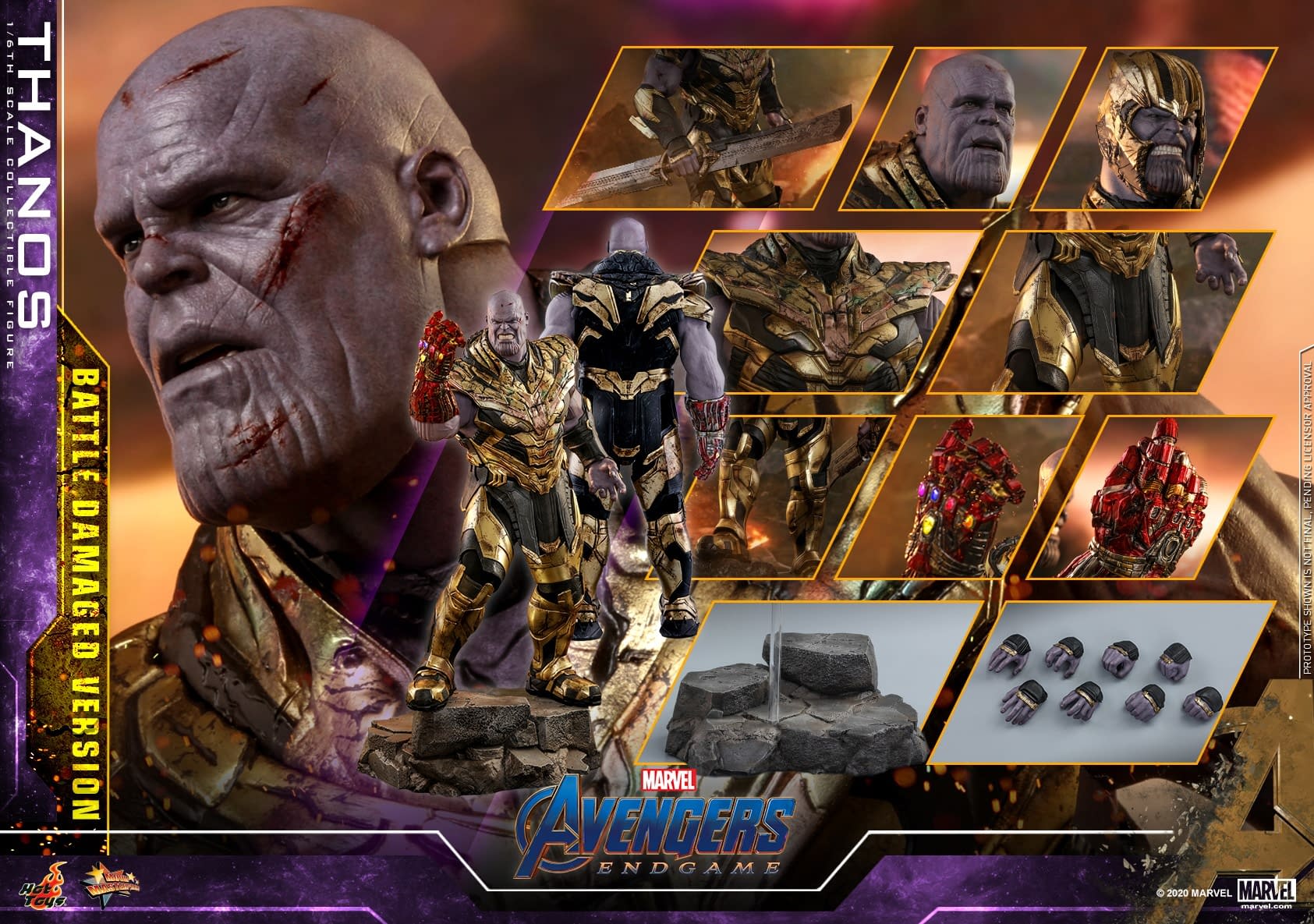 Artists:
– Head Sculpted by Yulli
– Angry Head Sculpted by Kojun
– Head Painted by JC. Hong
– Head Art Directed by JC. Hong
– Armor Painted by Lok Ho