The Rancor Is Unleashed with a New Sideshow Collectibles Deluxe Statue.
The Rancor is one of those amazing Star Wars creatures to come out of the mythos of Star Wars. When you were first introduced to this creature in Star Wars: Return of the Jedi after Luke fails to negotiate Jabba the Hutt, it was jaw-dropping. The thrill of seeing a not wielding lightsaber Luke to take on this monster was peak Star Wars. Now you can bring that amazing creature home with a new Sideshow Collectibles statue. The statue stands nearly 30 inches tall and his cast in a mix of fiberglass and resin. The statue was quite detailed for it is a fictional character from the saliva, to the scales, muscles, spines and the scars. This is quite realistic and you can see that Sideshow put a lot of love into the statue. The statue does have a display base from Jabba's Palace. With the dirt and debris on the floor as well as a Gamorrean Guard skeleton on the floor, which is a pretty little Easter egg. The Rancor is something special and you should own one for your collection so you can feed people it for whoever enters your Collectible's Palace unauthorized. Star Wars fans can finally get excited yet again with this amazing a Star Wars Rancor deluxe statue.
The Star Wars: Return of the Jedi Rancor Deluxe Statue from Sideshow Collectibles is priced at $1300. With Sideshow Collectibles payment plans are always available so take advantage of them if you need it. He is set to be released between June and August 2020, pre-orders are already available and you can find them located here. Check out some of the other amazing Star Wars statues also available and coming soon from Sideshow Collectibles.
Unleash the Rancor!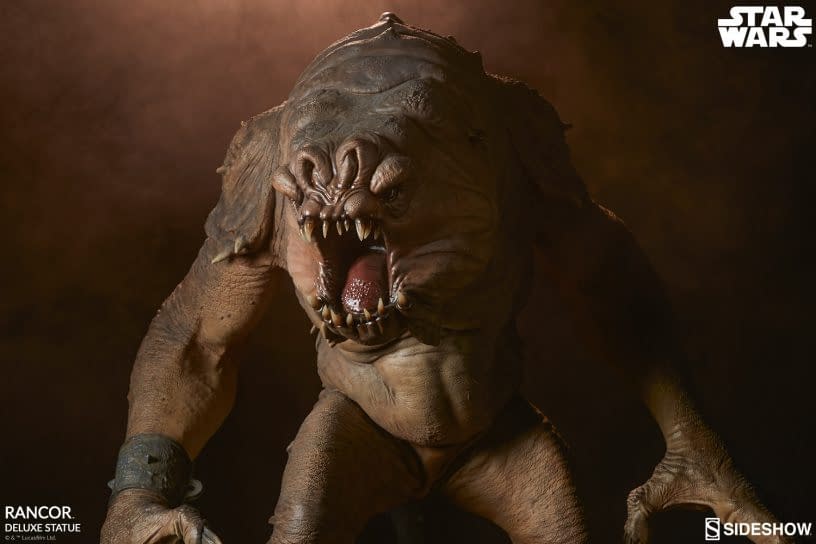 Rancor™ Deluxe Statue Statue by Sideshow Collectibles
ABOUT THIS STATUE
"Oh no! The rancor!"
Sideshow presents the Rancor Deluxe Statue, ready to join your galaxy of Star Wars collectibles.
The Rancor Statue measures just over 29" tall and 29" wide as the monstrous reptilian towers over the torturous pit of Jabba the Hutt's palace. The rocky earth of its dreaded cavern contains the remains of its victims, including one unfortunate Gamorrean Guard.
The fiberglass and resin Rancor Statue embodies the terrifying presence of the savage, salivating beast in an incredibly detailed collectible format. From its hulking shoulders to its oversized arms, the Rancor's rough skin is covered with intricate scales, scars, muscles, and spines, introducing unique lifelike textures to give fans a new perspective on its iconic onscreen appearance.
The Rancor has a chain clamp on its right wrist, and its clawed hands are ready to grab whoever Jabba throws into its pit next. The creature's snout has a wet appearance to emulate the drool dangling from its mouth during its suspenseful fight with Luke Skywalker in Star Wars: Return of the Jedi. Roaring and revealing its dangerous teeth, the Rancor Statue makes a magnificent addition to any gangster's palace or Star Wars display.
Every palace needs a pit beast- wrangle the Rancor Statue into your Star Wars collection today!
Brand – Star Wars

Manufacturer – Sideshow Collectibles

Type – Statue