The Fantastic Four Funko Pops have finally hit stores so people are finally able to get their hands on them. We have covered most of the Funko Pop figures and they were split into multiple parts for easy access on the ones that matter to you. You can find the Family review here, the cosmic beings like Silver Surfer here, Earth beings like Dr. Doom here, and finally the Fantastic Four exclusives here. One figure that slipped from our grasp was Barnes & Noble's exclusive The Thing figure. This figure was just starting to get released so he missed our big event but we have him here so let's dive and check him out.
This Barnes & Nobel figure is pretty amazing and currently one of my favorite figures from the series. The box is no different from the rest of the Funko Pop figures. There are no secrets or sayings hidden on the tab like in other ones. Just like the rest of the Fantastic Four Pops the box does have an FF logo in there that is chances his background for in box collectors.
The figure itself is defined as a great exclusive and is perfectly designed. The Thing in his disguise as a great nod to those Fantastic Four comic book fans out there. Since The Thing is a monster people see to turn him away a lot but wit this hand brown trenchcoat and hat he is able to vanish among the people of New York. The paint is nicely done here as you can see the separation of the rock on his skin and the orange contrasts the brown quite well. This is a figure that any Fantastic Four fan should get there hands on if they have not already.
If you are curious about the difference between the common release and the excessive I have to take the curiosity to put them side by side. Both figures are perfectly done but that comic book nod that the B&N exclusive has just won me over. This The Thing Fantastic Four figure could easily have been a great convention exclusive that would have flown off shelves.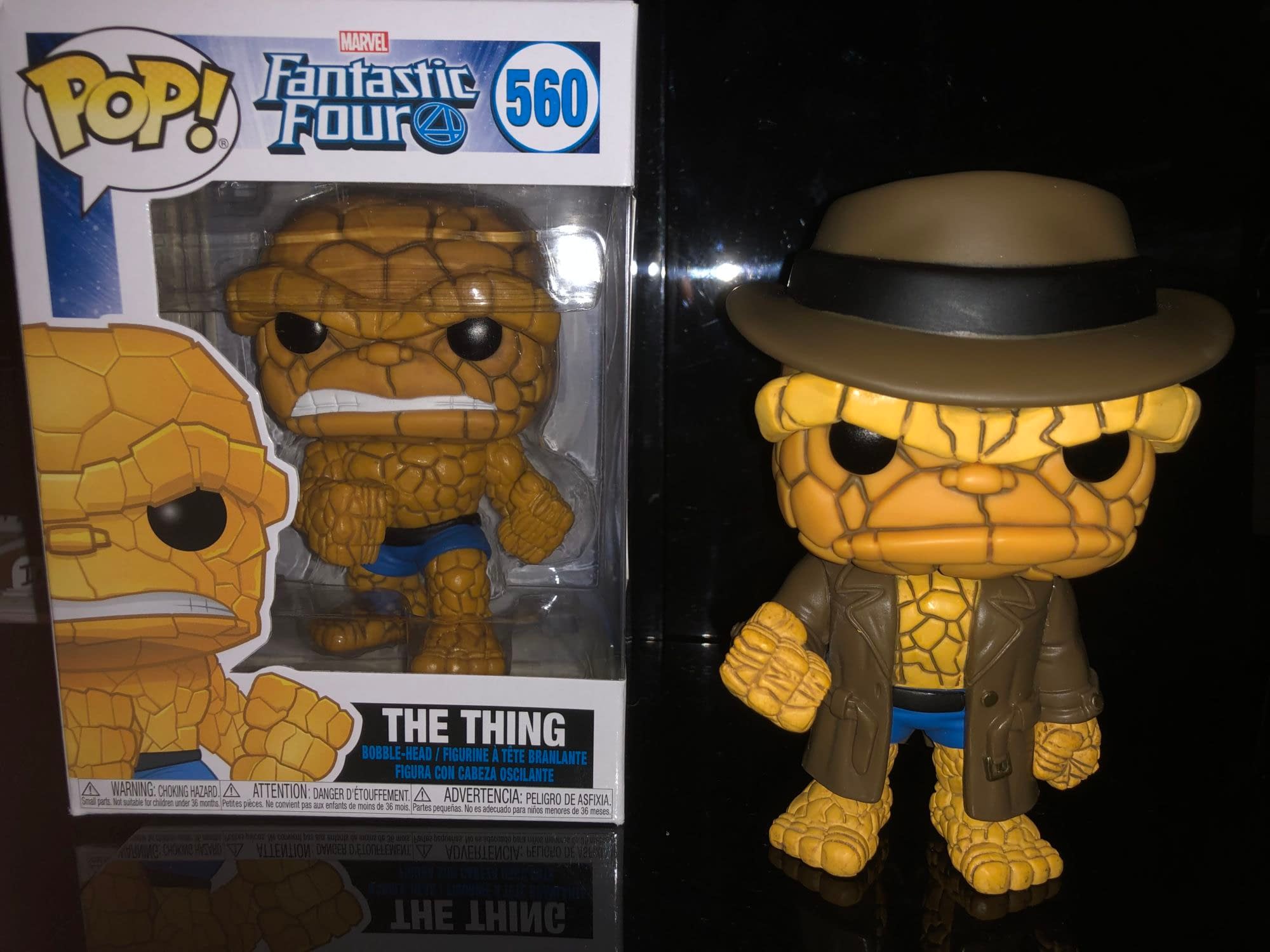 Maybe we will see the Fantastic Four hits the connections this year as Funko has their license finally. The next FF figure to come out with being in the Amazon Exclusive Collector Corp Fantastic Four box that will ship out at the end of this month so stay tuned. If you want to own your own The Thing Banes & Nobel figure you can find them in stores now or test your luck online with the link located here. Until our next review True Believers, stay fantastic.