Trick R Treat Ultimate Sam on the Way From NECA
Trick R Treat is one of the best horror films to come out in the last 15 years, and Sam, the star of the show himself, has gained a ton of popularity in the years since its release. NECA is now releasing their Ultimate Edition figure of our little hero, and he looks incredible. Sam will come with four interchangeable heads, two jack-o-lanterns, swappable hands, his trick or treat sack, his trademark jagged lollipop, and a candy bar with a razor blade in it. The blazing jack-o-lantern lights up, kinda like the one that came with Michael Myers from earlier this year. He will stand at 5 inches tall and features a highly articulated body, along with NECA's trademark detailed sculpting work. I mean, look at the headsculpts without his sack on! This has the opportunity to be one of the best in the Ultimate Horror line period.
Trick 'r Treat – 7" Scale Action Figure – Ultimate Sam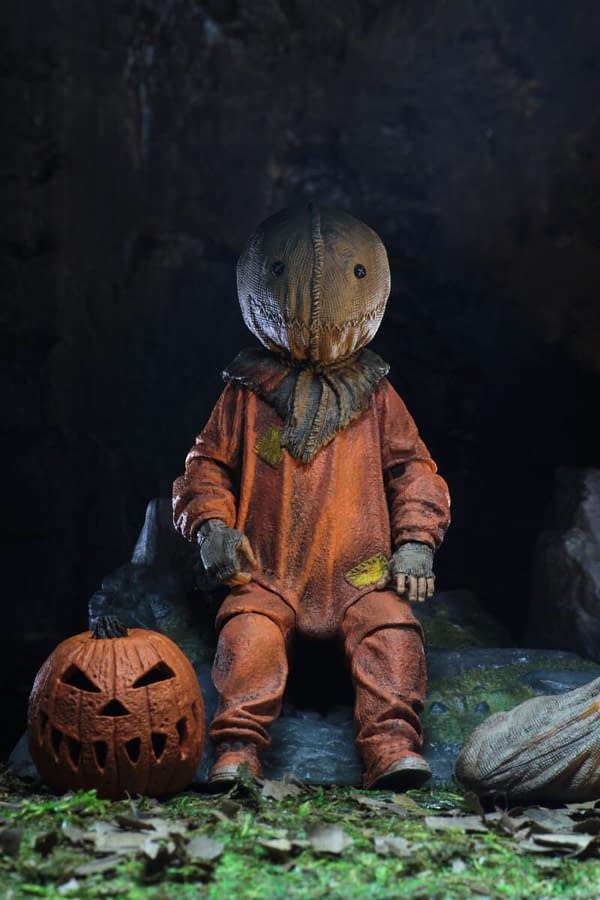 From the delightfully deranged 2007 cult classic film #TrickRTreat, Sam joins NECA's Ultimate line!
The mysterious trick-or-treater gets a deluxe release with all-new, highly articulated body and accessories galore, including 4 interchangeable heads, 2 Jack O Lanterns (one lights up!), interchangeable hand, severed hand, trick or treat sack, lollipop, and candy bar knife. Sam stands approximately 5" tall. Blazing Jack O Lantern uses button cell batteries, included.
Display-friendly window box packaging with opening flap.
The figure will ship in September of this year, right no time for this years Halloween displays and such. If the past is any indication, this one is going to be hard to get your hands on. As stated above, Sam has gained a ton of popularity in the past few years, and his figures and such command a high dollar amount on the aftermarket. Best not to wait and place a preorder as soon as you can.