Vampirella Seduces Us for Her 50th Anniversary Sideshow Statue
Vampirella is turning 50 this year and she hasn't aged a bit! This beautiful succubus of the underworld is an icon for comic book vampires. She has easily been an inspiration for multiple stories and characters throughout the year from her series run. Sideshow Collectibles and Dynamite Entertainment are proud to present the Vampirella 50th Anniversary black and white statue. This statue is a 1/6th scale tribute to one of her most memorable illustrations from the classic "Warren era" of Vampirella. The statue is 12 inches tall, and the character is displayed on her bat logo as well as the Noir themed paint scheme. This remarkable statue captures her beauty as well as her vampirish terror. The statue was perfect for any bloodsucking fan of Vampirella over the years.
The Vampirella 50th Anniversary Black-and-White Limited Edition Statue from Dynamite Entertainment and distributed by Sideshow Collectibles is priced at $300. She is set for release between January 2020 and March 2020. However, she is limited to 299 pieces so make sure you pre-order one today before they vanish in the night and they are located here.
"I am the lady of the castle. My name is exile. My name is anguish."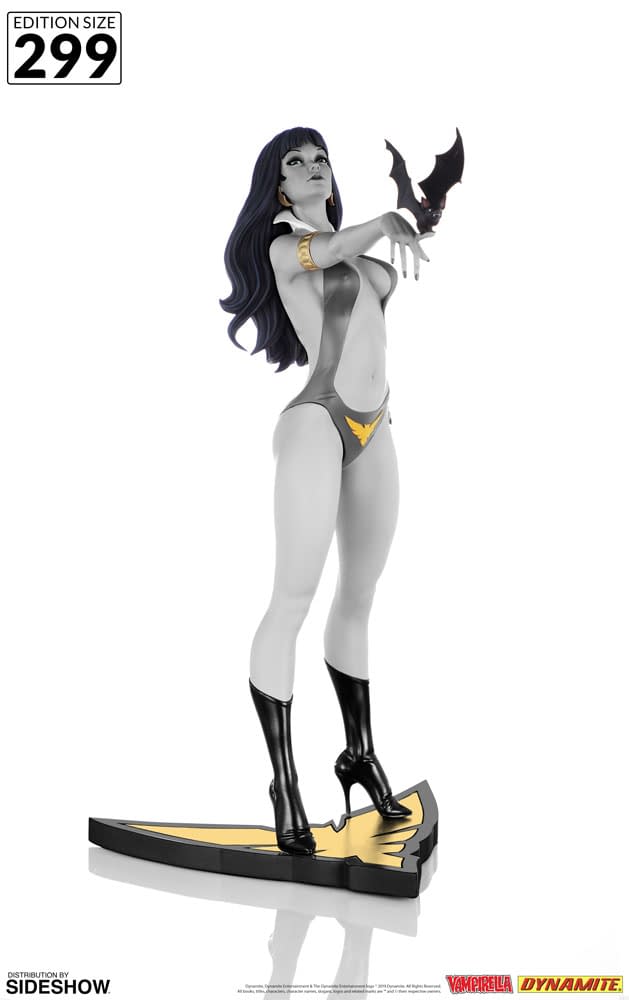 Vampirella 50th Anniversary (Black & White Edition) Exclusive Statue by Dynamite Entertainment
Sideshow and Dynamite Entertainment preset the Vampirella 50th Anniversary (Black & White Edition) Exclusive Statue!
Few artists have managed to capture the iconic look of Vampirella like Jose Gonzalez could. 2019 marks the 50th anniversary of comics' most memorable vampire, and Dynamite celebrates the occasion with a 1:6 scale tribute to her most memorable illustration! The classic "Warren era" of Vampirella is finally exemplified in this highly-detailed resin, the way it was meant to be. Vampirella stands over 12" high, from heel to bat, and rooted on a base modeled after her "bat" logo. This very limited-edition variant features a hand-painted, classic noir paint scheme with color highlights.
Celebrate 50 bloodsucking years with Vampirella by adding this to your collection today!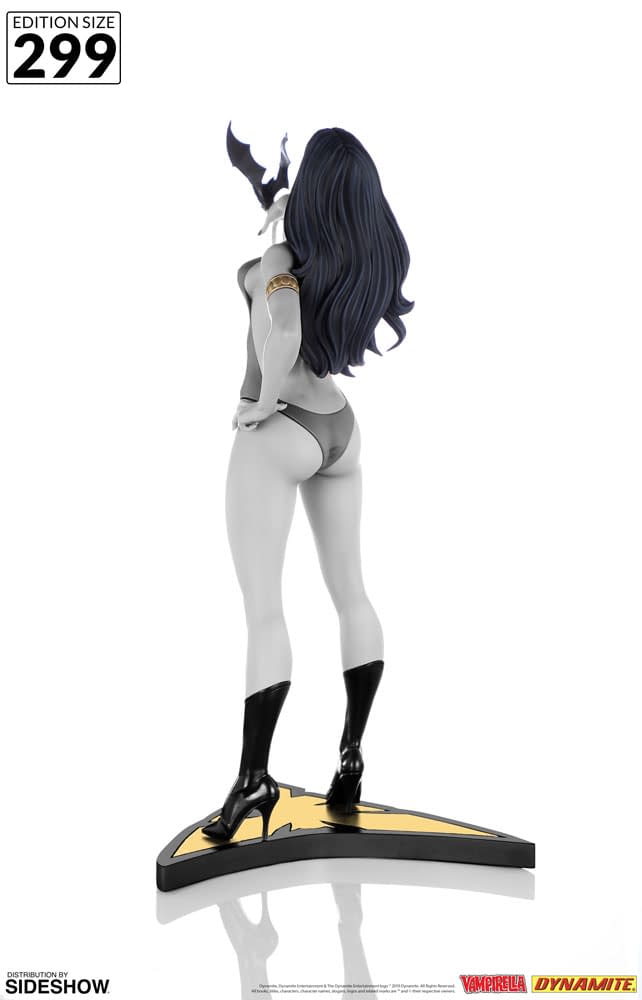 Manufacturer: Dynamite Entertainment
Type: Statue
Artists: Steve Kiwus (Sculpt) & Jose Gonzalez
Limited Edition: 299