Very Sneaky Peek At McFarlane Toys at London Toy Fair
London Toy Fair has come to town, including a little corner of McFarlane Toys, if you can find then, behind the Bandai barriers.
---
I'm at London Toy Fair 2023 for Press Day. I have a few meetings set up for the day, including Funko in a couple of hours, so I have been roaming the halls. I am slowly uploading a lot of photos of the show, but the Bandai booth was booked up long in advance for press, including Todd McFarlane's new displays. Not as bad as Hasbro, who in the wake of the D&D controversy are on major lockdown this week it seems. Still, there is a side window slat still open at the Bandai stall, and if you take a number of photos, you can collate them together…
…as well as take an aerial shot from the balcony.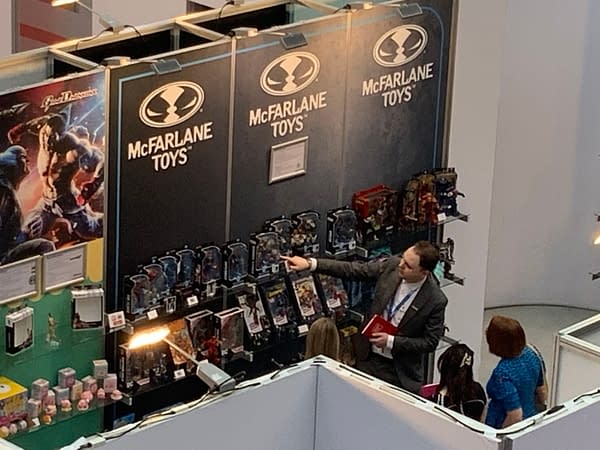 Zooming in, it looks like we have Avatar, a lot of DC characters as well as Spawn – including Omega Spawn – with a focus on The Flash, with a rogue gallery including Captain Cold and Heatwave, as well as The Atom. And as a number of figures paired with comic books…
McFarlane Toys was founded by Todd McFarlane to make highly detailed model action figures of characters from films, comics, popular music, video games and various sporting genres. As well as his Spawn-related lines, McFarlane Toys, he has featured products with licenses of games and companies such as DC Comics, Supernoobs, Warhammer, Mortal Kombat, Disney, The Princess Bride, and Avatar: The Last Airbender.
Toy Fair 2023 organised by the British Toy & Hobby Association is held at London Olympia today and for the next two says, as a trade show for retailers, distributors, manufacturers, influencers and the press. It's the UK's largest dedicated toy, game and hobby trade show with 250 exhibiting companies all under one roof including Bandai, Hasbro, LEGO, Zapf Creation, PLAYMOBIL, Funko and John Adams Leisure Limited, among many others