2000AD Back In Free Comic Book Day For 2016 – With Attack On Titan, One Punch Man, Stan Lee's The Unknown And All The Other Silver Books
Here are the remaining 35 Free Comic Book Day titles for 2016 – including the 2000AD edition with a Eric Powell Judge Dredd story that was previously reported as refused by the committee. Looks like a little outrage went a long way. Add to that Attack On Titan, One Punch Man, Stan Lee's The Unknowns, We Can Never Go Home, Nobrow, Love And Rockets and plenty more…
ACTION LAB ENTERTAINMENT AWAKE #0 FCBD 2016 EDITION
(W) Susan Beneville (A/CA) Brian Hess
In this prequel to the ongoing series, Awake, Regn learns to use her powers, and gets into trouble, with fellow cadet, Joppin, on the Dola training planet, Exterra, while Chay rescues young Picar from an angry mob! (STK698784)
32pgs, FC FREE!
AMERICAN MYTHOLOGY THE PINK PANTHER FCBD 2016 EDITION
(W/A/CA) S.L. Gallant, Various
He's been the coolest cat in all of cartoondom for over 50 years! The Pink Panther is back in brand new adventures to tickle your funny bone and test the sanity of The Little Man! Join all of Pink's pals from the DePatie-Freleng stable including The Inspector and The Ant and The Aardvark, as we welcome The Pink Panther to 21st Century comic books in style! This special FCBD issue is chock-full of fun with new and classic Pink Panther adventures, including the hilarious antics of "The Mighty Pan-Thor"! 2016 is the year of The Pink Panther, and it all starts here on Free Comic Book Day! (STK699306)
32pgs, FC FREE!
ARCANA STUDIOS STAN LEE'S THE UNKNOWNS/HOWARD LOVECRAFT FCBD 2016 EDITION
Comic book legend Stan Lee's newest creation, The Unknowns, makes it's world debut on Free Comic Book Day! Two average teens help alien protectors disguise themselves as a touring rock group in order to take out undercover cells of invaders! Also included is the next chapter in the Howard Lovecraft series (just in time for the animated feature film, Howard Lovecraft & The Frozen Kingdom), as everyone's favorite Cthulhu teams up with young H.P. Lovecraft in Howard Lovecraft & The Squid Kids! 32 pages of all-ages animated fun! (STK699198)
32pgs, FC FREE!
ARCHIE COMICS SONIC SAMPLER FCBD 2016 EDITION
(W/A) Various (CA) Jamal Peppers, Gary Martin
Get the best of both worlds with the Sonic Sampler! Hot on the heels of the all-new epic Sonic comics event, "Panic in the Sky," comes a supersonic sampling of stories for Free Comic Book Day! Join Sonic and friends as they band together to save the world from the evil ambitions of Dr. Eggman in these select stories from Sonic the Hedgehog and Sonic Universe! Plus, get a sneak peek of what's to come with a special "Fast Forward Feature" that you'll have to see to believe! (STK698177) NOTE: Not available in Australia and New Zealand.
32pgs, FC FREE!
ASPEN, MLT WORLDS OF ASPEN FCBD 2016 EDITION
(W) J. T. Krul, Joshua Hale Fialkov (A) Jordan Gunderson (CA) Jordan Gunderson, Peter Steigerwald
The crossover event every Aspen fan has been waiting for has finally arrived! Aspen Matthews is a woman of two worlds, the one above and the one below. Now, both worlds face certain annihilation at the hands of a supreme being from another universe — the Soulfire Universe! Prepare to experience the Worlds of Aspen as you've never seen before as Michael Turner's flagship creations, Fathom and Soulfire come crashing together for the first time ever! And the results will be nothing short of a new Aspen Universe altogether! This. Changes. Everything. (STK698718)
32pgs, FC FREE!
AUTOMATIC PICTURES CON MAN'S SPECTRUM FCBD 2016 EDITION
(W) Pj Haarsma, Alan Tudyk (A) Sarah Stone (CA) Kenneth Rocafort, Sarah Stone
Firefly stars Alan Tudyk and Nathan Fillion present the first Spectrum comic from their highly successful webseries, Con Man! Our planet has been ravaged by two alien attacks and life on Earth is very different. Captain James Raaker is tasked with cleaning it up, but this is just a set-up to destroy everything he loves and quite possibly life on Earth itself! (STK697545)
32pgs, FC FREE!
BENITEZ PRODUCTIONS LADY MECHANIKA #0 FCBD 2016 EDITION
(W) Joe Benitez (A/CA) Joe Benitez, Peter Steigerwald
Introduce new readers to this best-selling series, remarkably successful with female readers as well as fans of the popular "steampunk" genre! This special FCBD issue includes the original 14-page one-shot — introducing Lady Mechanika, a young woman in Victorian England with mechanical limbs and no memory of how she got them, searching desperately for the secrets to her past — plus excerpts from two Lady Mechanika trade paperbacks, on sale by FCBD! (STK698675)
32pgs, FC FREE!
BLACK MASK COMICS WE CAN NEVER GO HOME/YOUNG TERRORISTS FCBD 2016 EDITION
(W) Matthew Rosenberg, Matt Pizzolo (A) Various (CA) Amancay Nahuelpan
Here's what you'll find on Black Mask's "Mixtape" for FCBD 2016… SIDE A: We Can Never Go Home: "Dead Set on Destruction"—Madison is dangerous. And a little danger is all Morgan and Dale ever wanted. This story bridges the gap between WCNGH Vol. 1 and the upcoming new series. SIDE B: Young Terrorists: "Me Against the World"—Sera learns the hard way you can't build an army without fighting a few (hundred) cops. Welcome to the Sovereign State of Greater Detroit! (STK699197)
32pgs, FC FREE!
COMIC BOOK LEGAL DEFENSE FUND HELP THE CBLDF… DEFEND COMICS FCBD 2016 EDITION
(W/A) Lucy Knisley & Various (CA) Craig Thompson
An all-star, all-ages spectacular featuring the greatest in Kid's Comics! Stand up for your right to read with some of your favorite characters, and a cavalcade of great cartoonists! Fantasy, humor, adventure and more — all about defending the books we love the most! Cover by Craig Thompson (Space Dumplins, Blankets)! (STK697833)
32pgs, FC FREE!
DARBY POP BRUCE LEE: THE DRAGON RISES #1 FCBD 2016 EDITION
(W) Shannon Lee, Jeff Kline (A) Brandon McKinney, Zac Atkinson (CA) Bernard Chang
Bruce Lee never died. And he hasn't aged. But, he has no idea who he is, what's happened in the world in the past 40+ years, or why so many "thugs" want a piece of him. With the help of a fly BFF from the '70s — Joe Toomey, P.I. — and pair of precocious teens, Bruce will piece together a mystery more insidious than ever imagined, and find himself forced to do battle with both an enigmatic Villain and his very own conscience. The Dragon rises… and "walks on" once more! Co-written by Bruce's own daughter, Shannon Lee, and Jeff Kline (Jackie Chan Adventures, Indestructible)! (STK697539)
32pgs, FC FREE!
DARK HORSE COMICS DARK HORSE ALL-AGES SAMPLER FCBD 2016 EDITION
(W) Michael Dante Dimartino & Various (A) Brian Churilla
Avatars, Dragons, and Zombies? What could be more friendly for all-ages than original tales from these prime Dark Horse worlds? Nothing. For Free Comic Book Day 2016, take a journey with the Avatar from The Legend of Korra, the dragon riders from How to Train Your Dragon, and the fundead of Plants vs. Zombies! (STK699267)
32pgs, FC FREE!
DC COMICS DC COMICS SILVER BOOK—FCBD 2016 EDITION
(W/A/CA) TBD
A special, Top Secret project too big to announce! Please check back in the February issue of PREVIEWS and at freecomicbookday.com for future updates!
32pgs, FC FREE!
DEVIL'S DUE/1FIRST COMICS DEVIL'S DUE/1FIRST COMICS MIXTAPE FCBD 2016 EDITION
In this collection of short stories, we introduce new, never before seen Squarriors characters, reveal an original story of Mercy Sparx's youth from the world of Sheol as a prelude to Mercy Sparx: Year One, a short story featuring Badger vs. everyone's favorite shirtless world leader, and wrap with the Public Relations short "How to Dragon Your Train," where a train derailment PR disaster goes bad when a team of hungry dragons are sent to airlift out the victims. (STK699199)
32pgs, FC FREE!
DRAWN & QUARTERLY MOONCOP: A TOM GAULD SAMPLER FCBD 2016 EDITION
(W/A/CA) Tom Gauld
Penned by the cartoonist of Goliath and You're All Just Jealous of My Jetpack, this FCBD offering features an exclusive excerpt from Tom Gauld's all-new graphic novel Mooncop, plus a selection of short humor strips. Mooncop details the deadpan day-to-day adventures of the last policeman on the colonized moon. Support good comics and see why Tom Gauld has regular comics in the Guardian, New York Times and the New Yorker! It's simple: he's brilliant and funny. (STK697538)
32pgs, FC FREE!
DYNAMITE ENTERTAINMENT GRUMPY CAT (AND POKEY!) SPECIAL FCBD 2016 EDITION
(W) Royal McGraw & Various (A) Ken Haeser & Various (CA) Ken Haeser
Grumpy Cat, the Internet's cutest curmudgeon, brings her hilarious brand of sass to comic shops everywhere with the official Grumpy Cat Free Comic Book Day 2016 special! Readers of all ages will love the misadventures of this killjoy kitten and her high-spirited brother Pokey! 8,000,000 Facebook likes and 306,000 Twitter followers can't be wrong — Grumpy Cat is a worldwide sensation and a (devilishly) delightful giveaway for comic shop fans and newcomers! (STK698619)
32pgs, FC FREE!
FANTAGRAPHICS BOOKS LOVE AND ROCKETS SAMPLER FCBD 2016 EDITION
(W/A/CA) Gilbert Hernandez, Jaime Hernandez
Love and Rockets is one of the most acclaimed and beloved series in comics history, and this summer, Fantagraphics has announced that the series will be rebooted as a quarterly comic book series beginning with a new #1 in July! To celebrate, Fantagraphics is offering up this one-shot sampler featuring classic L&R material by the great Hernandez Brothers, including an all-new cover and several other surprises! A perfect introduction to one of the most wonderful bodies of work in our medium's history. (STK699268)
MATURE THEMES
32pgs, B&W FREE!
FIRST SECOND BOOKS SCIENCE COMICS FCBD 2016 EDITION
(W/A/CA) Maris Wicks, Jon Chad
Get to know your universe with Free Comic Book Day's Science Comics! Do you want to know more about how the world works — what's going on under our feet and in our oceans? With two action-packed, full-color non-fiction science stories — one by Maris Wicks (author of Human Body Theater and Coral Reefs) and one by Jon Chad (author of Leo Geo and the upcoming Volcanos), Science Comics shows off what's fun, weird, and crazy about the Earth we all inhabit! (STK697888)
32pgs, FC FREE!
GEMSTONE PUBLISHING OVERSTREET'S COMIC BOOK MARKETPLACE FCBD 2016 EDITION
(W) Robert M. Overstreet, J. C. Vaughn (CA) John K. Snyder
Whether you're talking about new comics or classic back-issues, comic books are driving pop culture. Find out why as Overstreet's Comic Book Marketplace takes a look at the top 10 highest selling comics ever, as well as the worlds of cosplay, original comic art, cosplay, and movie posters! From Will Eisner's The Spirit to the "Mr. Fixit"-era Incredible Hulk artwork of Jeff Purves, and more, CBM has the insights! Cover by John K. Snyder III. (STK697589)
32pgs, FC FREE!
GRAPHIC INDIA GRANT MORRISON'S AVATAREX: DESTROYER OF DARKNESS FCBD 2016 EDITION
(W) Grant Morrison (A/CA) Jeevan Kang
From legendary creative icon, Grant Morrison (Batman, All Star Superman, 18 Days), comes his newest hero! In Avatarex, the epic world of living myth collides with the mundane realities and cultural upheavals of contemporary India. What happens when an all-powerful super-being awakens to fight the Last War of the Age — only to discover he's been sent too early for the End Days and must somehow learn to exist in a world that's too small and too frail to survive his presence? (STK697541)
40pgs, FC FREE!
GRAPHIX GRAPHIX SPOTLIGHT: DREAM JUMPER BOOK ONE: NIGHTMARE ESCAPE FCBD 2016 EDITION
(W) Greg Grunberg (A/CA) Lucas Turnboom
Trapped in a never-ending nightmare… Ben has a gift. He can jump into other people's dreams. So when his classmates start falling victim to an evil dream monster, he knows he has to do something. But can he get to them in time? With help from a mysterious companion, Ben just might be able to defeat the monster and save his friends… if he can harness the power within! Created by actor Greg Grunberg (Heroes, Alias, Felicity). (STK697767)
32pgs, FC FREE!
HERMES PRESS THE PHANTOM: 80TH ANNIVERARY SPECIAL FCBD 2016 EDITION
(W) Joe Gill (A) Don Newton, Jim Aparo (CA) Jim Aparo
To celebrate the 15th anniversary of Free Comic Book Day and the 80th anniversary of the original masked hero,"The Ghost Who Walks" known as The Phantom, Hermes Press presents four classic tales by legendary comic artists Jim Aparo and Don Newton! All this, plus documentary materials and other surprise to make this a truly noteworthy celebration of two important anniversaries. Don't miss it! (STK697584)
32pgs, FC FREE!
IDW PUBLISHING STRAWBERRY SHORTCAKE #0 FCBD 2016 EDITION
(W) Georgia Ball (A/CA) Amy Mebberson
Strawberry Shortcake returns to comics! It's a berry special re-introduction to Strawberry Shortcake and all her pals and — maybe — a certain not-so-nice purple someone as well?! (STK698019)
32pgs, FC FREE!
IMAGE COMICS ODDLY NORMAL CHAPTER ONE FCBD 2016 EDITION
(W/A/CA) Otis Frampton
Explore the magical land of Fignation this Free Comic Book Day with Oddly Normal, a ten-year-old girl with pointed ears and green hair — a half-witch who will be the first to tell you that being a little different doesn't make it easy to make friends at school! On her 10th birthday, Oddly blows out her cake's candles and makes a disastrous wish. Now, she must travel to Fignation to uncover the mystery of her parents' disappearance. Join beloved cartoonist Otis Frampton and the delightful Oddly as she navigates a strange new school, monstrous bullies, and Evil itself on an unforgettable fantasy adventure through this vibrant world! (STK698795)
32pgs, FC FREE!
KODANSHA COMICS ATTACK ON TITAN ANTHOLOGY PREVIEW FCBD 2016 EDITION
(W/A) Various (CA) Hajime Isayama
Titans of Comics + Attack on Titan! The biggest manga of the decade, reinterpreted by the top talent in comics! Get a taste of this fall's upcoming Attack on Titan Anthology, a collection of original stories set in the world of Attack on Titan, from creators including Scott Snyder, Gail Simone, Michael Avon Oeming, Tomer Hanuka, Cameron Stewart, Brenden Fletcher, Babs Tarr, Faith Erin Hicks, Kate Leth, Kevin Wada, and many more! (STK697762) (C: 1-0-0) NOTE: Not Available in India.
32pgs, FC FREE!
MARVEL COMICS CAPTAIN AMERICA #1 FCBD 2016 EDITION
(W/A/CA) TBD
The Sentinel of Liberty returns in this all-new FCBD 2016 debut issue! (STK699306)
32pgs, FC FREE!
NEW ENGLAND COMICS PRESS THE TICK SPECIAL FCBD 2016 EDITION
(W) Jeff McClelland (A) Duane Redhead, Ian Nichols (CA) Duane Redhead
The Tick celebrates FCBD 2016 with 32 pages of full-color comic book fun! In the all-new lead story, "The Council of Ticks", The Tick and Arthur discover that dimensional rifts have allowed dozens of different Ticks from alternate universes and realities to congregate in the "real" world! It's hard enough to hide and feed a hundred Ticks…. but an even bigger challenge rears its literally ugly head when a 50-foot tall Thrakkorzog breaks through the dimensional barrier! Can even a warehouse-full of multi-dimensional Ticks confront such a menacing… er, menace!? Plus, two back-up stories, including an all-new story with art by Ian Nichols! Great for fans new and old! (STK698729)
32pgs, FC FREE!
NOBROW HILDA/FANTASY SPORTS PREVIEW FCBD 2016 EDITION
(W/A/CA) Luke Pearson
In the first Free Comic Book Day offering from Nobrow, the Eisner-nominated Luke Pearson tells the story of intrepid young Hilda's first adventure in the mysterious Stone Forest. Get ready for the body-swapping-est adventure this side of Freaky Friday! And keep your eyes peeled for Wiz and Mug, on their way to their next round of Fantasy Sports! (STK697585)
32pgs, FC FREE!
ONI PRESS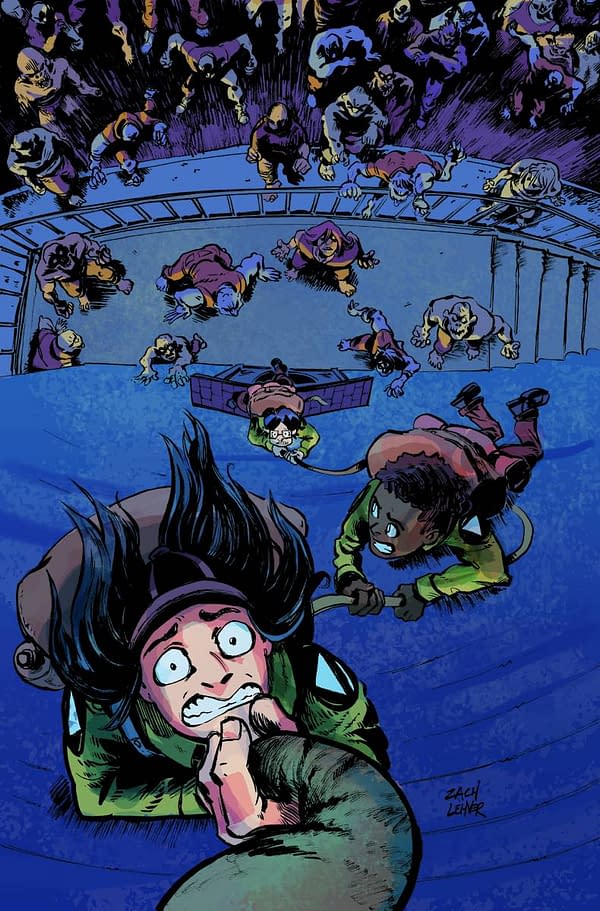 JUNIOR BRAVES OF THE APOCALYPSE FCBD 2016 EDITION
(W) Greg Smith, Michael Tanner (A/CA) Zach Lehner
The Junior Braves Free Comic Book Day edition features a 24-page excerpt from Book 1 of the hit Oni Press survival horror Young Adult series! Perfect for readers who are a little too young for The Walking Dead, this zombie apocalypse epic follows a plucky band of scouts as they navigate the end of the world with only their combined smarts, teamwork, and good old fashioned camping skills at their disposal. And even then, they've still got other survivors to contend with! Will Tribe 65 make it out alive? (STK697834)
32pgs, FC FREE!
PAPERCUTZ SANJAY AND CRAIG/HARVEY BEAKS FCBD 2016 EDITION
(W) Eric M Esquivel, Stefan Petrucha (A) Sam Spina, Andreas Schuster (CA) James Kaminski
The hottest new stars on Nickelodeon — Sanjay and Craig and Harvey Beaks — co-star in this comic collecting complete stories from Nickelodeon Magazine and from the Papercutz graphic novels. In "Lord of the Pipes", everyone's favorite talking snake, Craig, literally goes down the drain on an epic quest to fetch Sanjay's father's wedding ring… and has some close encounters with the strange beings he meets there. Then "Fight the Future with Flavor" dramatically depicts the shocking connection between Sanjay eating a seemingly harmless samosa and the total annihilation of the entire world by Martians! Also, Harvey Beaks proves he's a "First Class Finder" when his mad Hide-and-Seek skills lead him to finding a big scary monster! (STK698796)
32pgs, FC FREE!
REBELLION/2000 AD 2000 AD SPECIAL FCBD 2016 EDITION
(W/A) Various (C) Mike Allred
Forty-eight pages of thrill-drenched Sci-Fi from Britain's greatest comic! Including exclusive new stories, digital strips, and a downloadable song from MC-1's favorite band! Creators include Alec Worley, Matt Smith, John Wagner, Alan Grant, Kek W, Barry Island, Hannah Berry, Peter Milligan, Eric Powell, Dani K, John Burns, Rufus Dayglo, Carlos Ezquerra, Henry Flint, Joëlle Jones, and Ron Smith. (STK698195)
48pgs, PC FREE!
SPACE GOAT SPACE GOAT PRESENTS: DARK LILY & FRIENDS FCBD 2016 EDITION
(W) Georgia Ball & Various (A) George Kambadais & Various
Fun for all ages from Space Goat Publishing for Free Comic Book Day! This title features the first appearance of Dark Lily, a character destined for her own title in 2016. Meet the fun loving characters of Monster Elementary as they make their direct-market debut (coming to comic stores in 2016). The Monster Elementary graphic novel won the Independent Book Award's First Place Gold Medal for "Best Humor Graphic Novel". Plus, young readers get a free glimpse at both Rocket Queen & The Wrench and Mage, Inc., already in stores. (STK698797)
32pgs, FC FREE!
TH3RD WORLD STUDIOS THE STUFF OF LEGEND PREVIEW FCBD 2016 EDITION
(W) Mike Raicht, Brian Smith (A/CA) Charles Paul Wilson
Th3rd World Studios is proud to announce the return of the New York Times best-selling series, The Stuff of Legend, with this sneak peek into the much anticipated Volume 5, launching May 11th. In "A Call to Arms", our band of toys have been left scattered across the Dark in the aftermath of the Boogeyman's deceit, and they must pull themselves together or risk losing their boy forever. Also included is the original The Stuff of Legend story that started it all — allowing new readers a glimpse of the adventure that awaits our brave toys as they venture through their boy's closet… (STK698358)
32pgs, FC FREE!
TITAN COMICS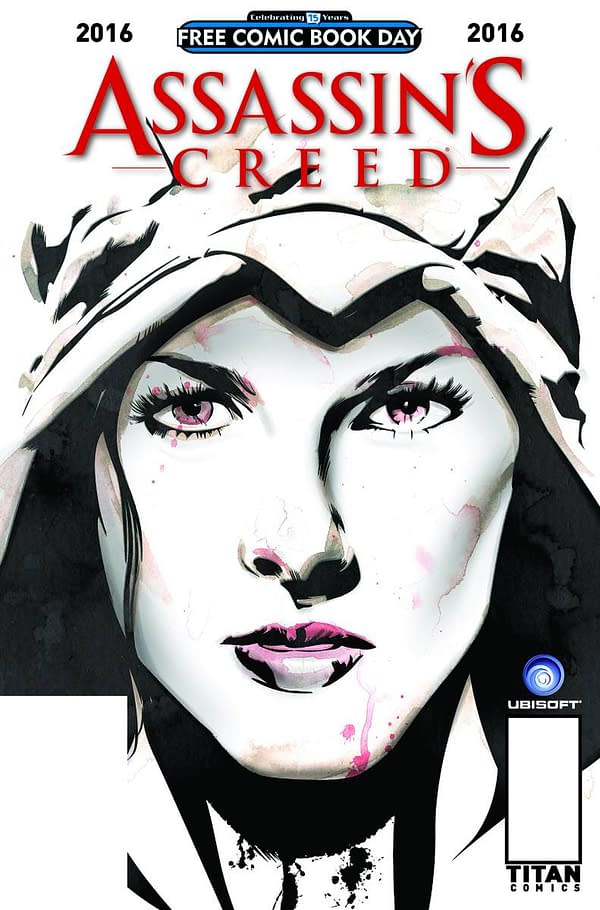 ASSASSIN'S CREED FCBD 2016 EDITION
(W) Anthony Del Col & Various (A) Neil Edwards, Dennis Calero
Enter the shadowy world of the Assassins and Templars, two feuding factions who have battled over the centuries to decide the course of humanity! Two all-new short stories, written and illustrated by the creative teams of the regular comics, highlight a shocking event in the life of new Assassin Charlotte de la Cruz, and reveal the true extent of the mysterious Templar Black
Cross's terrifying skills! New readers or experienced fans: strap on your hidden blades, don your cowls, and blend into the crowd to discover secrets you won't read anywhere else! (STK698717)
32pgs, FC FREE!
TOP SHELF PRODUCTIONS MARCH TRILOGY SAMPLER FCBD 2016 EDITION
(W) John Lewis, Andrew Aydin (A/CA) Nate Powell
Top Shelf celebrates Free Comic Book Day with 32 pages of excerpts from March Book One, Book Two, and Book Three (coming summer 2016). The first graphic novel from a sitting member of Congress, Presidential Medal of Freedom recipient, and American icon. John Lewis rose from humble beginnings to become a national leader of the civil rights movement. This is his story, from an Alabama farm to the March on Washington and beyond, co-written by Andrew Aydin and brought to astonishing life by Nate Powell in a graphic novel trilogy. (STK698020)
32pgs, FC FREE!
UDON ENTERTAINMENT STREET FIGHTER V SPECIAL FCBD 2016 EDITION
(W) Ken Siu-Chong, Matt Moylan (A) Edwin Huang & Various (CA) Edwin Huang
Featuring the cast of the all-new Street Fighter V, Capcom's biggest video game of 2016! The new challengers from Street Fighter V make their first appearance in UDON's comics, as they collide with classic World Warriors in three new stories! This special one-shot is not to be missed by any Street Fighter fan! (STK698234)
32pgs, FC FREE!
UNITED PLANKTON PICTURES SPONGEBOB FREESTYLE FUNNIES FCBD 2016 EDITION
(W) Evan Dorkin, Israel Sanchez (A) Evan Dorkin, Ramona Fradon (CA) Gregg Schigiel, Rick Neilsen
32 pages of all-original comics from United Plankton Pictures! In "Renegade Arms," SpongeBob must grow extra appendages to deal with a huge influx of Krabby Patty orders. But without the proper training, the new arms are wreaking havoc! Then, in a brand-new Mermaid Man and Barnacle Boy adventure — "Bedlam! In Bikini Bottom!" — the diluvian duo faces a fish egg… from space?! All this, plus deep truths about sea trenches from Maris Wicks, SpongeFunnies from James Kochalka, and more! (STK698614)
32pgs, FC FREE!
VIZ MEDIA VIZ ONE PUNCH MAN/MY HERO ACADEMIA SAMPLER FCBD 2016 EDITION
(W) One, Kouhei Horikoshi (A) Yusuke Murata, Kouhei Horikoshi (CA) Kouhei Horikoshi, Yusuke Murata
Nothing about Saitama passes the eyeball test when it comes to superheroes, from his lifeless expression to his bald head to his unimpressive physique. However, this average-looking guy has a not-so-average problem — he just can't seem to find an opponent strong enough to take on! He is the One-Punch Man! Also: What would the world be like if 80% of the population manifested superpowers called "Quirks"? Heroes and villains would be battling it out everywhere! Being a hero would mean learning to use your power, but where would you go to study? The Hero Academy of course! But what would you do if you were one of the 20% percent who were born Quirkless? (STK699269)
32pgs, B&W FREE!
Z2 COMICS Z2 COMICS LAB!!! FCBD 2016 EDITION
(W/A) Ian McGinty & Various
Come one, come all, and read Z2's first FCBD anthology featuring all of your favorite Z2 characters in stories revolving around comic books! Can Kit and friends survive being thrust into the worst comic of all time? Read an excerpt from Amazing Adventure #3 the first appearance of Francis Carver. All of these stories and more! (STK697935)
32pgs, FC FREE!
FREE COMIC BOOK DAY SECTION
GOLD LEVEL SPONSORS
ARCHIE #1 FCBD 2016 EDITION
(W) Mark Waid (A/CA) Fiona Staples
Comic superstars Mark Waid and Fiona Staples reimagine an icon in this special FCBD reprint of the best-selling first issue of Archie! Change has come to Riverdale in the can't-miss kick-off to Archie's new ongoing series! As the new school year approaches, you'd think Archie Andrews would be looking forward to classes and fun — but nothing is as it seems in the little town of Riverdale. Is this a one-off, or a sign of bigger changes awaiting America's favorite teens… and the entire town? Find out in this exciting, remarkable and critically acclaimed first issue!
32pgs, FC
BONGO COMICS FREE-FOR-ALL FCBD 2016 EDITION
(W/A/CA) Matt Groening
Get in line for the foremost Free Comic Book Day four-color giveaway of the year! Pieman and the Cupcake Kid take on a new crime team, Glutenus Maximus and his sidekick Gluten Tag, whose pastry-related misdeeds have led to a ban on all baked goods in Springfield! How will the heroic duo battle their foes without their arsenal of pies and cupcakes, and what's worse…what will Homer do without his daily dose of donuts? Then, after an unfortunate trip to the dentist, Principal Skinner is mistaken for a vampire. It doesn't help that Bart fuels the fire (and supplies the pitchforks) to an unruly mob uprising. All that and much, much more — and it's all free!
32pgs, FC
BOOM! STUDIOS SUMMER BLAST FCBD 2016 EDITION
(W/A) Box Brown & Various (CA) Kat Leth
In the BOOM! Studios 2016 Summer Blast, read all-new, original short stories of David Petersen's Mouse Guard and Jim Henson's Labyrinth. Plus, get sneak peeks of the upcoming new Adventure Time: Comics series, the Lumberjanes: Don't Axe, Don't Tale special, and this summer's highly anticipated original graphic novel from Archaia, The Cloud. As a bonus, we've included preview pages from Goldie Vance, our newest BOOM! Box debut. There's something in this Free Comic Book Day issue for everyone!
48pgs, FC
DARK HORSE SERENITY/HELLBOY/ALIENS FCBD 2016 EDITION
(W) Mike Mignola & Various (A) Tristan Jones & Various (CA) Sean Cooke
Need a reason to pick up Dark Horse Comics' 2016 Free Comic Book Day offering? Here's three: From Mike Mignola and Richard Corben, a lesson from Hellboy's past is shared. From Brian Wood, a peek into the Aliens: Defiance series with an original tale. And from the world of Joss Whedon, a glimpse at the crew of the Serenity, following the film and the smash-hit series Leaves on the Wind!
32pgs, FC
DC COMICS GOLD BOOK—FCBD 2016 EDITION
(W/A/CA) TBD
A special, Top Secret project too big to announce! Please check back in the February issue of PREVIEWS and at freecomicbookday.com for future updates!
32pgs, FC
DC COMICS BOB'S BURGERS FCBD 2016 EDITION
DYNAMITE ENTERTAINMENT
(W/A) Various (CA) Sara Richard
The Belcher Family proudly celebrates this year's Free Comic Book Day event with three wild and zany adventures featuring those lovable scamps Tina, Gene, and Louise, plus guest stars Bob, Linda, and all your favorites from Bob's Burgers! It's the official Bob's Burgers comic book based on the fan-favorite (and Emmy Award-winning) Fox animated sitcom, jam-packed with the mouth-watering flavor that longtime fans and curious newcomers can enjoy!
32pgs, FC
ROM: SPACE KNIGHT #0 FCBD 2016 EDITION
IDW PUBLISHING
(W) Christos N. Gage, Chris Ryall (A) David Messina, Paolo Villanelli (CA) Zach Howard
He strikes from outer space… hurtling Earthward on his dread mission of cosmic vengeance! Rom the Space Knight is back for the first time in decades, and nothing can stop him! This introductory story re-introduces the character and leads into July's all-new, ongoing series!
CAMP MIDNIGHT FCBD 2016 EDITION
IMAGE COMICS
32pgs, FC
(W) Steven T. Seagle (A/CA) Jason Adam Katzenstein
Add a touch of spooky to your Free Comic Book Day this year with the first chapter of Ben 10 and Big Hero 6 creator Steven T. Seagle and New Yorker Magazine cartoonist Jason Adam Katzenstein's Camp Midnight! Not wanting to please her "step monster," reluctant Skye is dead-set on not fitting in. But when she's accidentally sent to the wrong summer camp — Camp Midnight, where everyone attending is a full-fledged monster — Skye realizes that not fitting in will be the very least of her challenges! Camp Midnight is the perfect book for readers who love Raina Telgemeier's Smile but wish it had more bowls of gooey eyeballs in the lunch scenes.
32pgs, FC
AVENGERS #1 FCBD 2016 EDITION
MARVEL COMICS
(W/A/CA) TBD
Earth's Mightiest Heroes return in an all-new FCBD 2016 edition!
32pgs, FC
DOCTOR WHO: FOUR DOCTORS SPECIAL FCBD 2016 EDITION
TITAN COMICS
(W) Nick Abadzis & Various (A) Eleonora Carlini & Various
Jump on board the TARDIS with FOUR all-new short tales of the Ninth, Tenth, Eleventh and Twelfth Doctors! Whether you're a whiz with a Sonic Screwdriver or completely new to Who, this is the perfect Free Comic Book Day adventure for SF fans of all ages! Written and illustrated by the creative teams of the regular comics, this is the ideal place to start reading!
32pgs, FC
VALIANT 4001 A.D. SPECIAL FCBD 2016 EDITION
(W) Matt Kindt & Various (A) Clayton Crain & Various (CA) Clayton Crain
The most ambitious Valiant event yet starts right here on Free Comic Book Day with a shocking new vision of the future in 4001 A.D.! The war for the fate of the 41st century begins here with an exclusive, never-before-seen prelude to the blockbuster comics event of the summer by New York Times best-selling writer Matt Kindt and superstar artist Clayton Crain. Rai! Eternal Warrior! X-O Manowar! Bloodshot! Geomancer! Armstrong! And more! The future of the Valiant Universe begins here! Plus: An all-new look inside Valiant's next hit ongoing series, A&A, from Rafer Roberts and David Lafuente; Divinity II from Matt Kindt and Trevor Hairsine; and brand-new interviews, special features and surprises that no comic fan can afford to miss!

PERFECT SQUARE PRESENTS: POKÉMON
VIZ MEDIA
32pgs, FC
(W/A/CA) Santa Harukaze
To the forest! To the sea! To Legendary Island! Join our Pokémon pals on a quest through Unova for the Legendary joke — while testing your Pokémon knowledge and laughing all the way!
---
---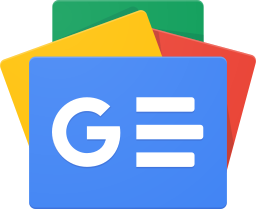 Stay up-to-date and support the site by following Bleeding Cool on Google News today!