There are plenty of comic books being published this week, that will bump sales figures for comic book stores and book stores. JJ Abrams co-writing a new Spider-Man series launching tomorrow, with his son Henry Abrams and artist Sara Pichelli, with rumoured mega-spoilers that will make it very hard to find all of a sudden. The City Of Bane Batman comic that has been selling out repeatedly of late. A new issue of the Critical Role comic, the launch of a Napoleon Dynamite comic, a new GI JOE #1, the Heroes In Crisis-sequel Flash Forward, a new Absolute Carnage, a bunch of Justice League and Superman titles, a new Star Wars Rey comic, and the penultimate issue of House Of X.
But 0ne comic book is going to beat them all hands down in terms of sales.
It's called Guts. It's by Raina Telgemeier. And it follows bestselling original graphic novels such as Sisters, Smile, Drama and Ghosts – and my daughter has been asking if it is out for most of the last six months. It is currently the second best-selling book on Amazon, just behind Margaret Atwood's sequel to The Handmaid's Tale, Testaments.
A true story, Raina wakes up one night with a terrible upset stomach. Her mom has one, too, so it's probably just a bug. Raina eventually returns to school, where she's dealing with the usual highs and lows: friends, not-friends, and classmates who think the school year is just one long gross-out session. It soon becomes clear that Raina's tummy trouble isn't going away… and it coincides with her worries about food, school, and changing friendships. What's going on?
Here's a look ahead at the comic.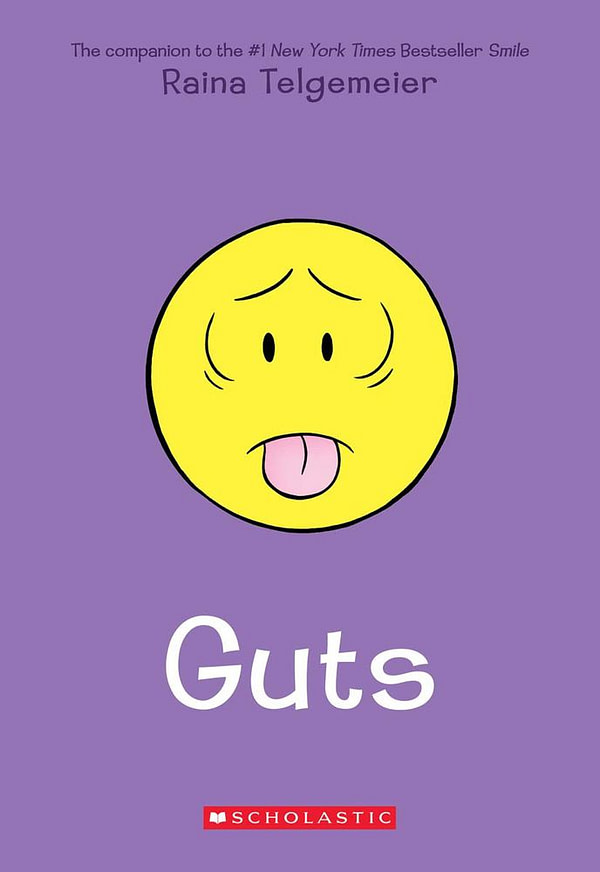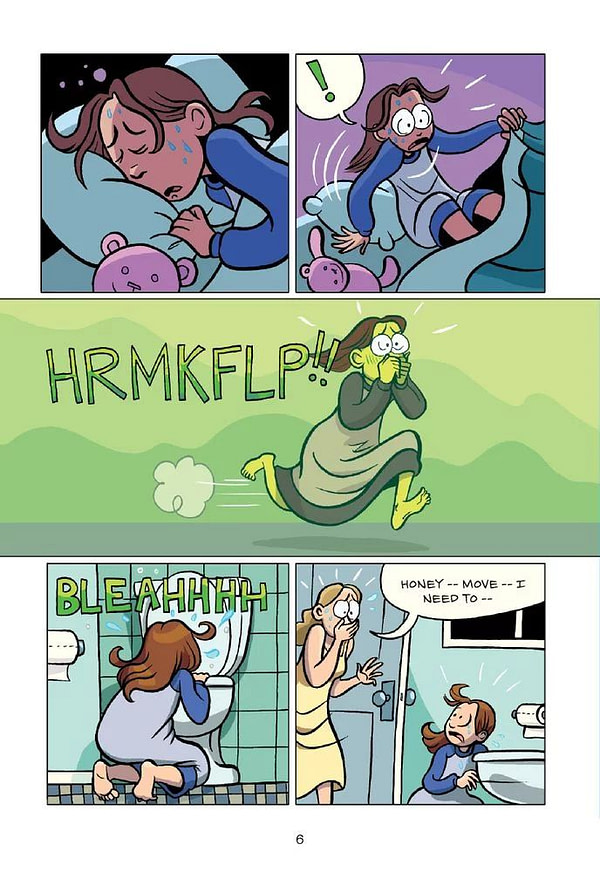 Available in paperback and hardcover, it is in bookstores today and comic stores tomorrow. And Raina is undergoing a signing tour…
Tuesday, September 17
New York, NY Barnes & Noble Union Square, with Hillary Frank, host of "The Longest Shortest Time"
Wednesday, September 18
Brooklyn, NY BRIC, Brooklyn Book Festival and Greenlight Bookstore, with Jerry Craft
Saturday, September 21
San Francisco, CA Palace of Fine Arts Theatre with Book Passage
Sunday, September 22
San Francisco, CA Willow Glen High School and Hicklebee's Bookstore, with Gene Yang
Wednesday, October 2
St. Louis, MO Keating Performing Arts Center at Kirkwood H.S. with The Novel Neighbor
Saturday, October 5
Cincinnati, OH Joseph Beth Booksellers
Thursday, October 10
Salt Lake City, UT Provo Public Library with King's English, with Shannon Hale and LeUyen Pham
Saturday, October 12
Denver, CO Denver Marriott South with Tattered Cover Bookstore
Wednesday, October 16 
Philadelphia, PA Friends' Central School with Children's Book World
Thursday, October 17
Philadelphia, PA Barnes & Noble Neshaminy Mall
Wednesday, October 23
Atlanta, GA Little Shop of Stories
Saturday, October 26
Austin, TX Texas Book Festival, Graphix Con with Gale Galligan and Molly Ostertag
Tuesday, November 5
San Francisco, CA First Congregational Church of Berkeley with Mrs. Dalloway's Bookstore
Saturday, November 9
Portland, OR Portland Book Festival, Graphix Con with Jennifer L. Holm, Aron Nels Steinke, and Molly Ostertag