Teen Titans #33 will be in stores next week from DC Comics, by the creative team of Adam Glass and Sean Chen, and that means that over the next few days, it will likely show up as an EX-X-XCLUSIVE preview on a compliant DC media partner website, part of the quid pro quo relationship between the comic book media and the publishers they cover that drives the click economy of the comics news business.
But we've got one first. At first, we were beginning to worry, as our Mysterious Benefactor had yet to send us any pages from next week's DC Comics ahead of their media partner preview releases, but then, our dog started barking and we heard a rustling on our porch and a knock at the door. We opened the door to find Alan Moore in a wizard's cloak and slippers. We asked him what he was doing, but he just glared silently at us. We slowly reached into his beard and pulled out these three pages from Teen Titans #3 and two pages from Wonder Woman: Come Back to Me #2.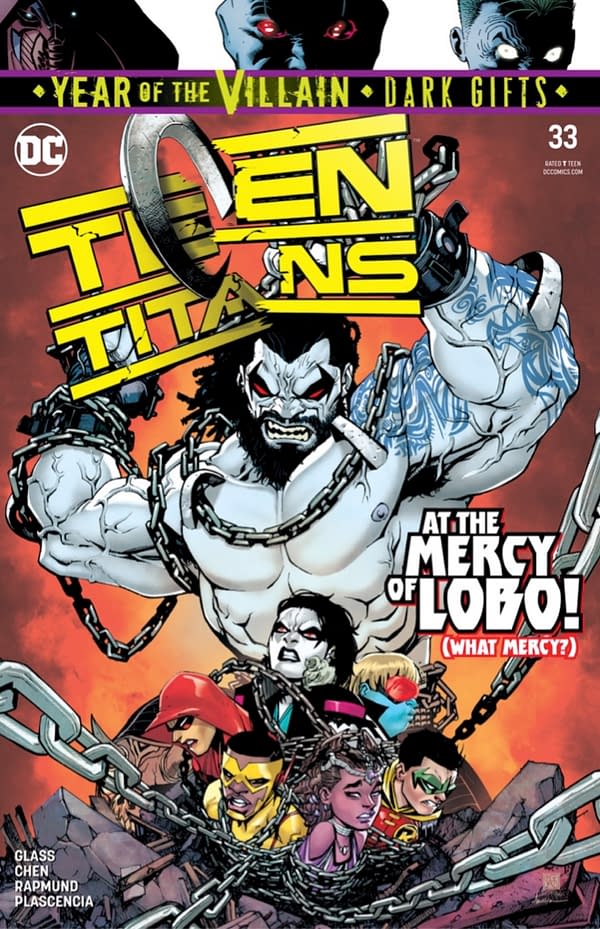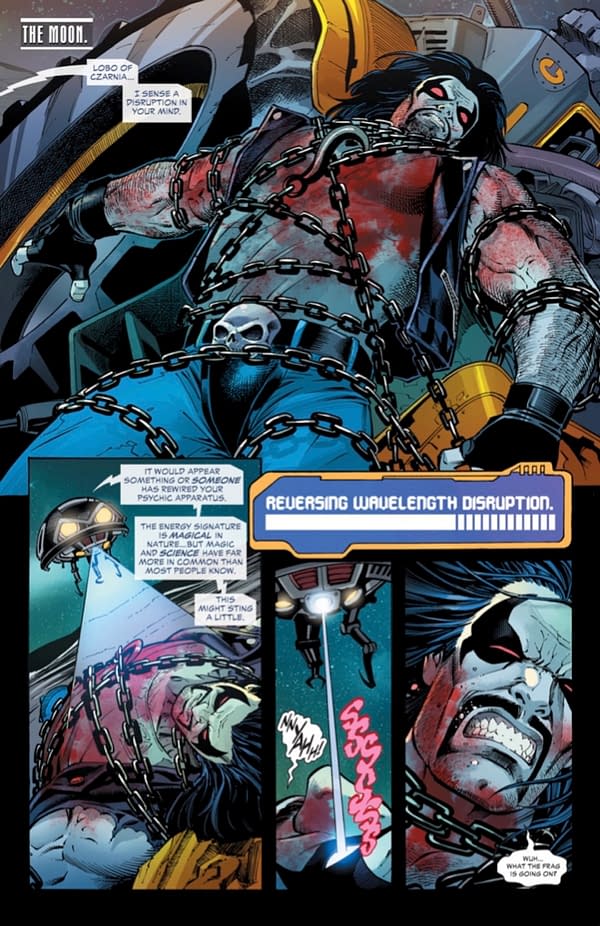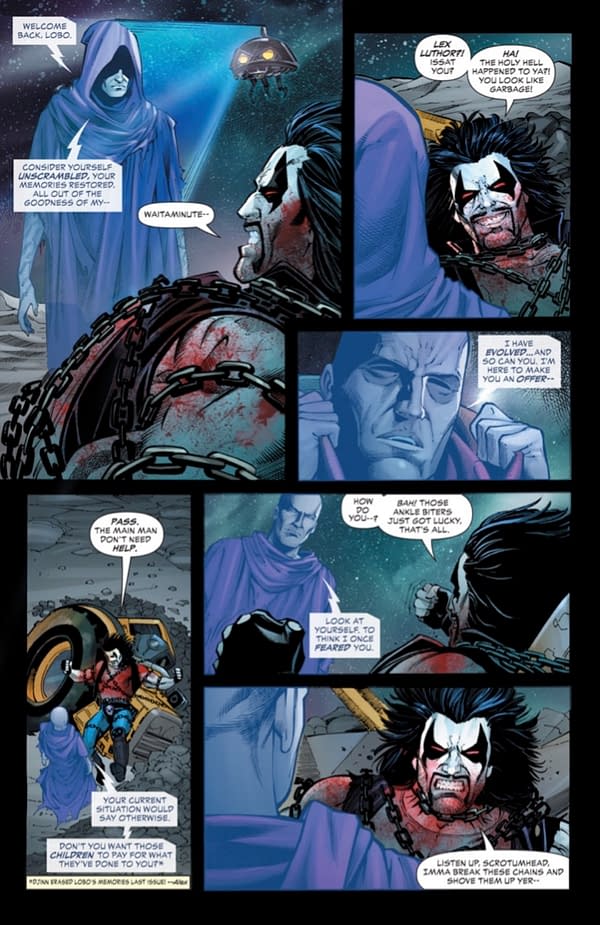 Hmm, now that Krypton has been canceled and Lobo's spinoff declined, is he looking for a crossover with the Teen Titans so he can appear on their DC Universe show? To find out, pick this one up on Wednesday.
TEEN TITANS #33 YOTV DARK GIFTS
JUN190544
(W) Adam Glass (A) Sean Chen (CA) Bernard Chang
In the wake of the Terminus Agenda and Crush's first encounter with Lobo, the Teen Titans begin again at Mercy Hall with a new mission and a new lease on life. But just when they catch their first break in ages in their hunt for the Other, Robin confirms that the person who let his prisoners escape…was one of his teammates. As Robin's hunt for the mole begins, Lobo accepts a gift from Lex Luthor…and an unholy alliance is born!
In Shops: Aug 21, 2019
SRP: $3.99
And here's two bonus pages from Wonder Woman: Come Back to Me #2.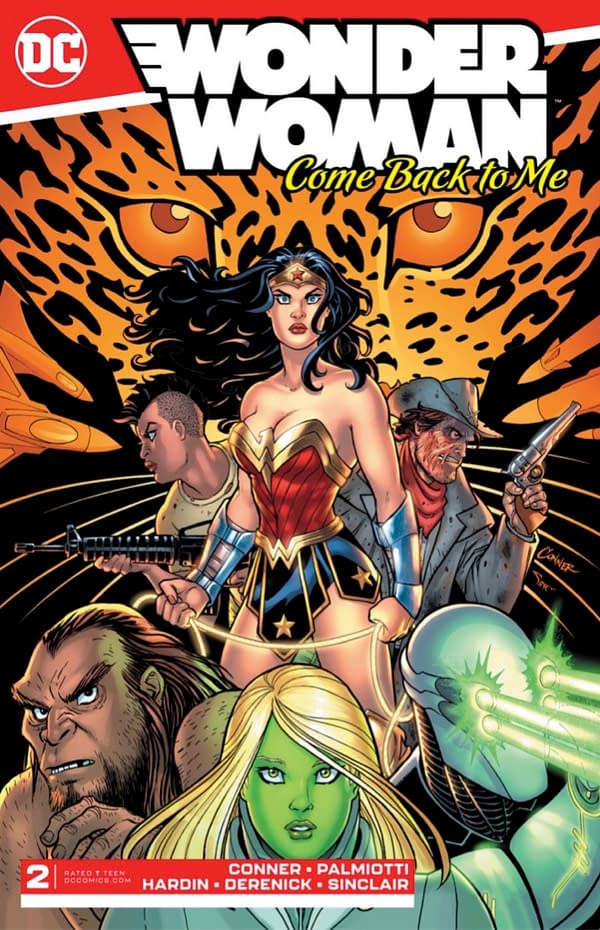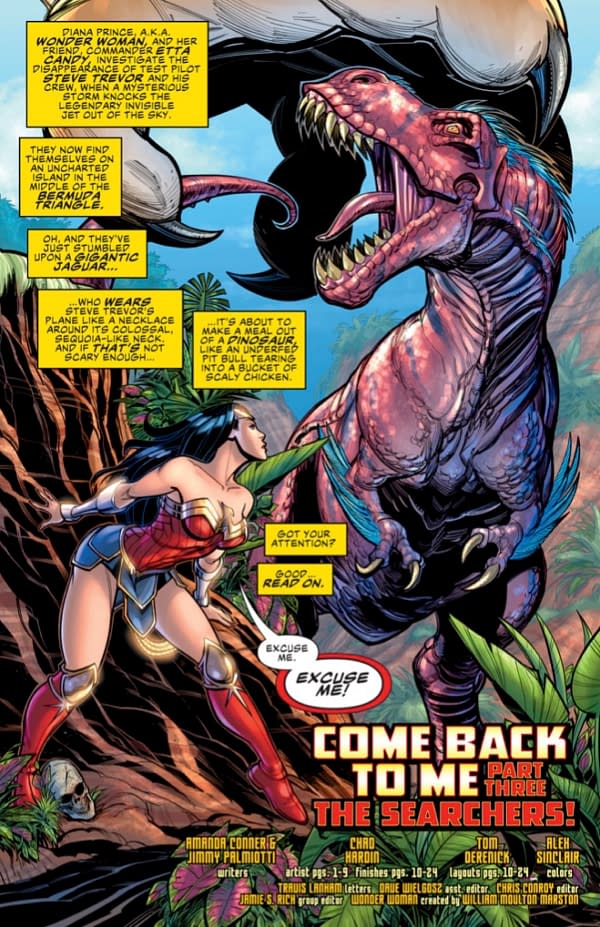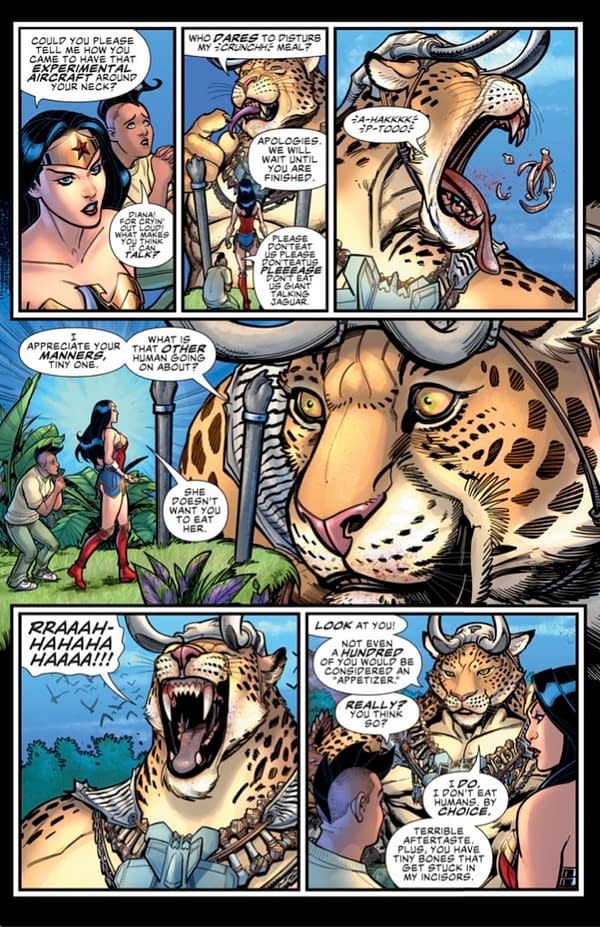 WONDER WOMAN COME BACK TO ME #2 (OF 6)
JUN190556
(W) Amanda Conner, Jimmy Palmiotti (A) Chad Hardin, Tom Derenick (CA) Amanda Conner
Available to comics shops for the first time! Wonder Woman continues to search for Steve Trevor on a strange island in the Bermuda Triangle. But she and Etta Candy are in for more than their share of surprises, including bugs the size of horses, robotic soldiers and-Jonah Hex?! These stories were originally published in JUSTICE LEAGUE GIANT #5 and 6.
In Shops: Aug 21, 2019
SRP: $4.99
Enjoyed this article? Share it!