5 Thoughts About Adventureman #1 from Image Comics
Adventureman #1 is a long-awaited comic from the team of Matt Fraction, Terry Dodson, and Rachel Dodson who worked together twice before that I'm aware of Uncanny X-Men and The Defenders. Third time is the charm apparently as this time around they're working on an Image project: Adventureman, a pulp serial that's out now. Fraction and Terry Dodson talked about Adventureman since at least 2017, and the 60 odd pages first issue (fifty-six comics pages) even reprints a promotional Adventureman print from Emerald City Comic Con 2017.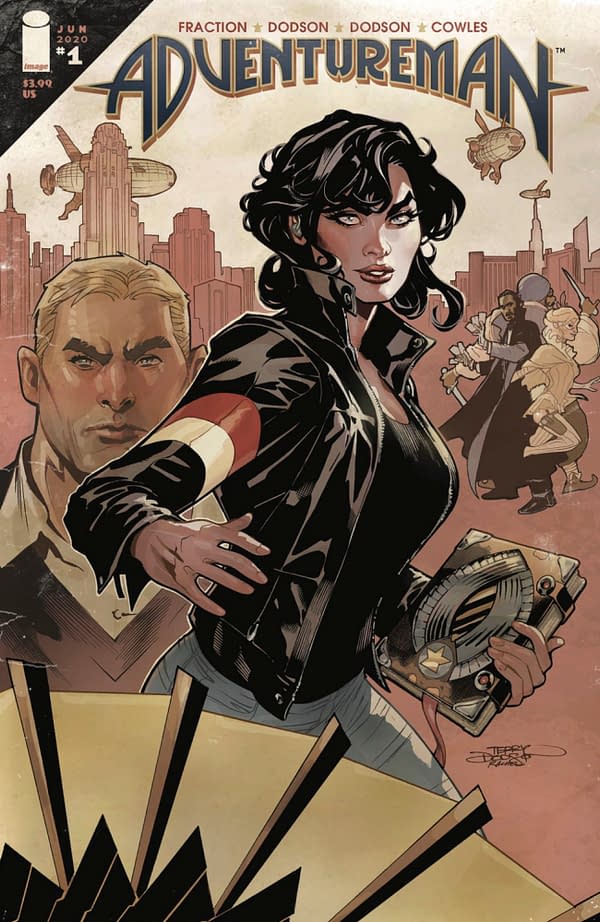 Yes, I know they worked together on more than one arc of Uncanny X-Men. By my count, they did 11 issues of Uncanny X-Men.
Fraction's got an ear for dialogue and the line "I've always wanted a slug o'yer science hooch!" is a good one. I imagine somewhere in a Chicago suburb pulp fan John Siuntres laughed as he read it.
The main character and bookseller Claire Connell wears hearing aids and one of the cool things Clayton Cowles does to simulate the character being hard of hearing is to blur out text, or in some cases, have the letters in a light grey on the balloon's white background.
Speaking of word balloons: On one unnamed character coming into a used bookstore, their word balloons are at least a little translucent whereas the word balloons on most other characters are fully opaque.
I missed Matt Fraction's voice, and in this four dollar, 60-page first issue, it returned with a roar. Rachel and Terry Dodson cram the pages with depth and incredible detail. In Europe, this first issue would be considered an album on its own, and priced premium. In the U.S.? It costs four bucks. It's a tough value proposition to argue with. The last Image debut that packed almost three issues worth of page count into its first issue was Monstress. It worked out pretty well for Monstress.