A Drunk Mark Millar On BBC Newsnight And Previews Of MPH #2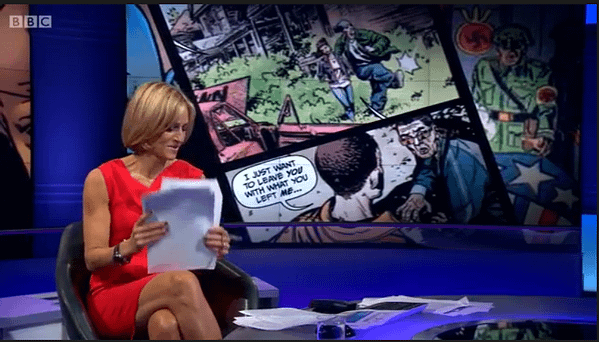 I was on this live at 11.05 which meant I should have been in the studio around 10.15. Sadly, I got diverted to the pub around 8.15 and didn't make it to the BBC until 10.45. The make-up ladies could see me doing that drunken sweat and somehow, kindly, patched me up and I realised, as I was sitting in the chair, th

at I was slurring my words slightly. But somehow you can't really see it here. Such is the magic of television.
Those with BBC iPlayer access can see the show right here, and you may want to skip to 38 minutes in (though the Terry Gilliam bit before is also pretty good). There's also a clip on YouTube, but as Mark says,
If you click the iPlayer link you'll get an extra 2 min intro, a very cool thing I didn't expect being LOADS OF SPOILERS for issue 2 as we sent about 50 pages to Newsnight before the show
[youtube]https://www.youtube.com/watch?v=NnIotMTAZHQ[/youtube]
There's the usual overclaim, and Mark Millar has deconflated his account of going to Detroit since he read our first piece, but for folk who don't know any of this stuff, it's a pretty good introduction – all that's missing is a mention of the British Library exhibition Comics Unmasked – Art And Anarchy In The UK which would have fitted in well.
Here are the look of the MPH images he mentions…