Action Comics #1000 Tops Charts but Marvel Revival Claims April 2018 Marketshare
Action Comics #1000 topped the charts, but DC Comics only got two other comics into the top ten, and both of them Batman. Marvel took seven and Walking Dead pipped in for tenth place.
This is a massive revival for Marvel's fortunes in the month of April, with Dan Slott and Stuart Immonen's Spider-Man beating out Tom King, Mikel Janin and Tony Daniel's Batman and titles such as Gail Simone's Domino and Mark Waid and Chris Samnee's Captain America performing incredibly strongly for the brand.
Marvel Comics was April's top publisher with a 37.59% dollar share and a 42.21% unit share, upping their March figures of 35.92% dollar share and a 38.38% unit share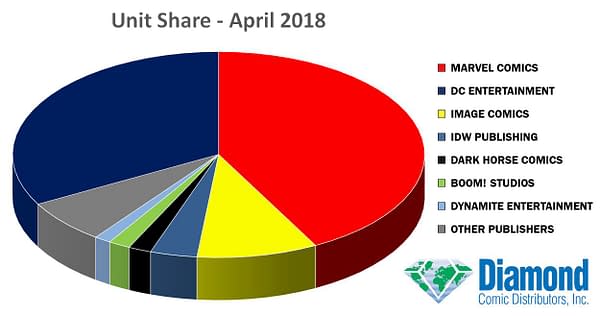 DC Entertainment was second for the month with a 32.39% dollar share and a 33.02% unit share, up on March's 31.06% dollar share but down on 35.10% unit share. But further establishing and entrenching Marvel's position at the top, albeit with a smaller gap than they have enjoyed in recent years.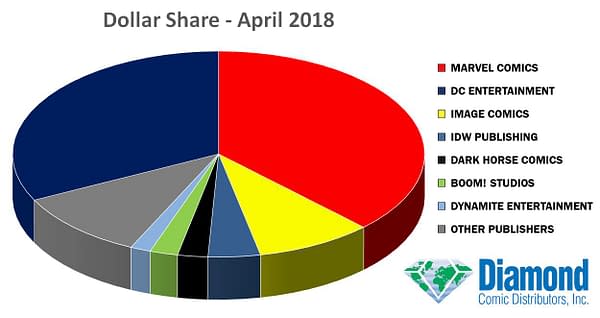 Among the premier publishers, Dark Horse Comics' Xerxes #1, the debut of Frank Miller's long-awaited sequel to 300, was their top book at #95; IDW Publishing's Sonic the Hedgehog #1 ranked #111; Dynamite Entertainment's John Wick #2 was their top book at #140; and BOOM! Studios' Mighty Morphin Power Rangers #26 ranked #142 for April.
But have we started to see the turning of the ship? April had a 13.20% bump on March – with no fifth week to explain it. In March 2018, the comic book market was down 14.37% on the same time as 2017. In April, the market-todate is only 10.08% down overall. How much of that was Action Comics #1000? A blip, or the start of a new trend?
TOP COMIC BOOK PUBLISHERS
| | | |
| --- | --- | --- |
| PUBLISHER | DOLLAR SHARE | UNIT SHARE |
| MARVEL COMICS | 37.59% | 42.21% |
| DC ENTERTAINMENT | 32.39% | 33.02% |
| IMAGE COMICS | 9.16% | 9.47% |
| IDW PUBLISHING | 4.08% | 3.67% |
| DARK HORSE COMICS | 2.36% | 1.79% |
| BOOM! STUDIOS | 2.20% | 1.72% |
| DYNAMITE ENTERTAINMENT | 1.60% | 1.29% |
| VIZ MEDIA | 1.19% | 0.48% |
| ONI PRESS | 1.13% | 0.61% |
| TITAN COMICS | 0.73% | 0.55% |
| OTHER NON-TOP 10 | 7.57% | 5.20% |
COMPARATIVE SALES STATISTICS
DOLLARS

UNITS

APRIL 2018 VS. MARCH 2018

COMICS

20.64%

12.39%

GRAPHIC NOVELS

15.40%

24.13%

TOTAL COMICS/GN

19.13%

13.20%

TOYS

-19.63%

-16.16%

APRIL 2018 VS. APRIL 2017

COMICS

15.67%

4.11%

GRAPHIC NOVELS

0.72%

-1.79%

TOTAL COMICS/GN

11.08%

3.64%

TOYS

3.47%

-14.60%

YEAR-TO-DATE 2018 VS. YEAR-TO-DATE 2017

COMICS

-1.51%

-10.12%

GRAPHIC NOVELS

-9.68%

-9.53%

TOTAL COMICS/GN

-3.97%

-10.08%

TOYS

-7.30%

-12.84%
NEW TITLES SHIPPED
PUBLISHER

COMICS

SHIPPED

GRAPHIC NOVELS SHIPPED

MAGAZINES

SHIPPED

TOTAL

SHIPPED

MARVEL COMICS

86

37

0

123

DC ENTERTAINMENT

81

30

1

112

IMAGE COMICS

62

22

0

84

IDW PUBLISHING

47

19

0

66

BOOM! STUDIOS

23

14

0

37

DARK HORSE COMICS

16

10

0

26

TITAN COMICS

13

8

1

22

VIZ MEDIA

0

22

0

22

DYNAMITE ENTERTAINMENT

16

5

0

21

ONI PRESS

3

4

0

7

OTHER NON-TOP 10

131

180

19

330

TOTAL

478

351

21

850
TOP 10 COMIC BOOKS BY UNITS SHIPPED
| | | | | |
| --- | --- | --- | --- | --- |
| RANK | DESCRIPTION | PRICE | ITEM CODE | VENDOR |
| 1 | ACTION COMICS #1000 | $7.99 | FEB180142-M | DC |
| 2 | AMAZING SPIDER-MAN #798 | $3.99 | FEB180830-M | MAR |
| 3 | AMAZING SPIDER-MAN #799 | $3.99 | FEB180834-M | MAR |
| 4 | HUNT FOR WOLVERINE #1 | $5.99 | FEB180745-M | MAR |
| 5 | BATMAN #44 | $2.99 | FEB180164-M | DC |
| 6 | VENOMIZED #1 | $4.99 | FEB180796-M | MAR |
| 7 | BATMAN #45 | $2.99 | FEB180166-M | DC |
| 8 | DOMINO #1 | $3.99 | FEB180770-M | MAR |
| 9 | CAPTAIN AMERICA #700 | $5.99 | FEB180754-M | MAR |
| 10 | THE WALKING DEAD #178 (MR) | $3.99 | FEB180713-M | IMA |
TOP 10 COMIC BOOKS BY DOLLARS INVOICED
| | | | | |
| --- | --- | --- | --- | --- |
| RANK | DESCRIPTION | PRICE | ITEM CODE | VENDOR |
| 1 | ACTION COMICS #1000 | $7.99 | FEB180142-M | DC |
| 2 | AMAZING SPIDER-MAN #798 | $3.99 | FEB180830-M | MAR |
| 3 | HUNT FOR WOLVERINE #1 | $5.99 | FEB180745-M | MAR |
| 4 | AMAZING SPIDER-MAN #799 | $3.99 | FEB180834-M | MAR |
| 5 | VENOMIZED #1 | $4.99 | FEB180796-M | MAR |
| 6 | CAPTAIN AMERICA #700 | $5.99 | FEB180754-M | MAR |
| 7 | DOMINO #1 | $3.99 | FEB180770-M | MAR |
| 8 | BATMAN #44 | $2.99 | FEB180164-M | DC |
| 9 | INFINITY COUNTDOWN #2 | $4.99 | FEB180740-M | MAR |
| 10 | THE WALKING DEAD #178 (MR) | $3.99 | FEB180713-M | IMA |
TOP 10 GRAPHIC NOVELS & TRADE PAPERBACKS BY UNITS SHIPPED
| | | | | |
| --- | --- | --- | --- | --- |
| RANK | DESCRIPTION | PRICE | ITEM CODE | VENDOR |
| 1 | ACTION COMICS: 80 YEARS OF SUPERMAN HC | $29.99 | DEC170241 | DC |
| 2 | PAPER GIRLS VOLUME 4 TP | $14.99 | FEB180663 | IMA |
| 3 | THANOS: THE INFINITY SIBLINGS OGN HC | $24.99 | DEC170936 | MAR |
| 4 | SAGA VOLUME 1 TP (MR) | $9.99 | AUG120491 | IMA |
| 5 | BATMAN VOL. 5: RULES OF ENGAGEMENT TP | $16.99 | JAN180382 | DC |
| 6 | THE INFINITY GAUNTLET TP | $24.99 | JUL110745 | MAR |
| 7 | STAR WARS: DARTH VADER VOL. 2: LEGACY'S END TP | $17.99 | JAN181040 | MAR |
| 8 | SAGA VOLUME 8 TP (MR) | $14.99 | OCT170715 | IMA |
| 9 | PHOENIX RESURRECTION: THE RETURN OF JEAN GREY TP | $17.99 | JAN181041-M | MAR |
| 10 | PAPER GIRLS VOLUME 1 TP | $9.99 | JAN160645 | IMA |
TOP 10 GRAPHIC NOVELS & TRADE PAPERBACKS BY DOLLARS INVOICED
| | | | | |
| --- | --- | --- | --- | --- |
| RANK | DESCRIPTION | PRICE | ITEM CODE | VENDOR |
| 1 | ACTION COMICS: 80 YEARS OF SUPERMAN HC | $29.99 | DEC170241 | DC |
| 2 | PAPER GIRLS VOLUME 4 TP | $14.99 | FEB180663 | IMA |
| 3 | THANOS: THE INFINITY SIBLINGS OGN HC | $24.99 | DEC170936 | MAR |
| 4 | THE INFINITY GAUNTLET TP | $24.99 | JUL110745 | MAR |
| 5 | X-MEN: GRAND DESIGN TP | $29.99 | DEC170935 | MAR |
| 6 | BATMAN VOL. 5: RULES OF ENGAGEMENT TP | $16.99 | JAN180382 | DC |
| 7 | HARLEY QUINN & THE GOTHAM CITY SIRENS OMNIBUS HC | $75.00 | OCT170369 | DC |
| 8 | MARVEL MASTERWORKS: AVENGERS VOLUME 18 HC | $75.00 | OCT170990-M | MAR |
| 9 | STAR WARS: DARTH VADER VOL. 2: LEGACY'S END TP | $17.99 | JAN181040 | MAR |
| 10 | SUPERMAN: EXILE AND OTHER STORIES OMNIBUS HC | $125.00 | OCT170379 | DC |
TOP 10 BOOKS BY UNITS SHIPPED
| | | | | |
| --- | --- | --- | --- | --- |
| RANK | DESCRIPTION | PRICE | ITEM CODE | VENDOR |
| 1 | MOEBIUS LIBRARY: ART OF EDENA HC | $34.99 | MAY170010 | DAR |
| 2 | BE PREPARED GN | $12.99 | FEB181570 | STM |
| 3 | THE SHADOW DOUBLE NOVEL VOLUME 128 SC | $14.95 | JAN182170 | SAN |
| 4 | STAR TREK: LIGHT & SOUND TRICORDER KIT | $12.95 | FEB182114 | HAC |
| 5 | STAR TREK: LIGHT & SOUND BORG CUBE KIT | $12.95 | FEB182113 | HAC |
| 6 | POWER RANGERS ARTIST TRIBUTE HC | $24.99 | NOV171318 | BOO |
| 7 | HARRY POTTER: TALKING DOBBY WITH BOOK KIT | $12.95 | FEB182109 | HAC |
| 8 | THE ART OF GOD OF WAR HC | $39.99 | OCT178150 | DAR |
| 9 | LITTLE BOOK OF BATMAN FLEXICOVER | $10.00 | FEB182054 | TAS |
| 10 | POKEMON SEEK & FIND: LEGENDARY POKEMON HC | $9.99 | FEB181955 | VIZ |
TOP 10 TOYS BY DOLLARS INVOICED
| | | | |
| --- | --- | --- | --- |
| RANK | DESCRIPTION | ITEM CODE | VENDOR |
| 1 | PACIFIC RIM UPRISING SELECT ACTION FIGURES SERIES 1 | AUG178888 | DST |
| 2 | DC: SUPERGIRL RETURNS BISHOUJO STATUE | JUL178830 | KOT |
| 3 | DEADPOOL LEGENDS 6-INCH ACTION FIGURES | JUL178751 | HAS |
| 4 | MARVEL SELECT: THOR RAGNAROK: GLADIATOR THOR FIGURE | JUL172802 | DST |
| 5 | AVENGERS LEGENDS 6-INCH ACTION FIGURES | JUL178781 | HAS |
| 6 | DRAGONBALL Z SCULTURES: SON GOKU SPECIAL COLOR FIGURE | JAN178942 | BAN |
| 7 | ONE PIECE SCULTURES: BIG ZOUKEIO SHINING ZORO FIGURE | JAN178948 | BAN |
| 8 | DC COMICS BOMBSHELLS: GREEN LANTERN JESSICA CRUZ STATUE | OCT170394 | DC |
| 9 | KINGDOM HEARTS 3: SORA 2ND FORM BRING ARTS FIGURE | SEP178239 | SQU |
| 10 | HARLEY QUINN: RED WHITE & BLACK STATUE BY BABS TARR | OCT170395 | DC |
TOP 10 GAMES BY DOLLARS INVOICED
| | | | |
| --- | --- | --- | --- |
| RANK | DESCRIPTION | ITEM CODE | VENDOR |
| 1 | DARK SOULS CARD GAME | NOV178550 | STE |
| 2 | STRANGER THINGS MONOPOLY | NOV178199 | HAS |
| 3 | DARK SOULS BOARD GAME | OCT178117 | STE |
| 4 | DRAGON BALL Z: PERFECT CELL GAME | FEB180490 | IDW |
| 5 | RICK AND MORTY MUNCHKIN | JAN182866 | USA |
| 6 | STRANGER THINGS: OUIJA GAME | NOV178196 | HAS |
| 7 | THE X-FILES: CONSPIRACY THEORY GAME | FEB180491 | IDW |
| 8 | VAMPIRELLA TAROT CARDS SET | AUG171626 | DE |
| 9 | STARFINDER RPG: PACT WORLDS HC | JAN182863 | PAI |
| 10 | STRANGER THINGS: SCREEN TEST GAME | NOV178198 | HAS |