AfterShock Comics Launches Lonely Receiver and Sympathy For No Devils in May 2020 Solicits
AfterShock Comics is launches two new books for May 2020, Lonely Receiver by Zac Thompson and Jen Hickman, and Sympathy For No Devils by Brandon Thomas and Lee Ferguson in their solicitations for the month. Here are the solicits and everything else they have out for May…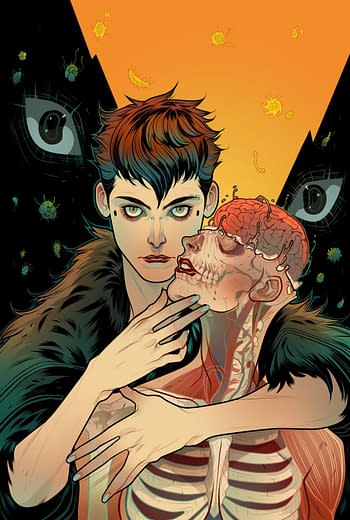 Lonely Receiver #1 / $4.99 / 32 pages / Color / On Sale 05.06.20
Writer: Zac Thompson
Artist & Colorist: Jen Hickman
Letterer: Simon Bowland
Cover: Jen Hickman
Incentive Cover: Elizabeth Torque
Catrin Vander, a lonely video producer, buys an Artificial Intelligence partner that's meant to bond for life. After ten years together, her holographic wife suddenly disconnects without a warning. The breakup drives Catrin to the point of near insanity. She's alone for the first time in years and reeling from a loss she can't comprehend.
Set in the new future, drenched in pastels and sunshine, LONELY RECEIVER is a horror/breakup story in five parts. Written by Zac Thompson (UNDONE BY BLOOD, THE REPLACER, HER INFERNAL DESCENT, No One's Rose, X-Men) and illustrated in color by Jen Hickman (MOTH & WHISPER, Test).
Who are you/
//in another's eye
It's not what you think//
/don't you cry.
Sympathy for No Devils #1 / $4.99 / 32 pages / Color / On Sale 05.20.20
Writer: Brandon Thomas
Artist: Lee Ferguson
Colorist: Jose Villarrubia
Letterer: Simon Bowland
Cover: Lee Ferguson w/ Jose Villarrubia
Incentive Cover: Georges Jeanty w/ Patrizia Comino
Winston Wallis has a secret. He is all that remains of mankind, and is surrounded on all sides by demons, monsters, and ghouls that picked up where humankind left off – lying, stealing, cheating, and killing.
Years ago, it was Winston's job to investigate such things. Now his ex-partner needs help solving the brutal murder of the world's largest Colossal. Because he knows the secret. He knows about the magical curse that gives Winston the ability to survive a world where everything is bigger, stronger, and angrier than he is. But how long can Win's impossible luck last, and will this new case finally be the death of him?
Win certainly hopes so…
From Brandon Thomas (Excellence) and Lee Ferguson (Sam and His Talking Gun), the critically-acclaimed creators of The Many Adventures of Miranda Mercury, comes a bold new series filled with murder, mystery, monsters, and magic!
Disaster Inc. #2 / $3.99 / 32 pages / Color / On Sale 05.06.20
Writer: Joe Harris
Artist & Colorist: Sebastian Piriz
Letterer: Carlos M. Mangual
Cover: Andy Clarke w/ Jose Villarrubia
Incentive Cover: Jordan Raskin
Paolo, Abby and Tosh lead their assemblage of "disaster tourists" deep inside the Fukushima Exclusion Zone for what they expect to be a (relatively) mundane experience…if radioactive hotspots, irradiated feral animals and the promise of swift and harsh arrest by authorities could be classified as mundane. But this is an ancient place with no shortage of legends or ghosts. And nobody told the Samurai they were coming!
Writer Joe Harris (Great Pacific, Rockstars, The X-Files) and artist Sebastián Piriz begin a disaster tour through the worst places on Earth, while digging up more trouble than they can handle. In a world on fire and rife with calamity, catastrophe, war and unrest…you're going to need the right guides to see it for yourself!

The Man Who F#%&ed Up Time #4 / $3.99 / 32 pages / Color / On Sale 05.27.20
Writer: John Layman
Artist: Karl Mostert
Colorist: Dee Cunniffe
Letterer: John Layman
Cover: Karl Mostert w/ Dee Cunniffe
Sean Bennett's been racing the clock, trying desperately to repair the f#%&ed up space-time continuum and get the dreaded robotic Future Police off his back, but everything he's done has made things worse. So, Sean simply says "f#%& it," figuring things couldn't get any worse, but it turns out things COULD get worse. Like, extinction of humanity worse! Whoops!
Presenting a time-twisted sci-fi action-comedy, a butterfly effect noir, by multiple Eisner-winning writer John Layman (Chew, ELEANOR & THE EGRET) and talented newcomer Karl Mostert. Order it today…before time runs out!
Artemis and the Assassin #3 / $3.99 / 32 pages / Color / On Sale 05.20.20
Writer: Stephanie Phillips
Artists: Francesca Fantini
Colorist: Lauren Affe
Letterer: Troy Peteri
Cover: Phil Hester w/ Mark Englert
Transported to the Wild West, an infamous WWII spy and a time-traveling assassin have to contend with outlaws, drunkards, and even a fifteenth-century ninja in order to return to their respective time periods.
The tense time-travel adventure by Stephanie Phillips (DESCENDENT, Butcher of Paris), Francesca Fantini, Lauren Affee, and Troy Peteri continues at a breakneck pace!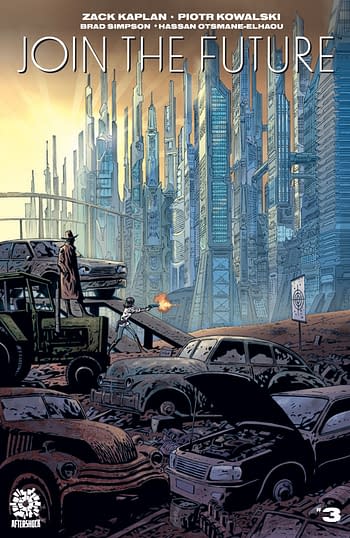 Join the Future #3 / $3.99 / 32 pages / Color / On Sale 05.13.20
Writer: Zack Kaplan
Artist: Piotr Kowalski
Colorist: Brad Simpson
Letterer: Hassan Otsmane-Elhaou
Cover: Piotr Kowalski & Brad Simpson
As Franklin's residents finally move to the seductive ultramodern megacity, Clementine Libbey, the Mayor's strong-willed daughter, is the last left in the small town. Alone, she tracks down the gruff and mysterious technology scavenger known as the Trader and earns his gunslinger training in her quest for revenge. But will she compromise her ideals and accept using advanced technology or will she go up against the hi-tech weapons of the local law enforcement with nothing but her six-shooter? Come join her adventure in this sci-fi western. Come join the future.
Written by Zack Kaplan (LOST CITY EXPLORERS) with art from Piotr Kowalski (Sex, Marvel Knights: Hulk, The Dark Tower), JOIN THE FUTURE is a sci-fi western that examines a tomorrow where everyone must ask what your values are truly worth.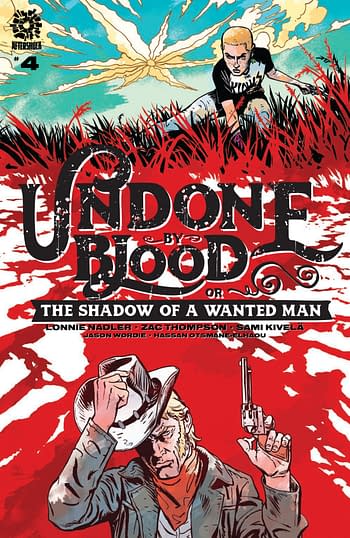 Undone by Blood or the Shadow of a Wanted Man #4 / $3.99 / 32 pages / Color / On Sale 05.20.20
Writer: Lonnie Nadler & Zac Thompson
Artist: Sami Kivela
Colorist: Jason Wordie
Letterer: Hassan Otsmane-Elhaou
Cover: Sami Kivela w/ Jason Wordie
As Ethel approaches the truth about the man who murdered her family, she's discovering that the justice of the old West isn't as glorious as fiction makes it out to be. Chasing one fickle lead after another has not paid off. No one can be trusted – a lesson she failed to learn from cowboy legend, Solomon Eaton. And Solomon is in his own heap of trouble, going up against a town full of men who will do anything to prevent him from saving his son.
From the minds of Lonnie Nadler and Zac Thompson (HER INFERNAL DESCENT, The Dregs, X-Men) and artist Sami Kivela (Abbot, Tommy Gun Wizards) comes a neo-western that depicts the hard truth of seeking vengeance in the real world.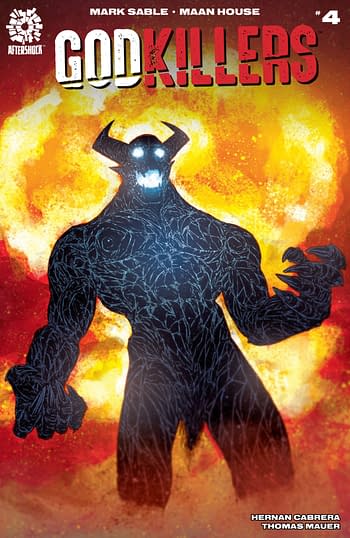 Godkillers #4 / $3.99 / 32 pages / Color / On Sale 05.27.20
Writer: Mark Sable
Artist: Maan House
Colorist: Hernan Cabrera
Letterer: Thomas Mauer
Cover: Jeremy Haun w/ Nick Filardi
The GODKILLERS, an elite special forces unit tasked with stopping those who would use mythological creatures as weapons of mass destruction. After a disastrous confrontation with Koschei the Deathless in Syria, the Godkillers disobey orders and head to war-torn Ukraine to recover a precious artifact.
From writer Mark Sable (Grounded, Fearless, Supergirl) and newcomer artist Maan House, GODKILLERS is a monster story for the modern age.
Dead Day #2 / $3.99 / 32 pages / Color / On Sale 05.13.20
Writer: Ryan Parrott
Artists: Evgeniy Bornyakov
Colorist: Juancho Velez
Letterer: Charles Pritchett
Cover: Andy Clarke w/ Jose Villarrubia
Incentive Cover: Szymon Kudranski
As the dead begin to rise, Melissa follows a mysterious rider on a journey back into a life that could have been and Brandon witnesses how both the faithful and faithless deal with the undead walking the earth.
From writer Ryan Parrott (Oberon, Volition, Power Rangers) and artist Evgeniy Bornyakov (Descendent, You Are Obsolete) comes an unnerving tale of existential horror with grave consequences.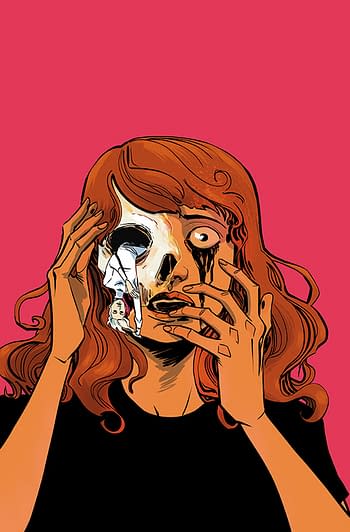 A WALK THROUGH HELL: THE COMPLETE SERIES Hardcover / $39.99 / 256 pages / Full Color / On Sale 05.06.20
Writer: Garth Ennis
Artist: Goran Sudžuka
Colorist: Ive Svorcina
Letterer: Rob Steen
Cover: Andy Clarke w/ Jose Villarrubia
Garth Ennis' Complete Masterpiece of Terror in One Unrelenting Hardcover!
So these two FBI agents walk into a warehouse…
Special Agents Shaw and McGregor handle the routine cases nowadays, which is just the way Shaw likes it. She's pushing 40, a borderline burnout, the ghastly memories of her last investigation still clinging like shadows. McGregor is younger, more dedicated, hanging onto some measure of idealism whatever the world might throw at him.
When two fellow agents go missing inside a Long Beach warehouse, Shaw and McGregor are sent to investigate. But what they find waiting is far from routine, as the local police have already discovered to their cost. Before the night is out, our heroes will encounter terror beyond their most appalling nightmares – in a place where the night may never end at all.
A new kind of horror story for modern America, written by Garth Ennis (Preacher, The Boys, Crossed) and drawn by Goran Sudžuka (Y: The Last Man, Hellblazer)
The dread builds with every page…" – Patrick Hayes, SciFiPulse
---
---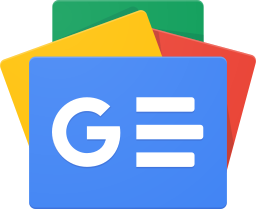 Stay up-to-date and support the site by following Bleeding Cool on Google News today!