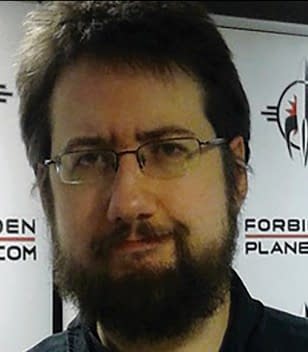 Regular Bleeding Cool readers will know I have quite the soft spot for the work of Al Ewing. The soft-spoken bearded Brit hides such complexities underneath his hirsute visage, and while I enjoyed his run through the worlds of 2000AD — as well as his fanfic for Ralph Dibny during the events of the 52 miniseries — I have much admired his reshaping and recarving of the Marvel Universe after the Secret Wars event.
He gave us the Ewing iteration of reality at war with various other versions of itself, a material given new form and powers as a result of the new nature of the verse, and peeled back the levels of reality to pit Ultimates against the cosmos, Evil Reed Richards, and even the New Universe. And now part and parcel of the Avengers: No Surrender series-within-a-series.
And some very silly jokes along the way. An awful lot of fun.
But it appears there is something even more intriguing to come. Editor Jordan White has lots to tease…
Meanwhile, in a secret comic @Al_Ewing is writing for me, he is turning in some scripts that are SO AMAZING, they knock my socks off every issue. I have a sock pile here in the office, now.

— Jordan D. White (@cracksh0t) December 4, 2017
Reading an awesome @Al_Ewing script while the little one sleeps on me. pic.twitter.com/Q9YpkHjCB7

— Jordan D. White (@cracksh0t) January 4, 2018
I've said this before, and I am sure I will say it again in a month or so when the book is announced…but @Al_Ewing is brilliant and has written the most awesome, mind-bending miniseries ever. I cannot wait for everyone to experience it.

— Jordan D. White (@cracksh0t) January 19, 2018
Tick tock…
Enjoyed this article? Share it!