Alex Paknadel and Thomas Nachlik Revive Swordsman For Marvel's Empyre in June – C2E2
Once upon a time, Thomas Nachlik drew a comic book I wrote called The Flying Friar. Smallville in 16th century Italy. It was a thing. He's much better known for his work on Beauty from Image Comics, but now he's got a Marvel comic with London writer studio White Noise's Alex Paknadel, part of the Empyre event, and bringing Swordsman into the whole affair, with Lords Of Empyre: Swordsman #1 out in June.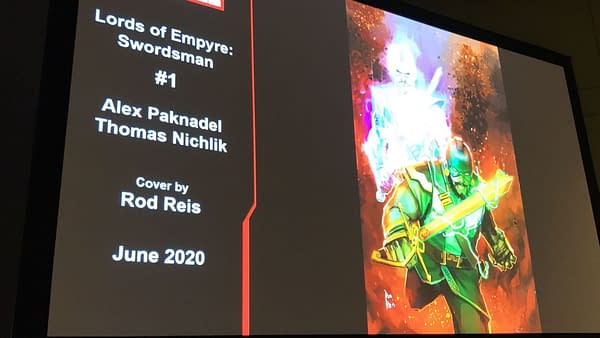 Swordsman was created by Stan Lee and Don Heck for Avengers as an enemy of Hawkeye, before later joining the team. Jacques Duquesne was a terrorist/freedom fighter who grew up under French rule of Siancong.
grew up as a privileged youth in the (fictional) Southeast Asian nation of Siancong, then under French rule. Duquesne aided the Avengers in the conflict that involved Kang's quest for the "Celestial Madonna". In order to facilitate his plans, Kang had captured the Avengers present at the time – Vision, Thor, Iron Man, Mantis, The Scarlet Witch, and their guest Agatha Harkness – but left Swordsman behind because he considered him useless, but Swordsman managed to free his fellow Avengers. It was later revealed that Mantis was in fact the "Celestial Madonna". After Kang's plans were foiled and he decided not to leave the Madonna to anyone else, the Swordsman sacrificed his life by intercepting Kang's energy blast which was meant for Mantis. Mantis soon after married the eldest of Earth's alien Cotati, who had resurrected and possessed the Swordsman's corpse and infused a portion of its own consciousness into it. Mantis and Swordsman went on to have a son together but after battling the Avengers, the Cotati-possessed Swordsman crumbled to dust, though he has been revived a number of times since…
He's also turning up on the cover of Empyre #4 in June. Man, there are a lot of swords at Marvel these days…