Ahead of next week's release of Titan Comics solicits for January 2017's comic books… a look at their planned game spin-off comic books. That Titan has both kinds of game spin-offs, Assassin's Creed and Dark Souls.
And a launch of the new Assassin's Creed monthly ongoing series we got a sneak peek of here…
ASSASSIN'S CREED #1
Writers: Dan Watters and Alex Paknadel
Artist: Jose Holder
FC – 32pp – $3.99 – On sale: February 1, 2017
Join us for this game-changing new chapter in the ongoing Assassin's Creed saga! With the Phoenix Project nearing its completion, tensions are running high for both the Brotherhood and the Templar Order. A new world order is on the horizon and only Charlotte and her new allies have the knowledge and skill to save humanity from subjugation.
Cover A: Alex Ronald
Cover B: Sunsetagain
Cover C: Jimbo Salgado
Cover D: Jose Holder
Cover E: Doubleleaf
ASSASSIN'S CREED: AWAKENING #3
Writer: Yano Takashi
Artist: Oiwa Kenji
FC – 48pp – $4.99 – On sale: January 11, 2017
The third chapter of the Assassin's Creed manga – collected for the first time in English. Set in the time of the best selling video game, Assassin's Creed: Black Flag.
Cover A: Oiwa Kenji
Cover B: Andi Tong
Cover C: Yifeng Jiang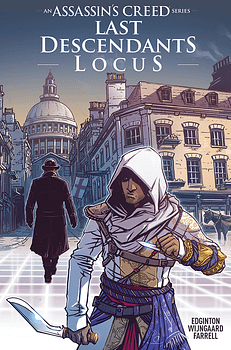 ASSASSIN'S CREED: LOCUS COLLECTION
Writer: Ian Edginton
Artist: Caspar Wijngaard
HC – FC – 112pp – $14.99 – On sale: March 15, 2017
The official tie-in comic to Scholastic novels: The Last Descendants. Written by Ian Edginton (200AD), and illustrated by rising star Caspar Wijngaard (Limbo).
Cover: Caspar Wijngaard
DARK SOULS WINTER'S SPITE #3
Writer: George Mann
Artist: Alan Quah
FC – 32pp – £3.99 – On sale: January 18, 2017
Brand-new mini series of the sell-out smash comic based in the world of the global hit video game series. Penned by best-selling writer George Mann (Eighth Doctor) and illustrated by Alan Quah (Orphan Black).
Enjoyed this article? Share it!