An Origin For Cyborg's "Booyah" From DC Comics (Spoilers)
DC Comics and Morgan Hampton to recontextualise Cyborg's "Booyah" catchphrase in DC Power: A Celebration
---
The "Booyah" catchphrase for the DC Comics character Cyborg has been a controversial one. Invented for the comedy kids cartoon Teen Titans, it has been used ironically in the comic books, and its use in the Joss Whedon version of the Justice League movie, created in reshoots, was seen as indicative of the difference in tone between the Whedon and Zack Snyder cuts. But also seen as a form of racial reductive caricature by some, including by the actor Ray Fisher who didn't want to say the line for the movie's conclusion.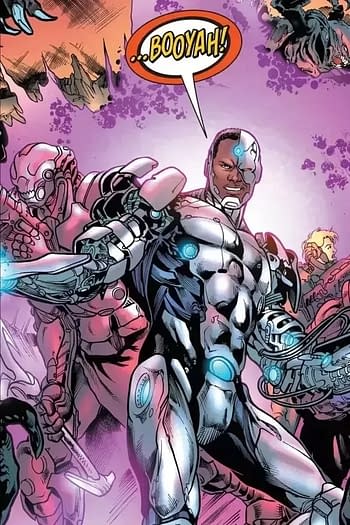 Fisher told The Hollywood Reporter that the inclusion of the line in the movie came from Geoff Johns who felt the line would be "a fun moment of synergy," with the animated version of the character, but Snyder did not want to include catchphrases and instead placed the word "Booyah" in background scenes. Fisher believed the catchphrase would not play as well in the live-action movie as it did in the cartoon and said "It seemed weird to have the only Black character say that," and compared its use to "Whatchu talkin' bout, Willis?" from Diff'rent Strokes.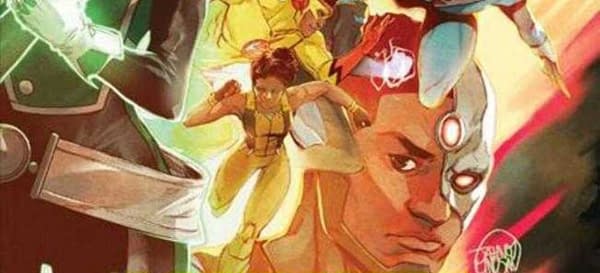 However, in tomorrow's DC Power: A Celebration, the new Cyborg comic book series writer, Morgan Hampton, with artists Valentine De Lando and Marissa Louise, look to reclaim the term, in a short story, "Booyah".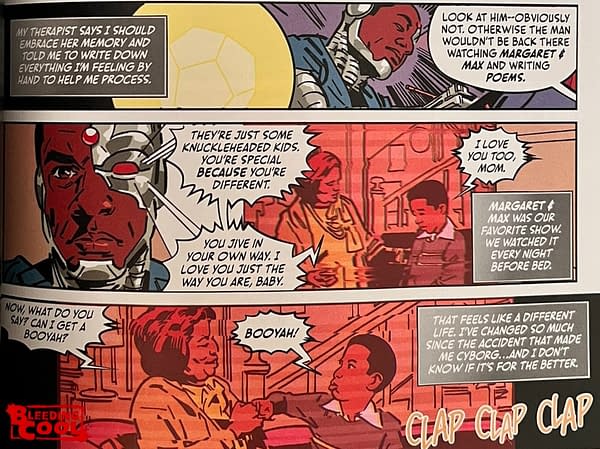 With the term now coming from Victor Stone's mother. And something that is a tribute to her influence in his life. And nothing he is giving up for anyone. DC Power: A Celebration is published by DC Comics tomorrow.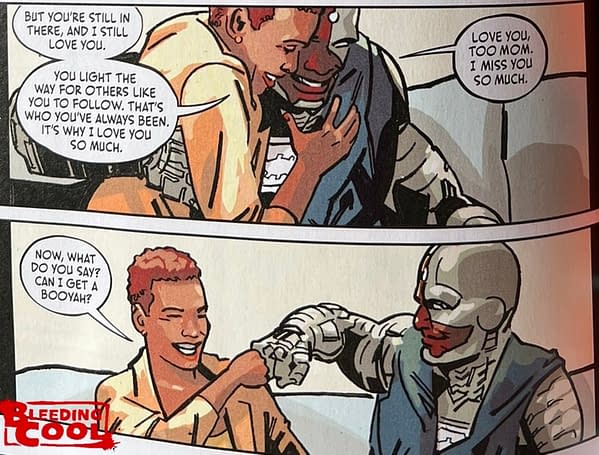 DC POWER A CELEBRATION #1 (ONE SHOT) CVR A JAHNOY LINDSAY
(W) Various (A) Valentine De Landro, Clayton Henry, Various (CA) Jahnoy Lindsay
Written by Chuck Brown, Morgan Hampton, Stephanie Williams, Evan Narcisse, And Others. First there was DC Pride and DC Festival of Heroes; now it's time to celebrate Black History Month! Cyborg, John Stewart, Aqualad, Kid Flash, Batwing, Vixen, Amazing-Man, and more take center stage to highlight the power of Black excellence across the DC Universe, in stories from a variety of comics' finest Black artists and writers!
Retail: $9.99 In-Store Date: 1/31/2023