Once upon a time, as a result of a legal settlement between Todd McFarlane and Neil Gaiman (and as part of a deal between Neil and Marvel Comics over the publication of Miracleman), Angela came to the Marvel Universe. Never has a comic book character had such an awe-inspiring origin story. She was recreated as an angel from the Tenth Realm and a surprise sister for both Thor and Loki, and daughter of Odin. The character of Sera was also such an angel, created by Marguerite Bennett, Kieron Gillen and Phil Jimenez in Angela: Asgard's Assassin. She was also Marvel's most prominent trans character. She and Angela became a couple. Quite the couple. They fought, lived, loved and screamed with each other, through Angela: Angel's Assassin, 1602 Witchfinder Angela, and Angela: Queen of Hel. They even settled down, into a Manhattan apartment, as reality rewrote itself around them. And then Brian Bendis wanted to have a go with Angela, and she left to join the Guardians Of The Galaxy. Sera was not invited. Or mentioned. But the fans kept asking. And, with the Guardians Of The Galaxy stranded on Earth after the events of Civil War II, Brian Bendis took the opportunity to, well, deal with the situation. Unfinished business? How romantic. But Sera didn't think to leave a forwarding address. Time for a speech. There we go, Monologue demands satisfied. Leaving Angela and Sera fans asking one question: And that, two years ago, was it. With Angela appearing in Asgardians Of The Galaxy, some people have been wondering if this may suggest a possible return for the character. Especially with this issue 1 finale…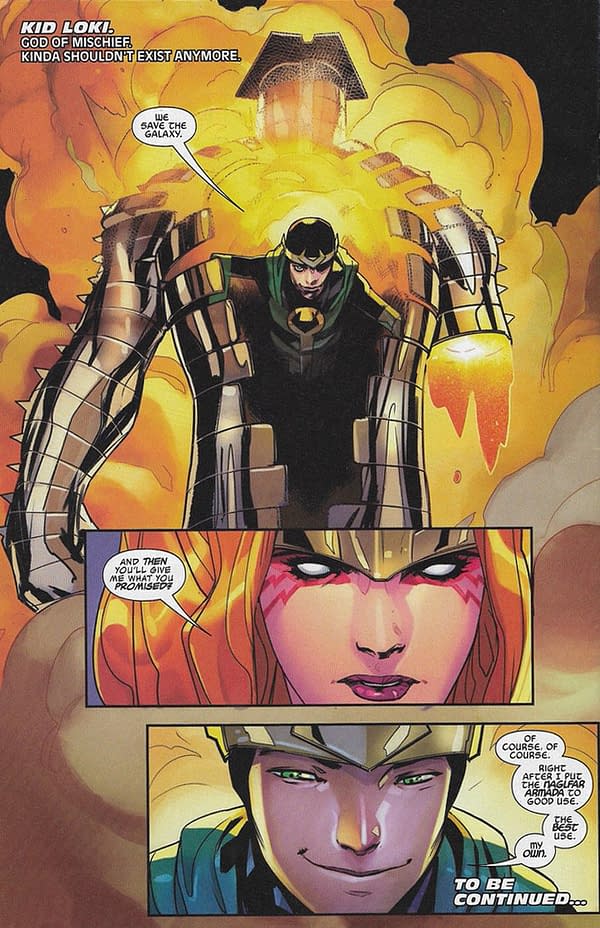 And have been asking.
Reread @Marvel Angela trilogy. I forgot how much I love Angela and Sera, probably on of my favorite comic couples. Hopefully @cullenbunn returns the wives together.

— Egoistic Martyr (@comic_erika) January 12, 2019
ok tea,,,but if sera doesnt get at LEAST mentioned when her and angela are basically inseparable,,,ill pop off,,ITS WHAT SHE DESERVES

— tadgh stan💞 (@lesbianfury) January 9, 2019
Hey @cullenbunn is this when we're gonna see sera again? Because I'm guessing she is about the only thing Loki could have up their sleeve to control Angela? https://t.co/BtTeF8bOQr

— #kamalakorp (@agentfitz777) December 10, 2018
Costume-wise, that was Matteo's artistic choice. As for Sera, you may be onto something.

— Cullen Bunn (@cullenbunn) December 3, 2018
And in the finale of Asgardians Of The Galaxy #5, it all comes together.

ASGARDIANS OF THE GALAXY #6
(W) Cullen Bunn (A) Matteo Buffagni (CA) Jamal Campbell
"Nothing for nothing – everything has its price."
In accordance with her personal code, Loki promised Angela a gift in exchange for her help against Nebula. And the debt is coming due. But Angela is about to get a whole lot more than she asked for – including a run-in with Yondu Udonta and his … new Ravagers?! Fans of Cullen Bunn, C.M. Punk and Scott Hepburn's 2016 Drax series rejoice as Planet Terry, Pip and Kammi clash with the Asgardians!
Rated T+ In Shops: Feb 06, 2019 SRP: $3.99
Enjoyed this article? Share it!