Hey kids! Have you heard about the Spotify app? Well, Archie Comics sure has, and by golly as soon as they did they knew they had to get their comics on there right away so they could capture that youthful audience! But Bleeding Cool, you ask, how the heck do you put comic books on Spotify, a digital streaming service? Well, that's a fair question. These, you see, are "motion comics," an experimental form of comics that has never really surpassed its 1970s heyday on The Electric Company.
Even so, companies keep trying them every so often, and this is one of those times. Archie has teamed up with Madefire to produce the digital comics. A press release provides details:
Archie Comics and Spotify have teamed to adapt the publisher's critically acclaimed and bestselling comics into a video series streaming live on the music platform. The new six episode series, live now only on Spotify, is the next part of Archie's continued effort to expand to new audiences and story-telling mediums with its wide array of world famous characters.

The series will be based on the internationally bestselling ARCHIE comic book by writer Mark Waid and artists Fiona Staples, Annie Wu, and Veronica Fish. The series debuted in 2015 and ushered in a new era for Archie and his friends, reintroducing the beloved cast with a modern twist. Each of the first six issues will be adapted into its own motion comic episode, only available on Spotify. The series, entitled "Spotlight Archie — The New Riverdale," will be created by Madefire, the technology enabled content company specializing in digital and motion comics.
Wanting to see what all of the fuss was about, we downloaded the Spotify app as instructed, and…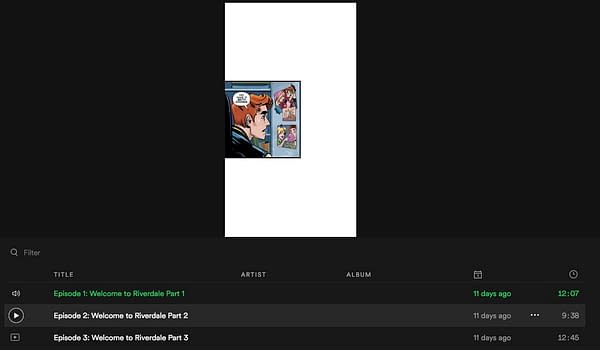 Perhaps it will look snazzier on your favorite smart device, young person. What say you, Archie Comics Publisher/CEO Jon Goldwater?
Archie has always been about trying to find new ways to get comics to fans and readers. And when the opportunity to work with Spotify arose, it was a perfect match. Being able to reposition these modern classics for new readers in this unique, motion comic format makes perfect sense and we can't wait for fans to experience these beloved Archie stories in a new way.
Get the Spotify app and see for yourself.
Enjoyed this article? Share it!