Posted in: Comics | Tagged: colossus, kitty pryde, x-men, x-men gold
---
Are X-Men's Kitty Pryde and Colossus Not Planning a Jewish Wedding?
X-Men Gold #26 may have revealed more about the upcoming wedding of Kitty Pryde and Piotr Rasputin than it intended. During a conversation at her parents home in Deerfield, Kitty asks her mother to walk her down the aisle in place of Kitty's father, now deceased…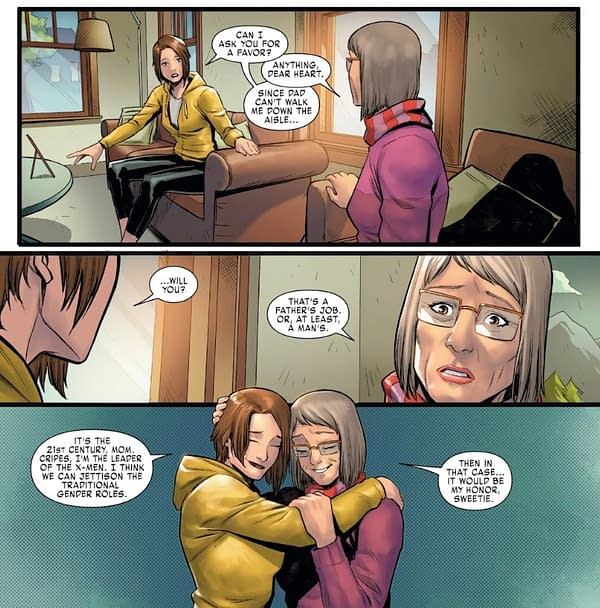 But being walked down the aisle by your father is a Christian wedding tradition. The issue was easily spotted by Jay Edidin, one of the journalists who helped bring down Eddie Berganza and provider of another valuable public service, the Jay and Miles X-Plain the X-Men podcast. In Jewish wedding tradition, a brief Google search confirms, both parents walk the groom and the bride down the aisle.
With the X-Men's long and complicated history, the X-office editors must be ever vigilant for continuity gaffes, and basic fact-checking has at least once proved useful in Kitty and Peter's wedding planning. X-Men Gold writer Marc Guggenheim told CBR in an interview in February:
Weddings involve families both biological and chosen. So will we see more of Peter and Kitty's biological family members in the months ahead in X-Men Gold?

Unfortunately, both of them don't really have much in terms of biological family that's still alive. Of course, this may the part of the interview that gets me in trouble with the internet if my recollection is wrong. [Laughs] It's my understanding though that Kitty's father is dead. I'm pretty sure her mother is dead too. Peter's parents are dead as well, and he has an uncle who's currently warming a cell in Russia.

So there's not a whole lot of people who are alive and available to make the wedding. They'll instead have to rely on their friends and adopted families.
Between then and the time Guggenheim finished his script for X-Men Gold #26, he learned that Kitty's mother was, in fact, alive to talk about the wedding processional. And if not apparent from all the times it was mentioned and explored in X-Men history, the fact that Kitty is Jewish was one widely pointed out as part of a massive scandal in the first few months of X-Men: Gold, when artist Ardian Syaf was revealed to have hidden anti-Semitic and anti-Christian messages in the artwork for the book's first issue, including Kitty in some of the imagery. Syaf was quickly replaced and hasn't worked for Marvel since. Mistaking wedding processional order is, of course, not comparable to secretly hiding hate messages in artwork, but the controversy seems likely to ensure anyone working on X-Men Gold is aware of Kitty's heritage in order to avoid such a gaffe.
Alas, it slipped through anyway. Anyone want to try for a no-prize?
Read what else happened in X-Men Gold #26 here.
X-MEN GOLD #26
(W) Marc Guggenheim (A) Michele Bandini, David Marquez (CA) Phil Noto
• It all begins here! But WHO is tying the knot? And can I bring a plus-one?
• Also: The X-MEN in their final confrontation with an old foe, a fight that ends up costing RACHEL everything.
• Plus… The evil alliance you never expected.
Rated T+In Shops: Apr 18, 2018
SRP: $3.99
---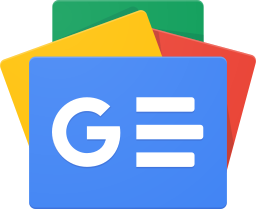 Stay up-to-date and support the site by following Bleeding Cool on Google News today!