Yesterday, Bleeding Cool reported on Dark Horse, Penguin Random House and lots and lots of comics creators pulling out from appearing at Reed POP's Emerald City Comic Con in Seattle in a week's time, after the death toll in Seattle from the coronavirus hit double figures.
Last night, while I was sleeping, DC Comics also pulled out of ECCC – and all March shows, including Fan Expo Dallas where they traditionally have a presence. After Warnes Bros announced a ban on internal flights and travel solely to "business-critical needs", DC issued the following statement. "As the health and safety of our employees are always our primary concerns, DC staffers will not be attending conventions during the month of March. Future convention attendance will be evaluated on a case-by-case basis, factoring in the latest information from a variety of organizations, including the CDC, WHO, U.S. State Department and local health agencies."
Penguin Random House had also joined other publishers from pulling out of the London Book Fair, also run by Reed, in the same week. Well, this morning the news broke that Reed had cancelled the London Book Fair. The event scheduled from 10th-12th March at Kensington Olympia, had seen dozens of major cancellations, including Penguin Random House, Curtis Brown, HarperCollins UK, Simon & Schuster, Hachette, The Blake Friedmann Literary Agency, Darley Anderson Literary Agency, Jo Unwin Literary Agency and Pan Macmillan – far more than ECCC has received so far.
Reed released a statement saying "Reed Exhibitions has today announced that The London Book Fair 2020, scheduled to take place at Olympia, London, from 10 to 12 March will be cancelled following the escalation of COVID-19 Coronavirus in Europe. The effects, actual and projected, of Coronavirus are becoming evident across all aspects of our lives here in the UK and across the world, with many of our participants facing travel restrictions. We have been following UK government guidelines and working with the rolling advice from the public health authorities and other organisations, and so it is with reluctance that we have taken the decision not to go ahead with this year's event. We recognise that business has to continue. With this in mind, we will of course support and collaborate with exhibitors and visitors to keep our world moving during this difficult period. We thank all those from the UK and a multitude of other countries who have prepared over the last year to deliver what promised to be a wonderful book fair showcasing, as ever, the exciting best of the global book industry. The London Book Fair will return, better than ever, in 2021."
Previously, HarperCollins had stated "We can confirm that, with the health and safety of our employees and others in mind and given the number of cancellations at the London Book Fair, HarperCollins will not have a presence at the fair this year and its UK teams will not be attending" while Penguin Random House said "The London Book Fair is an important moment in the global publishing calendar but given the fast-moving situation around the coronavirus, Penguin Random House has come to the difficult decision to withdraw from the fair in the interest of the health and wellbeing of our employees, authors, and partners."
The UK government is planning to declare the virus a "notifiable disease" which means businesses can declare their losses against insurance policies.
As well as those linked above, ECCC continues to see more cancellations from comics creators. But Matt Smith, it seems, pulled out a month ago for other concerns.
Hey folks: I'm pulling out of ECCC. I love seeing you all, but cramming in to a big glass box with 100,000 other people just feels like a poor choice right now.

If you're picking up a commission for me at the show, I'll be in touch to arrange shipping.

— Steve Lieber (@steve_lieber) March 3, 2020
I was really looking forward to hanging out with everyone at #ECCC in Seattle, but I've got a kid with high risk respiratory issues, so I won't be able to make the trip. See you down the trail.

— Benjamin Percy (@Benjamin_Percy) March 3, 2020
No one is more disappointed than me. I mean, c'mon! I wrote a Bigfoot book and can't promote it in the Pacific Northwest!? But we all have to be smart and safe because right now, there's something out there a lot scarier than Bigfoot. https://t.co/JoMpp7DX5D

— Max Brooks (@maxbrooksauthor) March 3, 2020
As it stands, Reed's Emerald City Comic Con is still going ahead, and a number of creators are stating they will still be attending. For now.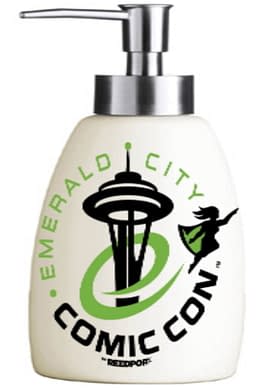 Enjoyed this article? Share it!