My youngest daughter has decided that she wants to watch all the Marvel Comics movies. I have spared her the likes of Daredevil and Elektra, so she is currently burning through the 19 MCU movies — which has given me the chance to view some of them again after a long time. It's also brought a few Marvel tropes back into my head, which served me well when reading this week's Asgardians of the Galaxy #1 a little early.
It's a title that clearly, once Cullen Bunn has thought it up, had to happen, by dint of the god of wordplay. And hey, if Marvel does need a radical departure for the third movie given the current dissatisfaction of the cast, this really might be a way to go, merging two franchises into one.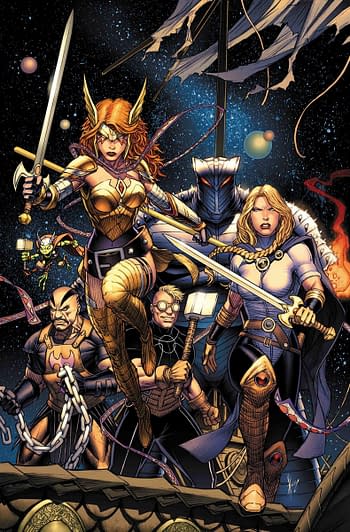 So the comic starts with the character who has been both Asgardian and Guardian, Angela, putting a team together, ripped out of the recent Defenders run and Thor with the return of Valkyrie by way of archaeologist Annabel Riggs, Skurge, The Destroyer, Thunderstrike, and… Throg. Yes, the Thor-turned-into-a-frog character is back with us.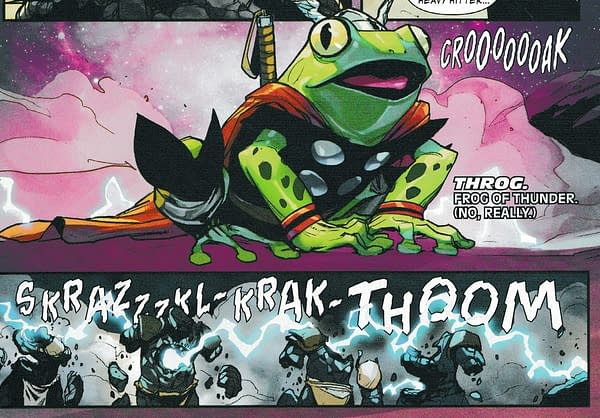 No more explanation given. And they seem to fit the Guardians of the Galaxy roles well. Throg as Rocket Raccoon, Destroyer as Groot, Skurge as Drax, Thunderstrike and Anabelle Riggs both as Star-Lord, Valkyrie as Nebula, Angela as Gamora.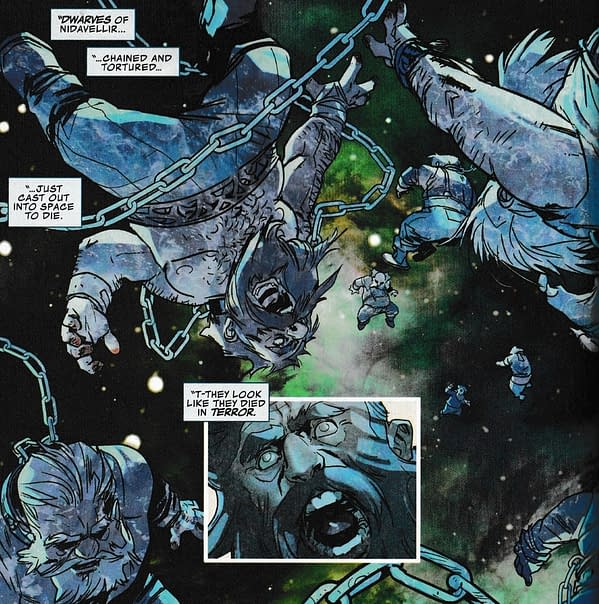 Oh, and giving us a bunch of dead cosmic giant dwarves. Alice hasn't got to that movie yet. But watching might help you realise who is behind (or inside) The Destroyer this time around.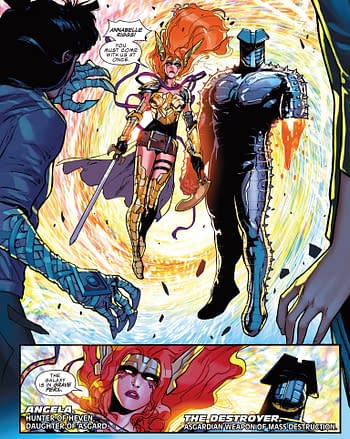 Spoiler if you want it, because this Bleeding Cool story is happening right here. And yes, it adds to the current Marvel doppelgänger theory…
But more than that, this comic throws a lot of spaghetti at the wall to see what sticks. Explanations as to how the hell some of these characters are here, and the way they are, is not forthcoming. As a reader, you are just encouraged to join them for the ride in the hope that some of this will make sense somehow. Odds are fairly good…
What makes this far more palatable is the artistic team of Matteo Lolli and Federico Blee, giving us a story that takes the sketchiness of telling a story about humans, sitting in a cafe on a date…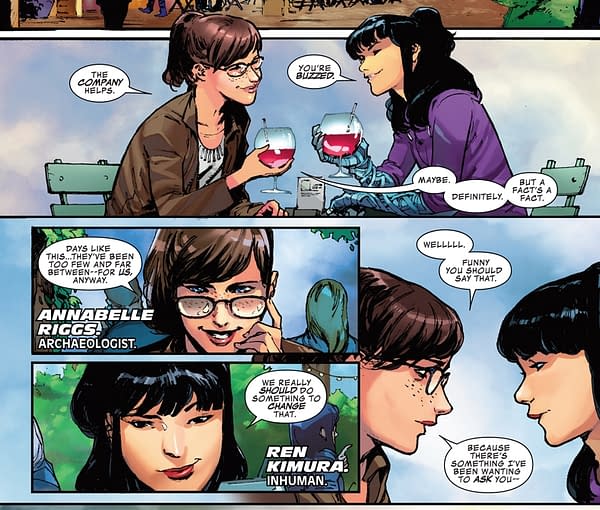 …and ramps it up to cosmic proportions without losing a beat, colour infusing and exploding within the art, as it takes on Japanese influence with a colour palette that takes ever character, lights in them in all manner of hues and makes them sing. Blee is doing a similar job to David Curiel on Avengers, and it really works here in selling the various realms. And right now this kind of attention to the use of colour for bombast and excitement is ahead of the competition.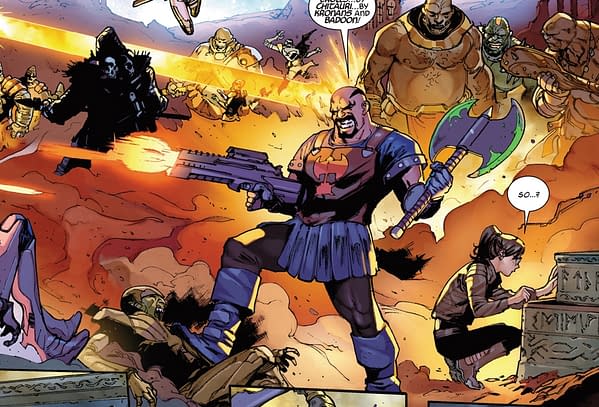 As for the Infinity War tie-in — there's a brief mention of where the normal Guardians are right now and who they are dealing with, before the comic gets on with its own story…
ASGARDIANS OF THE GALAXY #1
(W) Cullen Bunn (A) Matteo Lolli (CA) Dale Keown
Spinning out of the events of INFINITY WARS comes an epic space opera from DEADPOOL veterans Cullen Bunn and Matteo Lolli!
Angela, the not-so-beloved half-sister of Thor. The hotheaded Valkyrie – and the human who shares her form, Annabelle Riggs. Skurge the Executioner, freshly returned from Hel. Throg, the mightiest frog of thunder. Kevin Masterson, the boy who took his father's mace to become the hero Thunderstrike. And the Destroyer, the Asgardian armor built to take down Celestials – its wielder unknown. The events of INFINITY WARS set NEBULA off on a quest to rule the galaxy – wielding an Asgardian weapon even Thor would fear – and it's up to this team of gods, assassins, frogs and heroes to stop her. Rated T+ In Shops: Sep 05, 2018 SRP: $3.99
[rwp_box id="0"]
[rwp_box_form id="0"]
Enjoyed this article? Share it!