Avatar, Boom, Dynamite And IDW Solicitations For December 2012
Time to have a look at a few publishers that have a certain demographic in common, Avatar, Boom, Dynamite and IDW, and what they have new for us in December 2012.
Avatar hasa new Caligula series and the second issue of Bleeding Cool Magazine, Boom has Deathmatch – and a whole load of retailer exclusive Adventure Time covers made available to the general public at a premium, Dynamite launches a new Sherlock Holmes series and IDW launches Crow, Joe Paloooka and Hollows…. go take a peek.
AVATAR
FERALS VOL 1 TPB
$19.99 US
Cover & Art: Gabriel Andrade
Writers: David Lapham
MR, Color, 160 pages
David Lapham and Gabriel Andrade's hit horror series redefines modern werewolf mythology the Avatar way, with violent animal ferocity and gallons of blood! Officer Dale Chesnutt is a lawman with a big, bloody problem. Slaughtered civilians are turning up in the sleepy town of Cypress, and the burden falls on him to end the carnage. But no sooner does he begin his investigation than he finds himself violently drawn to a sexy, mysterious woman… and a vicious creature strikes again at Dale's own family. Hidden among the faces on Cypress streets, unrecognizable to neighbors and friends, a culture of werewolves dating back a thousand years has found their ancient secrets threatened… and worth tearing their enemies to pieces for. Available with a Trade Paperback, Hard Cover, and a special Signed Hard Cover Edition (limited to 1000 copies and signed by David Lapham) all featuring covers by Gabriel Andrade!
FERALS VOL 1 HC
$27.99 US
Cover & Art: Gabriel Andrade
Writers: David Lapham
MR, Color, 160 pages
FERALS VOL 1 SIGNED LTD HC
$34.99 US
Cover & Art: Gabriel Andrade
Writers: David Lapham
MR, Color, 160 pages
This exclusive signed hard cover edition features the autograph of David Lapham and is limited to just 1000 copies!
CALIGULA: HEART OF ROME #1
$3.99 US
Cover & Art: German Noble
Writer: David Lapham
MR, Color, 32 pages, 1 of 6
Caligula returns for an all-new series by the original creative team! David (Stray Bullets) Lapham and painter German Noble return to the time of hedonism and supernatural evil with Caligula: Heart of Rome #1! They thought the mad emperor destroyed, his mysterious soul box gone, and his body run through with a thousand blades. But the demon lives on and ten years later the job of finding and slaying the beast once and for all has fallen to heroic Laurentius. But can anyone unravel the mystery of the demon before its bloody tendrils can make glorious Rome a wasteland? Available with Regular, Wraparound, or Gore covers by German Noble, and a special Imperial Retailer Incentive.
NIGHT OF THE LIVING DEAD: AFTERMATH #3
$3.99 US
Cover: Raulo Caceres
Writer: David Hine
Art: German Erramouspe
MR, Color, 32 pages, ongoing
Las Vegas is a city of the dead now. The zombie epidemic hits new heights as the government tries to cover up the extent the plague of the undead has reached. Zombies run Sin City now and time is running out for the group of survivors trying to escape the quarantine alive. The original zombie epic returns with a fresh and violent picture of the end of the world courtesy of David Hine. Available with Regular Wraparound, or Gore cover by Raulo Caceres, and a special Terror Retailer Incentive.
FASHION BEAST #4
$3.99 US
Writer: Alan Moore
Cover & Art: Facundo Percio
MR, Color, 32 pages, monthly, 4 of 10
There is no nuclear winter in the seasons of the fashion world. And while life outside of Celestine's empire is tumbling toward oblivion, within the doors of the temple to fashion Doll becomes enwrapped in the disdain and contempt of the madams. But while Doll strives to raise her station from commoner to elitist, she discovers that the wrong turn of phrase can do more than ruin a career, it can take a life. For in this world only the designs of Le Patron are immaculate and everything else is terminally flawed and to be scorned, used, and eventually discarded. And it may be too late when Doll realizes that her obstinate and haughty projected image may turn out to be a mortal detriment to her newly found stardom as the jewel of Celestine's eye. Fashion Beast brings Alan Moore's unearthed masterpiece into the limelight after nearly thirty years! Available with a Regular or Wraparound Cover by series artist Facundo Percio or Haute Couture Incentive (by Percio) or the very rare Tarot (by Paul Duffield) Incentive cover.
DAN THE UNHARMABLE #8
$3.99 US
Writer: David Lapham
Cover & Art: Rafael Ortiz
MR, Color, 32 pages, ongoing
Lizzy's quest to find out more about her father has put her and the other Hickenlooper kids in bad way. Oddball killers from Dan's forgotten past have come out of the woodwork and are trying to cut their way into the world's most dysfunctional family. Now Lizzy must contend with the truth…she is pregnant and a group called the Consortium is out to get her. All this is really putting unnecessary stress on Dan's current case to find a mysteriously missing vagina. Try something you have never seen in comics before – pick up an issue of David Lapham's gonzo noir crime series and get pulled into the drug induced world of Dan the Unharmable. Available with a Regular, Wraparound, and special Retro Incentive cover by series artist Rafael Ortiz.
CROSSED: BADLANDS #19
$3.99 US
Cover & Art: Raulo Caceres
Writer: Si Spurrier
MR, Color, 32 pages, bi-weekly
***In stores December 12, 2012***
December 2012 – it's the end of the world, Crossed style! And to celebrate we have a special Crossed Badlands event by Si Spurrier and Raulo Caceres. Even in the first days of the Crossed epidemic, there was the one-in-a-million rare berserker who was able to concentrate his rage on a subject from deep in their old mind. All that fury and hatred bent towards not general mayhem but a single vile and unthinkable action. One goal…one driven horror…to find love lost. Available with a Regular, Wraparound, Torture covers by Raulo Caceres, and a special Red Crossed Incentive. Also, on #19 and #20 only, don't miss the amazing End of the World Connecting Covers. This special connecting cover set celebrates the end of the known world as predicted by the Mayans, Crossed style!
CROSSED: BADLANDS #20
$3.99 US
Cover & Art: Raulo Caceres
Writer: Si Spurrier
MR, Color, 32 pages, bi-weekly
*****In stores December 26, 2012**
Serena and Mattias were from two different worlds before the outbreak – she a cop and he a mob enforcer. But they shared a bond that went beyond their unlikely pairing and has lasted into the first days of the Crossed plague. Now a freak Crossed berserker has a single goal above the violent chaos of his burning brain and he plans to reunite with all the fury of infection. There is no hope. There is only the Crossed. Available with a Regular, Wraparound, Torture covers by Raulo Caceres, and a special Red Crossed Incentive. Also, on #19 and #20 only, don't miss the amazing End of the World Connecting Covers.
HERO WORSHIP #6
$3.99 US
Writers: Zak Penn & Scott Murphy
Cover & Art: Michael Dipascale
All Ages, Color, 32 pages, monthly, 6 of 6
All of Adam's life has lead up to this surreal moment – from worshiping the godly superhero Zenith to becoming the super-powered Apex to discovering the truth about his idol and the people behind the carefully crafted public persona. Now he must choose how to confront the truth and what will happen if he turns his own powers upon his mentor and accepts the mission to bring down Zenith. One way or another, there will be blood. Zak Penn and Scott Murphy's fresh take on superhero comics have ignited fans everywhere! Available with a Regular, Wraparound, and a special Heroic Incentive cover by Michael Dipascale.
STITCHED #10
$3.99 US
Writer: Mike Wolfer
Cover & Art: Fernando Furukawa
MR, Color, 32 pages, ongoing
An ancient terror which lay hidden in the wastes of the Afghanistan is about to find new life! Now in the hands of a Pakistani smuggler, a handful of supernaturally-reanimated Stitched are the illicit merchandise, and a reclusive collector of religious antiquities in the jungle of Sri Lanka is ready to pay any price to add the horrific, living dead assassins to his collection. But it's not only the creatures themselves he's driven to possess, but also the secret of their unholy creation. The collector will stop at nothing to procure the relics and possess the secret of the Stitched! Stitched #10 is available with a Regular cover, Wraparound cover, Gore cover, and a special Ancient Evil retailer incentive cover by Fernando Furukawa.
FERALS #11
$3.99 US
Writer: David Lapham
Cover & Art: Gabriel Andrade
MR, Color, 32 pages, ongoing
Dale Chesnutt has a real problem. He's gone native…and now he hopes to hide his new life with Pia and forthcoming pup from the watchful eye of the FBI. His plan is to deliver the Viking Rikkard to the authorities on a platter seems like a good one. But in the Feral world, your only choices are kill or be killed. And Rikkard isn't going down with a fight. And a fight with Rikkard means a fight with an army of Ferals. The second story arc is running full speed toward a bloody end! Available with a Regular, Wraparound, Gore, and special Slashed Incentive cover by series artist Gabriel Andrade.
CROSSED: BADLANDS #15 AUXILIARY ED
$3.99 US
Cover: Raulo Caceres
Writer: David Hine
Art: Eduardo Vienna
MR, Color, 32 pages, bi-weekly
The classic "EC Homage" theme continues as Raulo Caceres delivers a haunting cover on this 1250 copy limited first printing cover.
CROSSED: BADLANDS #16 AUXILIARY ED
$3.99 US
Cover: Raulo Caceres
Writer: David Hine
Art: Eduardo Vienna
MR, Color, 32 pages, bi-weekly
Guaranteed to give you the creeps, Raulo Caceres serves up a frightening "EC Homage" on this 1250 copy limited first printing cover.
CROSSED: BADLANDS #11 CAMPFIRE CVR
$5.99 US
Cover: Gianluca Paligrini
Writer: David Lapham
Art: Jacen Burrows
MR, Color, 32 pages, bi-weekly
This special campfire horror cover by Gianluca Paligrini will burn your marshmallows and haunt your dreams. Limited to only 850 copies, only campers with their "Crossed" badges will survive reading this issue.
BLEEDING COOL MAGAZINE #2
$4.99 US
MR, Full Color, 104 pages
UPC: 820023007721 02011
Bleeding Cool Magazine continues to give you what you can't get on the web – unique and relevant editorial, the hottest creators, the biggest events, and Rich Johnston's critical analysis of the things that drive our hobby. This is the all-ages and kids comics special issue that looks the best books influencing the new generations of comic reading. From Adventure Time to TMNT, we've got it covered! We also focus on the New Year with a look at the books that will change 2013 and the creators that are making this a year like no other! Delivering over 100 pages per issue and a bi-monthly release schedule, you are not going to want to miss the behind-the-scenes scoops, hot book price guide, and hot book speculation Over a million monthly BleedingCool.com visitors can't be wrong! Delivering the best of comics and film with the right mix of innovation, snark, and spell-checking, it's Bleeding Cool!
(BOUNDLESS)
LADY DEATH #24
$3.99 US
Cover: Jason Eden
Writer: Mike Wolfer
Art: Marcelo Mueller
MR, Color, 32 pages, monthly
Eight years of Boundless Comics' LADY DEATH history has all been leading to this, the most defining moment of all time for the sultry, albino goddess! At last, the horrific nature of The Void is revealed, and once Agony is released from bondage, the repercussions of her true identity will change Lady Death forever. When the final truth is revealed, nothing… And we mean NOTHING will be the same! Available with Regular cover by Jason Eden, Sultry cover by Renato Camilo, and Wraparound by Pow Rodrix with order incentive Art Deco cover by painter Michael Dipascale!
LADY DEATH #20 AUXILIARY
$3.99 US
Cover: Michael Dipascale
Writer: Mike Wolfer
Art: Marcelo Mueller
MR, Color, 32 pages, monthly
Painter Michael Dipascale delivers a resplendent Lady Death cover in this sexy first printing edition of #20 that is limited to just 1250 copies!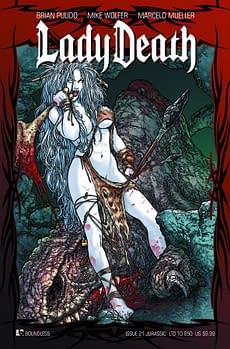 LADY DEATH #21 JURASSIC COVER
$9.99 US
Cover: Juan Jose Ryp
Writer: Mike Wolfer
Art: Marcelo Mueller
MR, Color, 32 pages, monthly
Juan Jose Ryp takes us back to the time of the dinosaurs with a Lady Death cover that brings the past back to life and is limited to just 850 copies!
LADY DEATH #22 HOLIDAY VIP ULTRA PREMIUM
$29.99 US
Cover: Michael Dipascale
Writer: Mike Wolfer
Art: Marcelo Mueller
MR, Color, 32 pages, monthly
This uber-rare Lady Death Holiday VIP issue comes shipped in a protective hard shell and celebrates the holidays as only the albino goddess can! Super limited to just 350 copies, the Lady Death #22 Holiday VIP Ultra Premium is the perfect stocking stuffer for the Lady Death fan who has everything.
BOOM! STUDIOS
DEATHMATCH #1
(W) Paul Jenkins (A) Carlos Magno (CA) Whilce Portacio
THE SUPERHERO BATTLE ROYALE YOU CAN'T GET FROM MARVEL OR DC! A powerful and mysterious supervillain has imprisoned the world's greatest superheroes, forcing them to fight to the death until there is but one victor. It's kill or be killed as we settle the score on all those hypothetical superhero match-ups in the ultimate DEATHMATCH.
Written by industry legend Paul Jenkins (SENTRY, INHUMANS) and drawn by comics superstar Carlos Magno (PLANET OF THE APES, TRANSFORMERS), DEATHMATCH is a dark, psychological deconstruction of the superhero genre that can't be missed. PLANET O/T APES CATACLYSM #4
(W) Corinna Bechko, Gabriel Hardman (A) Damian Couceiro (CA) Alex Ross, Gabriel Hardman
With nowhere left to turn, Zaius must trust the one ape that has the most to hide… As Ape City continue to burn, will Zaius be reunited with his family before the final calamity arrives?
Don't forget to ask your retailer about the rare Alex Ross Black and White CGC 9.8 Near Mint variant!
EXILE ON PLANET O/T APES TP VOL 01 (C: 0-1-2)
(W) Corinna Bechko, Gabriel Hardman (A) Marc Laming (CA) Gabriel Hardman
Ape society is evolving, yet not all primates are considered equal. Humans alone lack the power of speech. Two years ago, Dr. Zaius banished all humans from Ape City, launching a campaign of eradication. But one among them was taught to communicate with his hands. Now the human rebellion has begun. They don't need to speak to find their voice… Collecting the critically acclaimed series, find out what happens 18 years before the arrival of Colonel George Taylor from the original 1968 Planet of the Apes movie! Written by fan-favorites Corinna Bechko and Gabriel Hardman and drawn by red hot artist Marc Laming (The Rinse).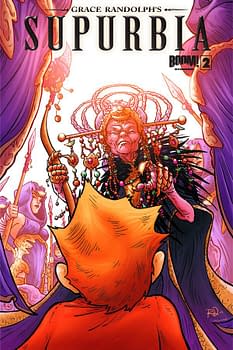 SUPURBIA ONGOING #2
(W) Grace Randolph (A) Russell Dauterman (CA) Stéphane Roux, Russell Dauterman
THE FAN-FAVORITE PHENOMENON CONTINUES! After Hayley Harper's televised bombshell, Hella has to face a parole hearing that may send her back behind bars, where Sovereign can't protect her… A new romance is kindled in Alexis's life – during the middle of a super-powered rooftop heist… Jeremy puts his explorer skills to the test as he hunts down his kidnapped son in the Mongolian wilderness… Sick of living in the shadows of Paul's marriage, Gio has a shocking announcement to make… And what dastardly deeds does Hector Hunt have in store for the neighborhood while the heroes are away? Find out as Grace Randolph and Russell Dauterman bring you the next steamy installment of Supurbia.
FREELANCERS #3
(W) Ian Brill (A) Josh Covey (CA) Khary Randolph
Val and Cass' search for their former instructor puts them on a collision course with the woman at the top of the Freelancer chain, Kathy Rushmore. Our heroines are outgunned and out of cash, but they literally can't afford to fail. The fight that began way back at the Kung Fu orphanage spills out into the streets of L.A.!
FANBOYS VS ZOMBIES #9
(W) Sam Humphries, Shane Houghton (A) Jerry Gaylord (CA) Dominike "Domo" Stanton, Jerry Gaylord
BRAND-NEW ARC! PERFECT JUMPING-ON POINT FOR NEW READERS! Last month, the new-and-improved Wrecking Crew wrecked shop, eliminating the zombie threat in San Diego and salvaging what they could of the mecca of geek culture. But what happens when they're faced with the Ghosts of Comic-Cons Past? Rising star writer Shane Houghton (REED GUNTHER) joins Team FvZ as the fanboy-favorite series enters a new era!
FANBOYS VS ZOMBIES TP VOL 01 (C: 0-1-2)
(W) Sam Humphries (A) Jerry Gaylord (CA) Humberto Ramos
SAN DIEGO, WE HAVE A PROBLEM! One is a decrepit mob of gurgling, ravenous fiends…and the other is a zombie outbreak. When there is no more room in Hell, the undead shall take over Comic-Con! A crew of feuding best friends find themselves trapped inside the largest comic convention in America, transformed into a seething cauldron of the undead.
Written by indie sensation Sam Humphries (Marvel's THE ULTIMATES, OUR LOVE IS REAL) with art by hot new talent Jerry Gaylord, FANBOYS VS. ZOMBIES is a loving send-up of geek fandom with a perfect blend of quirky comedy and zombie-killin' action!
STEED AND MRS PEEL ONGOING #4
(W) Caleb Monroe (A) Will Sliney (CA) Mike Perkins, Drew Johnson
After the events of their last adventure, John Steed & Emma Peel definitely deserve a night out. But there's something sinister afoot amongst all the champagne & caviar. Murder is the main course at "The Black & White Ball"!
HELLRAISER ROAD BELOW #3 (OF 4) (MR)
(W) Brandon Seifert (A) Ibraim Roberson (CA) Tim Bradstreet, Nick Percival
She tried the easy way… Kirsty Cotton wanted no part of the deadly war waged between the Wolfes & the Nethercoates, but with the surviving members of both clans seeing the Cenobite Queen as their salvation, Kirsty will have to take a side – her own!
VALEN OUTCAST TP VOL 02
(W) Michael Alan Nelson (A) Matteo Scalera (CA) Khary Randolph
EVERY QUEST MUST END. Valen Brand used to be the beloved King of Oakhaven until the necromancer Korrus Null stole his soul. Now, with the help of his old friend Zjanna and their drunken guide Alexio Cordovan, Valen is on a mission to get it back. Written by fan-favorite creator Michael Alan Nelson (28 Days Later, Robert E. Howard's Hawks of Outremer) with art by rising star Matteo Scalera (Secret Avengers, Deadpool), Valen the Outcast is a blend of "epic fantasy" and "sword-and-sorcery" that is perfect for fans of A Game of Thrones and Conan the Barbarian.
HYPERNATURALS #6
(W) Dan Abnett, Andy Lanning (A) Andres Guinaldo, Tom Derenick (CA) Francesco Mattina, Wesley Craig
Responsible for protecting the Quantinuum, the Hypernaturals face their biggest threat yet, as the Quantinuum itself begins to create catastrophic problems that the Hypernaturals can't even begin to comprehend…
HYPERNATURALS #1 SDCC EXCLUSIVE CVRS
(W) Dan Abnett, Andy Lanning (A) Brad Walker, Andres Guinaldo (CA) Brad Walker
Dan Abnett and Andy Lanning's cosmic heroes arrive in style for Comic-Con International in this dynamic variant cover by Brad Walker (Guardians of the Galaxy, Action Comics) previously available exclusively in San Diego! Quantities are limited, allocations may occur.
HIGHER EARTH #8
(W) Sam Humphries (A) Francesco Biagini (CA) Frazer Irving, Garry Brown
The truth of Higher Earth is out and now Heidi must find a way to make things right. With nowhere else to turn, Heidi must ally herself with the last person she ever suspected. But can they be trusted, or has Heidi lost sight of the truth? Find out in the penultimate issue of Higher Earth!
EXTERMINATION #7
(W) Simon Spurrier (A) V Kenneth Marion (CA) Tom Derenick, Antonio Fuso
Nox and Red Reaper have finally done it — they've found Absolute, the only superhero on the planet who stands any chance of eliminating the alien threat. But once he is awakened, will Absolute side with the Alliance…or the EDDA?
BRAVEST WARRIORS #3 (OF 6)
(W) Joey Comeau (A) Mike Holmes (CA) Tyson Hesse, Aaron Renier
HOT NEW SERIES FROM THE CREATOR OF ADVENTURE TIME! This clown planet is getting the Bravest Warriors super-down, man. But if someone needs saving, then they're the dudes to do it! The comic adaptation of the new show from ADVENTURE TIME creator Pendelton Ward!
GARFIELD #8
(W) Mark Evanier (A) Gary Barker & Various (CA) Gary Barker
What's on Garfield's Christmas list? Lasagna, lasagna, and more lasagna! Naughty or nice, everyone is welcome to a holiday from Santa's favorite elves, Mark Evanier, Gary Barker, Dan Davis & Mike DeCarlo! This issue will feature a special Christmas themed story–also, be sure to ask your retailer about the Santa meets Jim Davis variant cover!
PEANUTS #1 (OF 4) SDCC EXCLUSIVE CVR
(W) Charles M. Schulz & Various (A) Vicki Scott & Various (CA) Matt Whitlock
Even the Peanuts gang has to wait in line at San Diego in this charming variant cover by Matt Whitlock, previously available exclusively at Comic-Con International! Quantities are limited, allocations may occur.
ADVENTURE TIME COVER SHOWCASE ONE SHOT
COME ON GRAB YOUR FRIENDS FOR AN ADVENTURE TIME COVER SHOWCASE! Collectors love the Adventure Time comic book's many totally math covers by the hottest artists in the comic book industry! See several of your favorite Adventure Time covers packaged into one high-quality special issue featuring a cover by comic book rockstar Paul Pope!
ADVENTURE TIME MARCELINE SCREAM QUEENS #6
(W/A) Meredith Gran, Nick Edwards (CA) Jab, Brooke A. Allen
THE FINAL TOTALLY AWESOME ISSUE OF THIS ADVENTURE TIME MINI-SERIES! Can the Scream Queens rock their crazy-huge biggest gig ever…and will Princess Bubblegum finally discover the true meaning of ROCK? Final issue of this incredibly popular series!
ADVENTURE TIME #11
(W) Ryan North (A) Shelli Paroline, Braden Lamb (CA) Chris Houghton, Tom Waga
BRAND NEW ARC! PERFECT JUMPING ON POINT FOR NEW READERS! Join Jake the Dog and Finn the Human in the latest of their totally math adventures! Get on board for what critics are calling "the best series of 2012"!
ADVENTURE TIME #1 BROWN VAR (Net)
(W) Ryan North (A) Shelli Paroline, Braden Lamb (CA) Shelli Paroline & Various
Happy Holidays! Adventure Time fans have been scrambling to collect all of the totally math variant covers for the series. Now for a limited time, we're opening up the BOOM! vault to allow everyone access to the rare retailer incentive covers. Ask your retailer how you can snag one of these algebraic covers 'cause once they're gone… they're gone!
ADVENTURE TIME #1 HOUGHTON WRAP VAR (Net)
ADVENTURE TIME #2 CARROLL VAR (Net)
ADVENTURE TIME #2 FRANK BECKY VAR (Net)
ADVENTURE TIME #3 DEFORGE VAR (Net)
ADVENTURE TIME #3 BUSCEMA VAR (Net)
ADVENTURE TIME #4 SCOTT C VAR (Net)
ADVENTURE TIME #4 WARD VAR (Net)
ADVENTURE TIME #5 KOLCHALKA VAR (Net)
ADVENTURE TIME #5 GABE PENNY ARCADE VAR (Net)
ADVENTURE TIME #6 HIPP VAR (Net)
ADVENTURE TIME #6 WOLFHARD VAR (Net)
ADVENTURE TIME #7 ANNABEL VAR (Net)
ADVENTURE TIME #7 FRANCO VAR CVR (Net)
ADVENTURE TIME #1 SDCC GET A SKETCH CVR
(W) Ryan North (A) Shelli Paroline, Braden Lamb (CA) Chris Samnee
The first printing of the mega-hit ADVENTURE TIME is long sold-out, but we held back a secret "Get-A-Sketch" variant cover until Comic-Con International! Get your favorite artist to sketch your favorite Adventure Time character on it! Quantities are limited, allocations may occur.
ADVENTURE TIME MARCELINE SCREAM QUEENS #1 SDCC GET A SKETCH
(W/A) Meredith Gran, Jen Wang (CA) Meredith Gran
The first printing of the first ADVENTURE TIME spinoff series is long gone, but you still have a chance to get this first printing "Get-A-Sketch" variant cover previously only available at Comic-Con International! Get your favorite artist to sketch your favorite Adventure Time character on it! Quantities are limited, allocations may occur.
DYNAMITE
SHERLOCK HOLMES LIVERPOOL DEMON #1 (OF 5)
(W) Leah Moore, John Reppion (A) Matt Triano (CA) TBD
Sherlock Holmes is busy doing what he does best, solving a case of far-reaching international notoriety. It has landed him at the Port of Liverpool, a bustling hub of commerce both legitimate and illicit. As that chapter closes, ours begins. They head to Lime Street Station, to catch a fast steam locomotive home to London and Baker Street, when violent weather keeps The Great Detective and Watson in Britain's second city a while longer. Long enough to encounter a monster, discover the Liverpool underworld, and to become embroiled in one of his strangest cases yet.
MASKS #2
(W) Chris Roberson (A) Dennis Calero (CA) Alex Ross & Various
Powerful criminals and crooked politicians have taken over New York, and instituted a fascist police state. With the law bent to their own purposes, the so-called "Justice Party" and their army of Black Legion troopers imprison, extort, and execute any citizens who stand in their way. Only vigilantes like the Shadow, Green Hornet, and the Spider have any hope of standing against them, but instead of operating outside the law as they have always done, these masked heroes must now oppose the law in their fight for justice. But they will not be fighting alone, as more men and women don masks and emerge from the shadows to stand alongside them.
SHADOW #9
(W) Victor Gischler (A) Aaron Campbell (CA) Alex Ross & Various
Revolutionary Part 2 (of 4) – The Shadow finds himself face to face with George Orwell smack dab in the middle of the Spanish Civil War, but his mystic powers fail to illuminate what significance this literary legend holds for the world. No time to figure that out! The Shadow's campaign against a murderous gang of gun runners takes him on a tour of Barcelona's underbelly where he meets the beautiful and dangerous Black Sparrow! But is he really an old friend in disguise? Pause to ponder that and you might miss the deadly dogfight over the Spanish countryside. Pack a parachute, Shadow, because you're going to need it!
SHADOW SPECIAL #1
(W) Scott Beatty (A) Ronan Cliquet (CA) Alex Ross
The Shadow knows what evil lurks in the hearts of men. But when Lamont Cranston crosses paths with an old friend–a fellow veteran of "the war to end all wars"–Cranston's justice serving alter ego must judge a man whose path to villainy began with their friendship! At the risk of his own secrets being laid bare, Cranston accepts an invitation to join a very exclusive club of adventurers whose dark hearts might be the worst The Shadow has ever encountered!
SHADOW HC VOL 01 FIRE OF CREATION SGN ED (C: 0-1-2)
(W) Garth Ennis (A) Aaron Campbell (CA) Alex Ross
Who knows what evil lurks in the hearts of men? The Shadow knows! In the storyline 'The Fire Of Creation', it's 1938 and The Shadow returns in a tale of blazing action and deadly intrigue, as a night of carnage on the New York waterfront plunges the mysterious vigilante into a conspiracy involving the fate of the world itself. As storm clouds gather across the globe, American Military Intelligence meets with a certain Lamont Cranston, determined to beat a host of spies and assassins to the greatest prize of all… but what that might be, only the Shadow knows. Collecting the first six issues of the hit series written by Garth Ennis and drawn by Aaron Campbell, featuring Garth Ennis' script to issue #1 as well as a complete cover gallery featuring art by Alex Ross, Jae Lee, John Cassaday, Ryan Sook, Howard Chaykin, and more.
Now you can own this beautiful hardcover with a signed tip-in sheet by writer Garth Ennis AND remarked by interior artist, Aaron Campbell!
BOYS TP VOL 12 BLOODY DOORS OFF (MR) (C: 0-1-2)
(W) Garth Ennis (A) Russell Braun, Darick Robertson (CA) Darick Robertson
The war is over and the world is saved. The supes have been beaten down so far they'll never get up again. So why would anyone want one hundred and eighteen metric tons of the only substance on earth that can kill them all stone dead?
Bad days start coming thick and fast, as the Boys are caught in the last throes of the battle they were recruited to fight so long ago. Hughie, all on his own and out of luck, finds himself walking down one last bloody trail- and the truth he finds waiting for him at the end of it will be nothing short of shattering. Billy Butcher's vengeance
comes full circle, in this twelfth and final entry in the story of The Boys.
The Boys Vol. 12: The Bloody Doors Off TP contains issues #66-72 as well as a complete cover gallery!
BATTLEFIELDS GREEN FIELDS BEYOND PT 1 #2 (OF 6) (MR)
(W) Garth Ennis (A/CA) Carlos Ezquerra
Stiles and Frankie are up against it: trapped on Gloster Hill with a small unit of British soldiers, facing a murderous onslaught by ten thousand Chinese troops. Worse still, they didn't bring their tank along this time. It's last man, last round, as the Tankies face their sternest test to date…
GARTH ENNIS JENNIFER BLOOD #22 (MR)
(W) Al Ewing (A) Kewber Baal (CA) Mike Mayhew
The Trial Of Jennifer Blood continues, as we find out more about the apocalyptic circumstances that led to Jen's downfall. Contents may include: The Ninjettes vs. Jen! The increasingly odd Detective Elaine Pruitt vs. Internal Affairs! Ray Buwick vs. A Large Milkshake! Life Imprisonment vs. Execution! (Can we have a phone vote? No? Okay.)
JENNIFER BLOOD FIRST BLOOD #4 (MR)
(W) Michael Carroll (A) Igor Vitorino (CA) Mike Mayhew
On the surface, Jennifer is a diligent housewife and doting mother, but that calm surface hides a turmoil of rage, hatred and a burning desire for bloody retaliation: when Jen was a child, her five uncles murdered her father, then drove her mother to suicide.
In her quest for vengeance against the vicious Blute brothers Jen finally comes face-to-face with their top enforcer Wendell Cortland, and sees first-hand the true nature of his cold, efficient brutality.
NINJETTES TP VOL 01 (MR)
(W) Al Ewing (A) Eman Casallos (CA) Admira Wijaya
Tearing out of the pages of Garth Ennis' Jennifer Blood comes The Ninjettes — a searing four-color indictment of a society that turns blushing college girls into ninjas hungry to kill!
Kelly, Skyler and Chelsea — once-wholesome Americans caught in a nightmare of sin, scandal and shurikens! What made them the way they are — twisted, violent, depraved? That's the question that will explode across your mind with the shocking fury of a Cobalt Bomb as you breathlessly turn these pages!
This volume collects the complete, 6-issue miniseries by Al Ewing and Eman Casallos as well as sketches and designs by Eman Casallo, a writer's commentary on issue #1 by Al Ewing and all of the covers by Admira Wijaya, Johnny Desjardins and more.
EVIL ERNIE #3
(W) Jesse Blaze Snider (A) Jason Craig (CA) Daniel Brereton & Various
ORIGIN OF EVIL PART 3! It's Ernie versus Widmark Prison's gen pop in a battle to the death, but Ernie's powers are running low – how will he survive?! Plus, Ernie comes face to face with his wicked foster father, Buford for the first time since his transformation! Will it be the last? Also, Uriel, the angel in charge of people's destinies comes down from Heaven to tell Ernie what's what and Smiley doesn't like it one bit!
VAMPIRELLA #26
(W) Brandon Jerwa (A) Hubert Khan Michael (CA) Fabiano Neves & Various
The third year of Dynamite's Vampirella starts here! There's a new dawn on Earth, and a new beginning for Vampirella in the aftermath of war. Who are Mother Rowan and the Sleepless Boys, and why have they called for our heroine's help? A Dynamite Done-In-One, perfect for longtime fans and new readers!
VAMPIRELLA ARCHIVES HC VOL 06 (MR) (C: 0-1-2)
(W) Doug Moench & Various (A) Jose Gonzalez & Various (CA) Enrich
Featuring the best in iconic horror, science fiction and fantasy, comes Vampirella Archives Volume 6! Starting off with issue #36 which celebrates the 5th anniversary of Vampirella and her magazine and ending the volume with #42. All the best in the industry are featured in this collection showcasing memorable classics by Archie Goodwin, Jose Gonzalez, Esteban Moroto, Felix Mas, Sanjulian, Enrich and countless others.
DARK SHADOWS VAMPIRELLA #5
(W) Marc Andreyko (A) Patrick Berkenkotter (CA) Fabiano Neves
The blood-drenched conclusion! Vampirella and Barnabas face off against Lady Bathory and Jack the Ripper! Can Barnabas keep his vow and save an innocent girl from certain death? Or will the ancient evil of Lady Bathory destroy everyone in her path? If our heroes fail, Bathory's mad plan will forever change the world! And who is that lurking in the shadows……?
DAMSELS #4
(W) Leah Moore, John Reppion (A) Aneke (CA) Joseph Michael Linsner
From the tales of Cinderalla, Sleeping Beauty, The Little Mermaid and Snow White comes Damsels!
As the twin armies of Perrault and Caumont thunder across the plains, Rapa and Heinrich search for clues to the true identity of Queen Talia in Perrault castle but soon find themselves fighting for their lives. Meanwhile in Villeneuve Queen Belle tries to reason with her husband, the king, as her subjects take matters into their own hands.
PETER CANNON THUNDERBOLT #4
(W) Steve Darnell, Alex Ross (A) Jonathan Lau (CA) Alex Ross & Various
In "Magnificent Obsessions," Peter Cannon-the hero known as Thunderbolt-returns to New York after defeating the murderous Master Tiger, only to find another unexpected threat awaiting him at the airport. Meanwhile, the General's cabal unfolds their plan for destroying the dragon… with the help of an angry (if not quite mad) scientist!
PATHFINDER #4
(W) Jim Zubkavich (A) Andrew Huerta (CA) Lucio Parillo & Various
The Pathfinder adventurers have trekked deep into the Mosswood, overcoming dangerous creatures and perilous terrain to reach their goal. With victory so close, the brutal defeat to come will be even more bittersweet…
Paizo's incredible award-winning fantasy world, fiction line and tabletop RPG is now the ultimate fantasy comic from Dynamite Entertainment. Includes over 5 pages of character profiles and Pathfinder RPG game statistics, plus an EXCLUSIVE removable, playable tactical map and poster.
RED SONJA #75 RUBI CVR
(W) Eric Trautmann (A) Edgar Salazar (CA) TBD
On the snowy steppes of Hyrkania, Red Sonja faces off against an army bent on crushing her homeland. Old scores are settled, alliances are broken, and rest assured, with the She-Devil With A Sword entering the fray, blood will surely flow.
QUEEN SONJA #34
(W) Luke Lieberman (A) Milton Estevam (CA) Lucio Parrillo
Sonja takes the fight to Hyrkania itself, and finishes the war where it all began. The question is, who will stand when kingdoms fall?
PROPHECY #7
(W) Ron Marz (A) Walter Geovanni (CA) Paul Renaud
The fate of the world balances on the edge of Red Sonja's blade! Will Sonja, Vampirella, Dracula and the rest of their allies be able to destroy Kulan Gath forever, or will his Army of Darkness triumph? Sonja and Vampirella will never be the same, as crossover kings Ron Marz and Walter Geovani reveal one last surprise. Is this the end … or just the beginning?
THUNDA #5
(W) Robert Place Napton (A) Cliff Richards (CA) Jae Lee
The war with the Monkey Men reaches a climax as Roger Drum calls upon a dangerous power to defend Pha and the Shareen against the ruthless incursion of the talking primates! The concluding chapter of Thun'da's first adventure!
THE LONE RANGER #12
(W) Ande Parks (A) Esteve Polls (CA) Francesco Francavilla
The epic conclusion of the Native Ground arc. The Lone Ranger has traveled through Indian lands in search of a healer for his friend Tonto. Now, the healer has been found, and she is not at all what the Ranger expected. Has the Ranger come all this way just to watch his friend die? The battle for Tonto's life and soul will be resolved. Your understanding of this iconic character will be forever changed.
GAME OF THRONES #13 (MR)
(W) George R. R. Martin, Daniel Abraham (A) Tommy Patterson (CA) Mike S. Miller, Michael Komarck
In the aftermath of Jaime Lannister's brutal attack upon Eddard Stark and his men, King Robert meets with the wounded Eddard-and presents him with a choice of evils: either Eddard accepts the heavy mantle of the King's Hand once more . . . or Robert will appoint Jaime to the position. Adding to the troubles of House Stark, Tyrion Lannister wins his freedom from Catelyn Stark; now the Imp will return to his father, intent on revenge for his treatment at the hands of Cat and her mad sister. Meanwhile, far to the north, the bastard Jon Snow becomes a sworn brother of the Night's Watch and must put his loyalty to the Starks aside.
KEVIN SMITH BIONIC MAN #17
(W) Phil Hester, Aaron Gillespie (A) Edgar Tadeo (CA) Edgar Tadeo, Mike Mayhew
Part one of an exciting new story arc! The country of Libue is in the bloody throes of a desperate rebellion. While a brutal dictator uses whatever means necessary to squash the rebels, the American government orders OSI to locate and disarm Libue's nuclear missles before they go rogue. Steve plunges into the unforgiving desert on the hunt for the nukes, but finding them could be far tougher and deadlier than the Bionic Man bargained for.
BIONIC WOMAN #9
(W) Paul Tobin (A) Juan Antonio Ramirez
Jaime has a war on her hands when a wave of Fembots launch an all-out attack on the Russian mob, the Russian government, and pretty much everything Russian! But which side of the war will the Bionic Woman choose, and how will her new abilities affect the fight?
GREEN HORNET #35
(W) Jai Nitz (A) Jethro Morales (CA) Stephen Sadowski
There's only enough room for one Green Hornet and Kato in Century City! One Green Hornet is back from the dead, the other is loathe to let go of his mantle. The legacy of the emerald insect looms large over this battle to the death. Did we mention a dirty bomb is poised to go off and the city hangs in the balance?
GREEN HORNET YEAR ONE SPECIAL #1
(W) Nathan Cosby (A) Ariel Padilla (CA) Sean Chen
Ruby's thirteen. She sells newspapers for pennies. And she's got The Green Hornet's gun. Will Hornet and Kato find Ruby before the mob does…or can THE GREEN GUN GIRL save herself? The original Green Hornet in a super special tale from writer Nate Cosby (Cow Boy)!
WARLORD OF MARS DEJAH THORIS #22 (MR)
(W) Robert Place Napton (A) Carlos Rafael (CA) Paul Renaud, Fabiano Neves
Dejah and Gunbor's shocking discovery of Mortus' true plan for Barsoom leads them into an unlikely alliance with some of Barsoom's most dangerous assassins!
LORD OF THE JUNGLE #13 (MR)
(W) Arvid Nelson (A) Roberto Castro (CA) Lucio Parillo
The savage ape-man clashes with Russian super-fiend Nicholas Rokoff in the shadow of the legendary city of Opar. Don't worry! It's only the fate of the free world hanging in the balance. Rokoff is holding the ape-man's true love hostage, and he won't hesitate to kill her. But wait – the savage denizens of Opar are out for vengeance following the ape-man's escape from their clutches, and they could ruin everyone's plans. Lord of the Jungle #13: Through the Valley of the Shadow!
THE SPIDER #7
(W) David Liss (A) Colton Worley (CA) John Cassaday, Francesco Francavilla
Police Commissioner Kirkpatrick lies dead. His wife grieves, and a twisted killer stalks the city. The Spider has inadvertently set into motion the chain of events that leads to his friend's death, and now he's out for bloody vengeance – Spider style! But will Richard Wentworth be able to resist the grieving window when she's the woman he loves? It's a game-changing issue of the neo-pulp sensation.
ARMY OF DARKNESS ONGOING #10
(W) Elliot Serrano (A) Dietrich Smith (CA) Daniel Leister
Dames and Deadites abound in Prohibition Era Chicago, as Ash finds himself trapped by a wanna-be gangster who's gotten his hands on a copy of the Necronomicon! How can this be possible if Ashley J. Williams is supposed to be its keeper? How will he be able to escape the clutches of the Deadite Mob without his trusty chainsaw and boomstick? And how will he ever find his way back to the present, where an old enemy is plotting his revenge?
It's the continuing adventures of the hero from the cult-classic horror/adventure film!
NEW ENEMIES! NEW LOCALES! SAME BIG CHIN!
VOLTRON #11
(W) Brandon Thomas (A) N. Steven Harris (CA) Sean Chen
Commander Keith and Princess Allura love each other very much, and have done their best to remain committed to one another despite being constantly pulled away by their larger responsibilities to the Voltron Force and the planet Arus. But their best is no longer good enough, and they're both beginning to suspect that they don't know everything there is to know about each other. That perhaps they're both keeping secrets for the so- called "greater good," that if revealed, could tear them apart forever. The shocks keep coming in "Double Blind," and it's apparent that this relationship is yet another thing at risk in this brave new world…
VOLTRON YEAR ONE TP
(W) Brandon Thomas (A) Craig Cermak (CA) Admira Wijaya
For years, Voltron fans all over the world have wondered—why this specific team of space explorers? How did they receive the important mission to bring back Voltron? Were they sent because their superiors hoped they would succeed, or because they knew they would fail?
Voltron: Year One is written by multiple Glyph Award nominee Brandon Thomas (The Many Adventures of Miranda Mercury, Robin), and illustrated by Russ Manning Most Promising Newcomer Award nominee Craig Cermak, featuring issues #1-6 of the series as well as a complete cover gallery!
DARK SHADOWS #13
(W) Mike Raicht (A) Guiu Vilanova (CA) Francesco Francavilla
A glimpse of the dark future of the Collins' bloodlines is revealed. What horrors reside in Collinwood in the year 1984? Will Barnabas be able to find out where it all went wrong and stop it? Or has his family's fate already been written in blood?
ROBERT JORDAN WHEEL OF TIME EYE O/T WORLD #32
(W) Robert Jordan, Chuck Dixon (A) Francis Nuguit (CA) Adam Moore
The quest to find the Eye of the World draws nearer to an end! The group finally makes their way into the cursed northern land known as The Blight – a place fouled by evil in all possible ways – as they continue on their way to the Eye! Also, we discover more about the Warder Lan's mysterious past, and how it ties to the fall of Malkier, a country now consumed by the Blight! All this and a little heartbreak too — all in the latest issue of Robert Jordan's The Wheel of Time: The Eye of the World!
CHOSEN #3 (OF 3)
(W) Chuck Dixon, Gotham Chopra (A/CA) Edison George
An original comic book series created by filmmaker Marcus Nispel (Friday the 13th, Texas Chainsaw Massacre).
The epic finale the Chosen saga. After the unsettling conversion of Ryan's mentor from master to madman, Ryan and Ashley retreat to a remote and idyllic setting far away from the madness of their past. For Ryan, this fragile existence is nothing more than his biding time until the inevitable onslaught of fate. One last confrontation looms with the one warrior that will determine the course of the future for all – himself.
IDW
STAR TREK ONGOING #16
(W) Mike Johnson (A) Stephen Molnar (CA) Tim Bradstreet
Concluding the two-part re-imagining of the classic "Mirror Universe" episode! Don't miss this radical transformation of Kirk & Co., as events unfold leading up to next summer's STAR TREK sequel! Overseen by STAR TREK writer/producer Roberto Orci!
STAR TREK 100 PAGE SPECTACULAR WINTER 2012
(W) Marc Guggenheim, Scott Tipton (A) David Messina, J. K. Woodward (CA) Joe Corroney
Explore the amazing worlds of Star Trek through our continuing series of 100-page spectaculars! How do you deal with killing a legend? Find out in the story of Captain Harriman, the notorious commander of the Enterprise when Captain James T. Kirk was lost and presumed dead. Guest starring Dr. McCoy! Discover the devious inner workings of the Romulan military! Re-enter the Mirror Universe as Kirk's Doppelgänger plots to overthrow his superior… Captain Pike-And more!
STAR TREK NEXT GENERATION OMNIBUS
(W) David Tischman & Various (A) Casey Malone & Various (CA) Joe Corroney
Star Trek: The Next Generation Omnibus collects 4 graphic novels into one monstrous book! The Space Between, Intelligence Gathering, The Last Generation, and Ghosts.
STAR TREK NEXT GENERATION HIVE #4
(W) Brannon Braga & Various (A) Joe Corroney, Photo (CA) Photo, Joe Corroney
Continuing the celebration of the 25th anniversary of Star Trek: The Next Generation!
It's climactic finale of one of the most talked about Star Trek events of the year as past and future collide! Past and future intersect as Captain Jean-Luc Picard and Locutus meet to decide the fate of the United Federation of planets-and the entire Borg Empire!
STAR TREK TNG DOCTOR WHO ASSIMILATION #8
(W) David Tipton, Scott Tipton (A) J. K. Woodward, Gordon Purcell (CA) J. K. Woodward
The epic crossover between the two greatest science-fiction properties of all time ends here! Our heroes launch a desperate mission behind enemy lines in hopes of ending the CyberBorg threat, but there's a traitor in their midst…
DOCTOR WHO VOL 3 #4
(W) Brandon Seifert (A) Philip Bond (CA) Mark Buckingham
The second issue in a special two-part story featuring the art of Philip Bond! With the Doctor and Rory on a boys night out gone wrong, Amy must face the Silence on her own! All that plus lots of beer!
CLASSIC JURASSIC PARK TP VOL 05 RETURN PT 2
(W) Tom Bierbaum & Various (A) Armando Gil & Various (CA) Michael Golden
Classic Jurassic Park, Volume 5 continues the "Return to Jurassic Park" series with issues #5-9. Contains the stories "Heir To The Thunder" and "Photo Finish," which detail researchers Derek and Abby's brush with an insane scientist and the aftermath of his plot to speed up the evolution of the newly reintroduced dinosaurs.
CROW SKINNING THE WOLVES #1 (OF 3)
(W) James O'barr (A) James O'barr, Jim Terry (CA) James O'barr
James O'Barr returns to The Crow! In this special three-part tale, O'Barr and artist Jim Terry craft a harrowing tale set at a death camp in 1940s Germany, where a simple game of chess turns deadly, leading to the creation of a new Crow, giving new meaning to the term Gotterdammerung ("Death of the Gods")!
POPEYE #8
(W) Roger Langridge (A/CA) Vince Musacchia
Poopdeck Pappy's got a new sweetie… but there's more to her than meets the eye! And did somebody say… treasure map? Join Popeye, Olive and Wimpy as they head for the high seas – and help Pappy overcome the trauma of his first bath in forty years!
POPEYE TP VOL 01
(W) Roger Langridge (A) Bruce Ozella & Various (CA) Bruce Ozella
Popeye the Sailor Man sails again! E.C. Segar's classic creation is back, with his first original comic in decades! Written by the Eisner Award-winning Roger Langridge (The Muppets), with pitch-perfect art from Bruce Ozella, Tom Neeley, Ken Wheaton, and John Byrne, it's a new take on the classic character that's true to its roots!
CLASSIC POPEYE ONGOING #5
(W/A/CA) Bud Sagendorf
Both E. C. Segar, the creator of Popeye and his long time assistant Bud Sagendorf were huge science fiction fans. Here the brilliant Sagendorf leads off with an out of this world funny sci-fi fantasy, "Moon Goon!" or "Goon on the Moon!" or "The Man in the Moon is a Goon!". Plus we have a comic featuring everybody's favorite character, Wimpy in "Another Day Another Breakfast!". Three Popeye laugh-filled one-pagers, a special illustrated Swee'pea undersea tale, and you have another lovingly restored, hilarious Popeye comic–TOOT! TOOT!
MY LITTLE PONY FRIENDSHIP IS MAGIC #2
(W) Katie Cook (A) Andy Price (CA) Katie Cook
Queen Chrysalis has returned! Our ponies have no time to horse around, as they set off to rescue their friends from Chrysalis kingdom. What magical adventures await them, and where the heck is Princess Celestia?
GODZILLA ONGOING #8
(W) Duane Swierczynski (A) Simon Gane (CA) E. J. Su
Boxer is cornered by the government and Godzilla is a giant sized X-factor, wrecking everyone's plans. Sides are switched, lives are lost… and then the unthinkable happens. The devastating third act of this Godzilla epic begins now!
GODZILLA HALF CENTURY WAR #4 (OF 5)
(W/A/CA) James Stokoe
New technologies and new recruits lead the AMF now, while Ota and Kentaro are stuck watching. But when a new threat comes to town from space, technology and young blood mean nothing. Will the grizzled vets be able to save the day? Don't miss this action packed issue, it'll have you seeing three Godzillas!
JUDGE DREDD #2
(W) Duane Swierczynski (A) Nelson Daniel, Brendan McCarthy (CA) Zach Howard, Greg Staples
In Mega-City one, Judges ARE the law. But what happens when a veteran Judge goes bad? And he's so skilled at hiding his misdeeds that even Judge Dredd is unable to dig up the evidence he needs? Looks like it's time to choose psis… from the Psi Division, that is!
IDW's all-new ongoing series continues here, with the re-introduction of fan-favorite JUDGE ANDERSON! Don't even think about skipping this issue. Because… well, she'll *know*.
TEENAGE MUTANT NINJA TURTLES ONGOING #17
(W) Tom Waltz, Kevin Eastman (A) Ben Bates (CA) Kevin Eastman, Ben Bates
He is a warlord, a genius, and a squishy pink brain. He is General Krang. One of the most signature villains in TMNT history, Krang has an arsenal and wit unlike any other villain. This issue starts a story arc that reveals Krang's master plan and sees the TMNT come into direct confrontation with one of their mightiest enemies!
TMNT COLOR CLASSICS MICRO SERIES MICHELANGELO (C: 1-0-0)
(W) Kevin Eastman, Peter Laird (A/CA) Peter Laird, Kevin Eastman
The original Micro-Series is BACK, this time with all-new colors! Michelangelo's trademark playfulness, empathy, and easygoing nature are displayed in full four-color glory in this classic one-shot story. Mikey experiences a very merry (and very harrowing!) Christmas, adopting a stray cat while stopping thieves from stealing toys meant for orphaned children. Santa's got nothing on this green ninja with a big heart!
TEENAGE MUTANT NINJA TURTLES CLASSICS TP VOL 03
(W/A) Michael Dooney & Various (CA) Michael Dooney
Issues #27-29 are collected in Volume 3 of Teenage Mutant Ninja Turtles Classics. Includes "Dreams of Stone," "Sons of the Silent Age," and "Men of Shadow" with stories and art by Michael Dooney, Jim Lawson, Steve Murphy, and A.C. Farley.
TMNT SECRET FOOT CLAN #1 (OF 4) (C: 1-0-0)
(W) Mateus Santolouco, Erik Burnham (A) Mateus Santolouco (CA) Rafael Grampá
Demons, ninjas, and hostile takeovers-what more can you expect from a TMNT comic? The first installment of this new miniseries reveals a history never told before about the original founder of the Foot. Join the Turtles as they get a history lesson that they will never forget!
GI JOE VOL 2 ONGOING #20
(W) Chuck Dixon (A) Will Rosado (CA) Kenneth Loh
TARGET: SNAKE EYES hurtles toward its shocking conclusion! SERPENTOR'S FANG BRIGADE closes in on the Arashikage refuge deep in the jungle. HELIX and SNAKE EYES battle for their lives surrounded on all sides by warring foes. The G.I. JOE team rides to the rescue-but will they find a battlefield or a graveyard?
SNAKE EYES & STORM SHADOW #20
(W) Chuck Dixon (A/CA) Alex Cal
TARGET: SNAKE EYES ends the only way it can-in the mano y mano, ninja to ninja battle that G.I. JOE fans have been waiting for! SNAKE EYES versus STORM SHADOW in a fight to the end-with the fate of the Arashikage clan at stake.
COBRA ONGOING #20
(W) Mike Costa (A/CA) Antonio Fuso
OKTOBER IS BURNING! The covert G.I. JOE team is in for the fight of their lives as they go toe-to-toe against the OKTOBER GUARD! But who are they? Where did they come from? And what do they want? The answers will shock you-but we can tell you that MAJOR BLUDD is looking for retribution!
GI JOE A REAL AMERICAN HERO #185
(W) Larry Hama (A) S. L. Gallant (CA) Ron Frenz, Sal Buscema
Things are finally coming to a head between DARKLON and DESTRO! With the two adversaries confronting each other for the first time in years, things could get out of control-fast! Meanwhile, G.I. JOE is in trouble: CLUTCH and ROCK N' ROLL are trapped in COBRA's new HQ and a new mission in Benzheen takes a turn for the worse! The villains reign supreme in G.I. Joe: A Real American Hero #185!
SNAKE EYES & STORM SHADOW TP VOL 01
(W) Chuck Dixon (A) Robert Atkins (CA) Andrea DiVito
SNAKE EYES returns to Japan to re-join the Arashikage clan and team up with STORM SHADOW. Their target: the new COBRA COMMANDER! Will the most dangerous JOE turn his back on his loyalties and his friends just to bring down the new COBRA leader?
GI JOE / TRANSFORMERS TP VOL 02
(W) Josh Blaylock, Dan Jolley (A) Mike S. Miller & Various (CA) Mike S. Miller
COBRA gains control of giant, transforming robots and uses them in their attacks. In response, the United States military forms an elite group of soldiers, G.I. JOE. COBRA COMMANDER, MEGATRON, HAWK, BUMBLEBEE, OPTIMUS PRIME, and more do battle.
TRANSFORMERS ROBOTS IN DISGUISE ONGOING #12
(W) John Barber (A) Andrew Griffith (CA) Casey Coller, Andrew Griffith
THE RETURN! He's back… and CYBERTRON will never be the same. Everything BUMBLEBEE and his AUTOBOTS have built teeters at the edge of collapse – and STARSCREAM has to make the choice his whole life has been leading to.
TRANSFORMERS MORE THAN MEETS EYE ONGOING #12
(W) James Roberts (A) Alex Milne (CA) Alex Milne, Nick Roche
AUTOBOTS VERSUS DECEPTICONS! The crew of the Lost Light confronts a band of rogue DECEPTICONS-with terrible consequences. As an AUTOBOT slips closer to death, a single decision sets in motion a chain of events that might just spell the end for RODIMUS and his band of travelers.
TRANSFORMERS SPOTLIGHT ORION PAX ONE SHOT
(W) James Roberts (A) Steve Kurth (CA) Steve Kurth, Livio Ramondelli
BEFORE OPTIMUS PRIME-there was Orion Pax! Four million years ago, the future leader of the AUTOBOTS disappeared into the Cybertronian wilderness to save a friend. What happened next would take him to the very brink-and have startling repercussions on the current comics!
TRANSFORMERS ROBOTS IN DISGUISE ONGOING TP VOL 02
(W) John Barber (A) Livio Ramondelli & Various (CA) Andrew Griffith
OPTIMUS PRIME has given up his title and is now Orion Pax, and he is on the trail of the deadliest DECEPTICON of all…SHOCKWAVE. The Decepticon Justice Division gets a turn as well, hunting those who disobeyed MEGATRON. And the DINOBOTS are back, headed by Ironhide into the Cybertronian wilderness searching for lost AUTOBOTS…but what they find might be the greatest danger of all!
TRANSFORMERS COMPLETE DRIFT HC
(W) Shane McCarthy (A) Alex Milne, Casey Coller (CA) Trevor Hutchinson
Drift gets the deluxe upgrade as the four-issue mini-series plus the Spotlight issue is collected in this hard cover oversized edition. Once a DECEPTICON, Drift now fights alongside the AUTOBOTS in the ongoing Civil War. How he came to be here, why he was once known as DEADLOCK, and how he came to be at odds with his DECEPTICON allies is revealed.
TRANSFORMERS REGENERATION ONE #86
(W) Simon Furman (A) Andrew Wildman (CA) Andrew Wildman, Guido Guidi
DARK REIGN! The fallout from the devastation on Earth ripples outwards, all the way to Nebulos, where GRIMLOCK faces his own darkest demons and a fateful choice that may cost him his very Spark. The dark reign of SCORPONOK begins here, and nothing will ever be the same again!
TRANSFORMERS PRIME RAGE O/T DINOBOTS #2 (OF 4)
(W) Mike Johnson, Mairghread Scott (A) Agustin Padilla (CA) Ken Christiansen
CYBERTRON FALLING! As their world collapses around them, the DINOBOTS battle SHOCKWAVE's forces to protect the fleeing Cybertronians! SWOOP's life hangs in the balance-his teammates fight to save him, but will he succumb to evil? The answer may not be what you expect!
TRANSFORMERS PRIME SEASON 2 TP VOL 01
(W) Nicole Dubuc & Various (A) Various
The animated action of Transformers is back for season 2! Picking up right where we left our heroes after the events of "One Shall Rise," Unicron has been defeated… but OPTIMUS PRIME has lost his memory! But not to worry, MEGATRON has plans for his newest recruit… unless the AUTOBOTS can stop their nemesis and save their leader!
KISS #7
(W) Tom Waltz (A) Kenneth Loh (CA) Xermanico, Kenneth Loh
"Into the Void," Part 1! The Four-Who-Are-One have fought against the Destroyer God in the Dark Ages, Prohibition Era Chicago… even in the hot bodies of radical 80's teenaged girls! But now, alongside the enigmatic She, they fight on a new front in their eternal war of good versus evil — the very interstellar void they call home! Can these cosmic warriors bring their master, the Elder, victory at last… or will this mark the end for the Demon, Starchild, Catman, and Celestial? The final battle for the Universe is at hand!
KISS TP VOL 01
(W) Chris Ryall, Tom Waltz (A) Jamal Igle, Casey Maloney (CA) Nick Runge
Four ordinary humans in 1920s Chicago find themselves caught up in a battle of epic proportions that will reverberate across time and space in "Dressed to Kill." In "A World Without Heroes" travel to a forgotten time of swords and sorcery, dragons and wizards, warriors and maidens. A once-united kingdom has become irreversibly divided. Can the Demon, Starchild, Catman, and Celestial save their world?
TRUE BLOOD ONGOING #8
(W) Michael McMillian (A) Michael Gaydos (CA) Jenny Frison
With Bon Temps facing eradication by an ancient and powerful wolf pack, the town's best hope lies with Sookie and Alcide convincing the werewolves and vampires to set aside their differences and work together. But with vampires taking the blame for the initial attacks, tensions are high…
TRUE BLOOD ONGOING HC VOL 01
(W) Ann Nocenti, Michael McMillian (A) Michael Gaydos (CA) Tim Bradstreet
Alan Ball's hit HBO series, the sensually sizzling story of the lives and loves of vampires, mind readers, and all manner of creatures, returns as an ongoing series! Do you remember where you were the day vampires came out of the coffin? On the anniversary of the "Great Revelation," Sookie and the crew look back and reflect on the day that changed their lives forever.
MARS ATTACKS #6
(W) John Layman (A/CA) John McCrea
An exciting new story arc starts here! As human ramp up their defenses, the Martians unleash a new weapon from their arsenal… the freeze ray! Don't miss any of the action in this runaway hit series!
GHOSTBUSTERS ONGOING #16
(W) Erik Burnham (A/CA) Dan Schoening
After several tough cases, the Ghostbusters are ready for a real day off from dealing with the supernatural… but that doesn't necessarily mean the supernatural is going to take a day off from them. Ready to settle in and do some relaxing, they are surprised as a spectral child appears before them, speaking one word before it disappears — help.
JOE PALOOKA #1 (OF 6)
(W) Mike Bullock, Matt Triano (A) Fernando Peniche (CA) Jace McTier
The legendary Joe Palooka name returns in this all-new version, as Joe fights for his freedom and for his life around the world. Set in the violent and dangerous world of top- tier mixed martial arts, this series will get you in its grip and not let go until you tap out.
Accused of a murder he didn't commit, Nick Davis flees a police manhunt, picks up the name Joe Palooka in a Tijuana tough-man contest and then travels the world seeking to clear his name while making a name for himself at the same time.
ADVENTURES OF AUGUSTA WIND #2
(W) J. M. DeMatteis (A/CA) Vassilis Gogtzilas
Forgotten by her family, hunted by the Omniphant, Augusta Wind seeks safety in the deeps of the other-dimensional Swirl. But the dangers of the Swirl may prove to be far worse than the threats Augusta left behind on Earth.
HOLLOWS #1 (OF 4)
(W) Chris Ryall (A/CA) Sam Kieth
An all-new series from the creator of The Maxx and the co-creator of Zombies vs Robots! Sam Kieth and Chris Ryall transport you to a near-future Japan, where burned-out husks-the Hollows-wantonly devour souls throughout the city. Far above, a segment of society lives safely in giant tree-cities, but the problems below have a way of growing out of control…
TRANSFUSION #2 (OF 3)
(W) Steve Niles (A/CA) Menton3
In a future overrun by out-of-control machines and monsters, a handful of human survivors try to fight their way back to a normal life. But what is normal in a world where both monsters and machines need human blood? Find out in this horrific new series by 30 Days of Night co-creator Steve Niles and menton3, the demented artist behind Monocyte!
LOVE AND CAPES WHAT TO EXPECT #5 (OF 6)
(W/A) Thomas F. Zahler (CA) Thomas F. Zahler, Chris Bailey
You ever watch those house shows where two sets of neighbors trade houses for a weekend? Well, Mark and Abby are experiencing something like that: They're swapping bodies. But, unlike those shows, they didn't sign up for this. And there's only a month left until Abby… er, Mark's… due date! As if that weren't enough, Amazonia learns her fate, too. Excitement and laughs abound as the baby countdown comes to a close.
WOMANTHOLOGY SPACE #3
(W) Rachel Edidin & Various (A) Leigh Dragoon, Sophia Domino (CA) Renae Deliz
You can't travel through space without a ship, and these 3 stories take you on 3 very different adventures. Dreamy, creepy, and just plain fun, explore the infinite in this strange and galactic issue!
LOCKE & KEY OMEGA #2 (OF 7)
(W) Joe Hill (A/CA) Gabriel Rodriguez
A ghost haunts the long halls of Keyhouse-the spirit of Bode Locke, cast out of his body by the Demon named Dodge-and only one person can hear his voice: Bode's old playmate, Rufus Whedon. It's time to soldier up: the final battle for Keyhouse is about to begin.
ALAN ROBERT KILLOGY #2 (OF 4)
(W/A/CA) Alan Robert
The prison cell walls are closing in fast on our all-star cast, which features original characters based on the likenesses of Frank Vincent (Goodfellas, the Sopranos), Marky Ramone (The Ramones) and Brea Grant (Heroes, Dexter). The unlikely trio quickly discovers that they are no longer alone in the abandoned police station and Marky Ramone is forced to take matters into his own hands… and in his hands is his trusty baseball bat!
LETS PLAY GOD #3 (OF 4)
(W) Brea Grant, Zane Grant (A/CA) Eric J
Punk is dead. You're next. Zane and Brea Grant (We Will Bury You, Suicide Girls) and EricJ (Rex Mundi, Fly) continue their presentation of a girl's ultimate descent into a world of blood. One band member has been murdered and another is a prime suspect. What else to you expect from a band named Doomed Earth?
BORDERLANDS ORIGINS #2 (OF 4)
(W) Mike Neumann (A/CA) Agustin Padilla
"Lilith." The legions of fans of the smash-hit video game BORDERLANDS have been clamoring to know: how did the Vault Hunters get on the bus with Marcus in the first place? Find out how Lilith started her journey with Mordecai, Roland, and Brick as her backstory about coming to terms with being a Siren unfolds. Learn how a young girl came to understand her incredible power, and how that power helped to save a world.
DAVE STEVENS ROCKETEER ARTIST ED NEW PTG (Net)
(W/A/CA) Dave Stevens
Dave Stevens' The Rocketeer: Artist's Edition was the first Artist's Edition and it was a runaway hit, selling out in near-record time. Now, due to incredible demand from both fans and retailers, IDW is bringing this Eisner Award-winning book back with a snazzy new edition! This Artist's Edition collects both Rocketeer graphic novels in their entirely, nearly every page has been scanned from Dave Stevens' beautiful original art!
BATTLE BEASTS TP VOL 01
(W) Bobby Curnow (A) Valerio Schiti (CA) Daniel Brereton
It's just another average day for Bliss, an ignored linguist at the Department of Defense. However, when Bliss unlocks the secret translation of an ancient scroll, terror rains from the sky… in the form of the BATTLE BEASTS! Unstoppable creatures armed to the teeth, the Battle Beasts are determined to make Earth their own personal war zone. Nothing can stop their merciless carnage. Nothing except perhaps a gentle word from the one woman who can understand them-Bliss!
HAUNTED HORROR #2
Back from the opened grave are more masterpieces of the macabre from the horror comics of the 1950s. Genius horror artists of the known and unknown variety poured their tortured souls into these comics. The best and rarest stories have been chosen with the help of top horror comic collectors and all lovingly restored and presented in full-creepy color. You will be thrilled, chilled and maybe even a little sickened by the over-the-top ghouls and gore in the thick 52 page Haunted Horrors. From the fiends that brought you Dick Briefer's Frankensten, Bob Powell's Terror and Zombies in the Chilling Archives of Horror Comics. Grab Haunted Horror before some do-gooders ban it!
POUND GHOULS NIGHT OUT #4 (OF 4)
(W) Stephan Nilson (A/CA) Ibrahim Moustafa
The ghoul uprising is foiled. The Council of Four is saved. Howie finally tells his fiance what he and Scottie are doing at work, and none of this turns out to be a good thing for the guys as we wrap up the second series of The Pound.
CHASING THE DEAD #2 (OF 4)
(W) Matthew Scott, Tim Westland (A/CA) Dietrich Smith
Her daughter has been missing for only two hours, but Sue has already been forced to drive out into a blinding snowstorm to dig up the corpse of a serial killer in the nearby town of Gray Haven. With ten more hours before sunrise, it's clear the worst night of her life has only just begun. Five more towns to visit, with five more horrific tasks waiting in each one. But along the way, Sue encounters a mysterious hitchhiker knows the identity of her faceless tormentor and his plans for Sue and her daughter.
ANGORA NAPKIN HC VOL 02
(W/A/CA) Troy Little
Welcome to the next mind-numbing chapter in the Eisner Nominated ANGORA NAPKIN saga! A quiet gig in a desolate Hell's Angels bar unexpectedly turns violent! Mallory has been abducted! One by one the girls of Angora Napkin fall prey to the sinister machinations orchestrated by the psychotic uber-nerd known only as Mr. Otaku. What diabolical master plan does he hold in store for this luscious trio? Are you nerd enough to delve into horror beyond imagination? Then brace yourself for the insane sex-violence that is HARVEST OF REVENGE!
BRINGING UP FATHER HC VOL 02 CABBAGES & KINGS
(W/A/CA) George McManus
Maggie and Jiggs are back in "Of Cabbages and Kings," an extravaganza that contains all dailies and Sundays from February 22, 1937-December 31, 1938. The hilarious battling couple go to London for the King's coronation. Upon their return, Jiggs decides the only way he'll convince Maggie to move back to the old neighborhood is to lose his fortune. He makes one outlandish investment after another but each time he only becomes richer, until he hits on the right formula. For Maggie, the unthinkable happens: it's back to eating boiled cabbage when the wealthy Jiggs goes broke!
X-9 SECRET AGENT CORRIGAN HC VOL 05
(W) Archie Goodwin (A/CA) Al Williamson
Al Williamson creates what is arguably his best artwork of the 1970s as he and Archie Goodwin wrap up their run of Secret Agent Corrigan. This final volume contains all strips from June 13, 1977-February 2, 1980.
ARCHIE BEST OF DAN DECARLO TP VOL 01
(W/A/CA) Dan DeCarlo
Beginning his career at Archie in the mid 1950s, Dan DeCarlo soon became the main artist on Betty and Veronica, and drew every Archie character at one time or another in his nearly 50-year career with Archie. The stories in this collection are from what is generally regarded as DeCarlo's best period-the mid 1950s to the early 1970s.
MICHAEL KALUTA SKETCHBOOK SERIES SC VOL 03
(A/CA) Michael William Kaluta
The third volume of the Michael Wm. Kaluta Sketchbook series continues to showcase the acclaimed artists lovely drawings, doodles, preliminaries and illustrations. All scanned by the artist from his personal sketchbooks, and nearly all has never seen the light of day before now. This book, and the entire series, are a treasure trove of gorgeous Kaluta art!