Avengers #5 Review: Final Stand Against the Final Host
[rwp-review-recap id="0"]
Loki tells Captain America of the first Celestials to ever arrive on Earth, including the one that Odin and his allies fought one million years prior. The Ghost Rider arrives soon after to save Cap, taking Loki with them. The Final Host are in pursuit. Thankfully, the Avengers assemble around them. Doctor Strange, Iron Man, Black Panther, Captain Marvel, She-Hulk, and Thor arrive for a final stand against Loki's Celestials in Russia.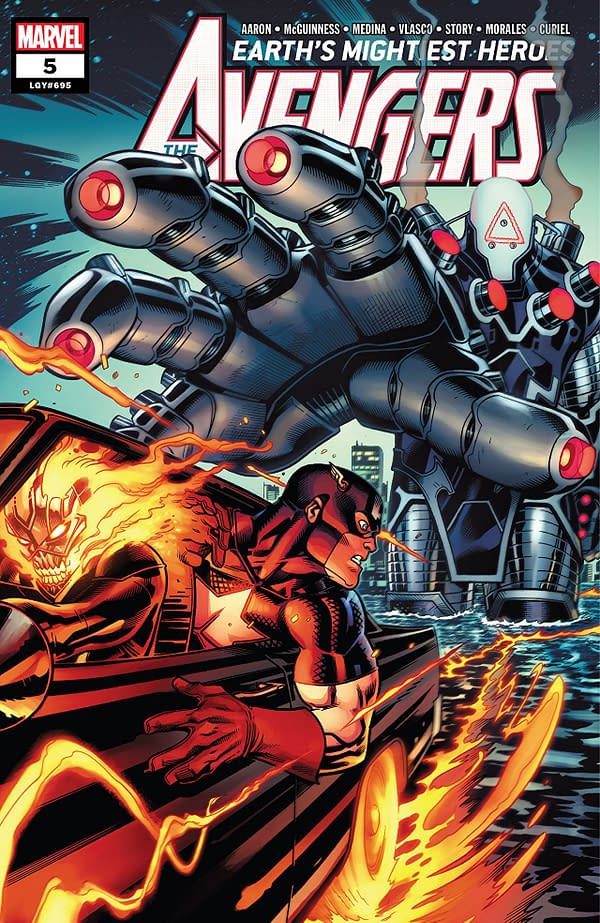 Avengers #5 continues to kick the ridiculousness of this cosmic calamity up, with Loki explaining what is happening with the Celestials and Jason Aaron powering up our beloved Avengers to new levels.
That last part is explained, and, I won't lie, it's pretty damn awesome.
There are still some things that hamper the story. The opening explanation of the Celestials is text-heavy, and Loki tends to repeat himself even in the same issue. A lot of comedic banter is expected in a story like this, but it becomes a little tiresome here. It kills the tension in spots, which is a problem in an apocalyptic scenario like this.
That aside, Avengers #5 is still a very fun ride. The ending sets up for an exciting #6, and I can't wait for it.
Loki's motivations are interesting too. They are, in part, vengeance-based. However, there is also a strange altruism to what he's doing that fits the Mischief God's warped morals.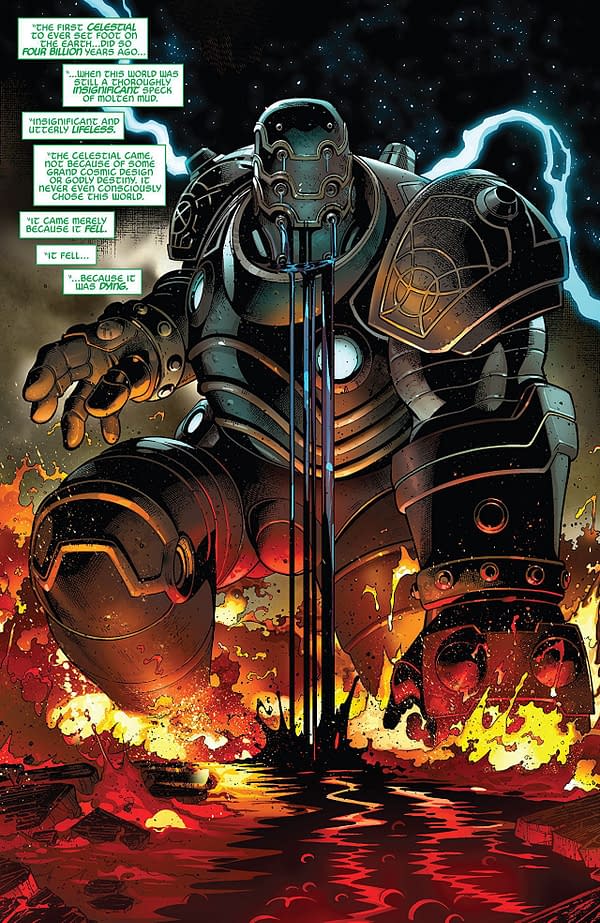 Paco Medina and Ed McGuinness continue to split the book, and they do a good job. Their styles look good, and they compliment each other quite well. They handle the insane imagery well, and Pacheco especially makes Cap, Loki, and Captain Marvel expressive. David Curiel's color work is bright, vibrant, and energetic.
Avengers #5 is another fun and out-there installment for Earth's Mightiest Heroes. There are slow parts and subpar one-liners, but the overall book is a lot of fun and presents its characters well. Mix that with some solid artwork, and you have a book well worth recommending. Check it out.
[rwp-review-ratings id="0"]
[rwp-review-form id="0"]