Bad Idea Comics Told You What They Were Doing Three Weeks Ago
Yesterday, Bleeding Cool ran the news that Bad Idea Comics was announcing they were closing at the end of the year. The new comics publisher from Dinesh Shamdasani, Hunter Gorinson, Atom Freeman, Warren Simons, and Joshua Johns. A direct-to-retailer publisher, eschewing digital and trade paperbacks in favour of one-cover one-per-person comic book sales from big comic book names. But we really, really didn't believe them and said as much. And then later fingered creator Raman Villalobos as playing along with their marketing strategies. Nevertheless, the internet has been full of people crowing about their demise despite every indication to the contrary. And Peter David said this was the first time he'd even heard of them, which might be the point. They're trying – and succeeding – in getting media coverage. After all, this is the third Bad Idea Comics article on Bleeding Cool in two days. And they remain the only publisher outside of Marvel, DC, Image, or BRZRKR from Boom to get into the Top Ten weekly comics chart on Bleeding Cool.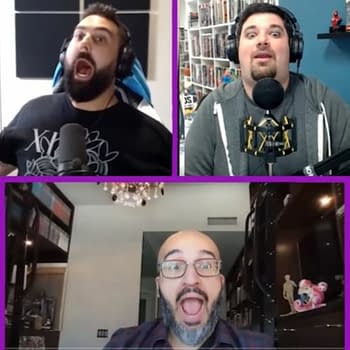 Well, three weeks ago, Dinesh Shamdasani gave an interview to the Absolute Comics podcast and was asked if Bad Idea would ever rename their publisher. He stated, "Yes. We have a plan to; we're going to be announcing soon that we're going to go away. We've got this super hot company, one of the hottest right now; what's the worst thing we could do? We could just say we're so hot, we're going to go away. So soon, we're going to be announcing we're going to go away. Then come back with a completely new brand, because why would you? We're determined to fail." A lot of it was obviously tongue in cheek, but it does seem to fit exactly what happened. You can listen to the whole podcast below.