Barrier #2 Review: An Epic Follow-Up with a Wild Sci-Fi Twist
[rwp-review-recap id="0"]
Oscar and Liddy find themselves on an alien ship with no idea how or why. Snakes, armadillos, and other earthly animals keep them company as well as a pile of things which appear to be eggs. Before long large alien machines arrive and separate the two humans.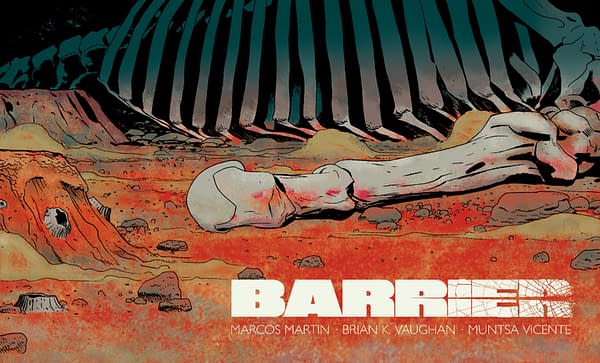 Barrier #2 immediately takes the unexpected ending to its first installment and literally shoots it to the moon. The comic completely changes gears from its dissection of U.S/Mexico border life to straight-up aliens from another world.
This issue focuses on the bewilderment of Liddy and Oscar while the two also become acquainted with one another. This is handled quite well, and Liddy is even forced to grapple with her own racism. Oscar still speaks primarily Spanish with no translation, leaving the reader a bit in the dark if they aren't familiar with the language. This is likely intentional, but it is still a little frustrating. Yet, to continue to double-back, I think this is intentional, and it's an interesting decision.
There is an opening scene at a NORAD that is equally gibberish to those unfamiliar with its jargon; it is a mess of shorthand, acronyms, and outright nonsense. Again, the comic's theme of language makes it seem deliberate.
Marcos Martin doesn't disappoint with his depictions of the alien ship and their technology. It is wild, and the visual design is War of the Worlds by way of Jack Kirby. I love it, and Munsta Vicente's color palette is similarly wild and creative.
This is where a sticking point comes up. Liddy is completely nude for a few pages while Oscar is still granted clothing. It's never explained why this is the case, and Liddy even questions why the alien residue that burned away her clothing didn't also take Oscar's. That said, the framing of her character isn't that exploitative feeling—there aren't any blatant focus shots on the T&A. It's still odd and the lack of explanation doesn't help things.
That aside, Barrier #2 is a good follow-up to the first issue's opening. The theme of separation both linguistic and figurative is held true in this insane twist, and the art of Martin and Vicente continues to dazzle and astonish. This one gets a recommendation. Give it a read.
[rwp-review-ratings id="0"]
[rwp-review-form id="0"]