Batman #52 Review: Self-Awareness from the Dark Knight
[rwp-review-recap id="0"]
Bruce Wayne just announced that he believes Mr. Freeze is innocent, and he is the only one on the jury who believes this. After recapping the events, Bruce tries to instill reasonable doubt into every piece of evidence of Freeze's alleged crime. The other jurors are skeptical of his claims, and we see more scenes from Batman's most recent encounter with Mr. Freeze.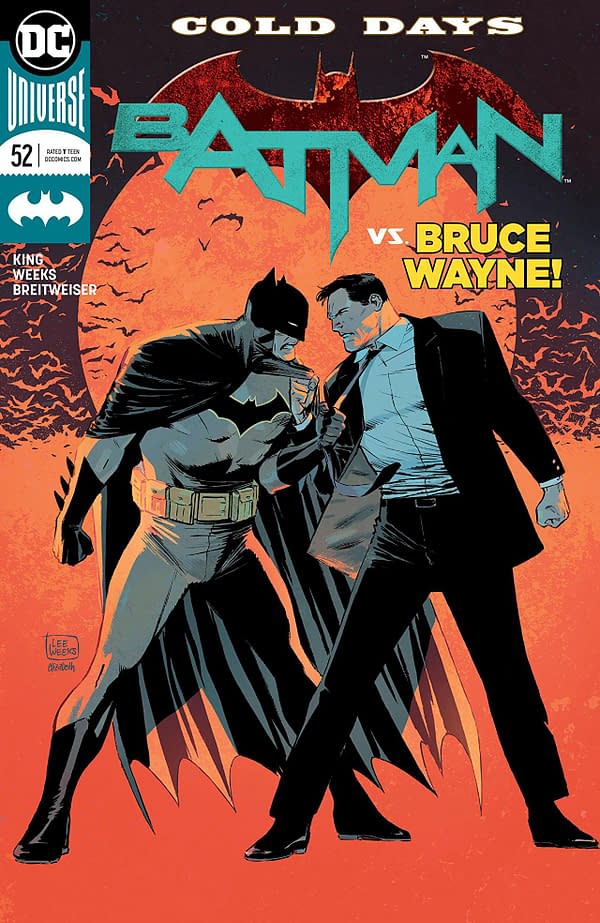 Batman #52 delivers a much-needed moment of self-awareness from the Caped Crusader. While Tom King has delivered many moments of a vulnerable and reflective Bruce Wayne, it is nice to have another moment like this—and one where he tacitly admits to his own brutality.
Following up Batman #50 was always going to be a daunting task. Returning to business as usual—while not necessarily the best choice—is a bold move. Working the fallout of the wedding into the subtext may just be a genius stroke. We see how Bruce has been affected through his career as Batman instead of scenes of him moping around or talking it out with Alfred, Dick, or Clark.
It's hampered by how often the comic drags. Bruce arguing against the infallibility of Batman is interesting; watching him do it for the span of a comic is less so.
The snippets of the confrontation between Batman and Freeze does break up the monotony somewhat, but it's not quite enough to keep the comic from feeling like a less interesting version of 12 Angry Men (the original, not the less-good remake).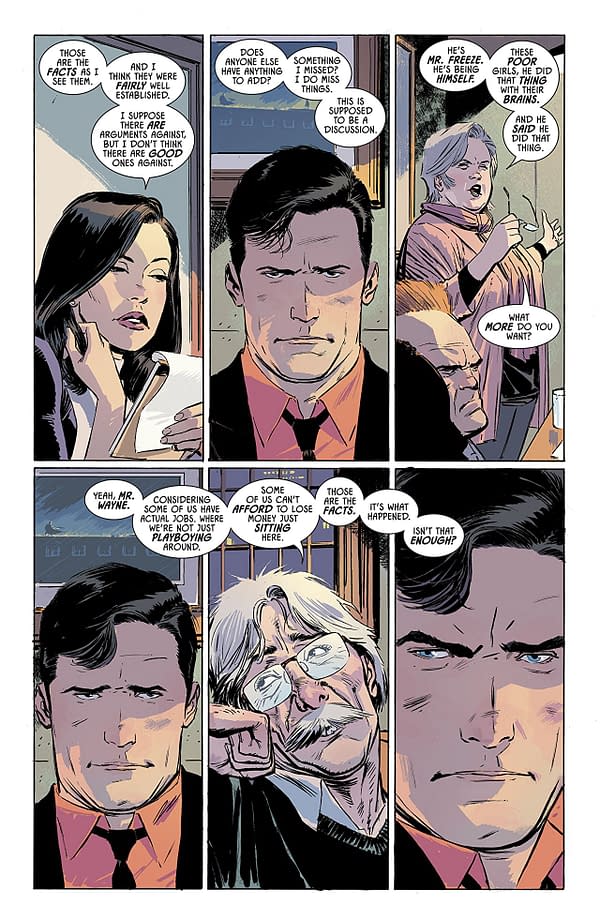 Lee Weeks' work is once again atmospheric and moody. The frequent use of plain, close-up framing mixed with the cold and unflattering detailing combine for an unforgiving aesthetic that shows a mixture of mundanity and harshness. Elizabeth Breitweiser's color work is similarly cold and unflattering, adding to the palpable atmosphere of the comic.
Batman #52 isn't a bad issue. It's built upon a clever idea, and the dialogue is solid throughout. The slowness and monotony are the book's biggest problem, and I can't say that even that sinks the book. Plus, the art is great. It's a decent comic, and I can recommend it. Feel free to pick it up.
[rwp-review-ratings id="0"]
[rwp-review-form id="0"]