Batman Beyond #18 Late Review: Payback in Neo-Gotham
[rwp-review-recap id="0"]
Batman struggles in his conflict with Stalker as Matt and Bruce watch on from the Batcave. Meanwhile, Payback holds and tortures Ten of the Royal Flush Gang. After Terry narrowly survives the fight with Stalker, Payback brings the Bat to his lair. Here, Payback's torment of the Batman begins.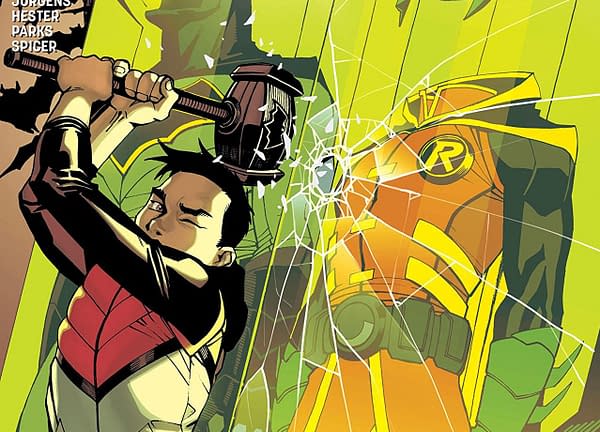 This one is a week old, but I've been doing something of a tour of Bat-titles lately, and I'm generally a fan of Dan Jurgens. So, I decided to check this one out.
The story didn't disappoint either. This issue of Batman Beyond is keeping a lot of plates spinning, but it never outright loses control. The Stalker part of the plot ends a tad abruptly, but its conclusion makes its own weird sense.
The character of Payback has an interesting twist in this issue which does recontextualize the conflict a touch. It's also quite tragic, and you can't help but feel for the rogue — even if he is cruelly torturing Terry and Ten.
The cover-spoiled finale with Matt taking up the mantle of Robin is quite cool. Terry hasn't had a Robin yet, and it makes sense for Matt to be Terry's partner here. Admittedly, the lead-up seems a tad rushed, and Bruce seems way too okay with it. That said, it's still cool to see a new Robin.
Terry comes off as the beleaguered Batman, which has always been his defining trait. It started off as him being a rookie, but it has developed into his "thing." This series has struggled to give him much more than that, but he's still a likable lead.
Phil Hester's artwork has a gritty styling pleasingly similar in some ways to Bruce Timm's animation on the Batman Beyond cartoon series. It has more lined detailing and conveys action well in its still panels. Payback's costume design looks quite good, and Terry's Batsuit looks as awesome as ever. Ande Parks's inking emphasizes the shadow and depth well. Michael Spicer's color art is often a high contrast mixture of dark black and lighter white and reds. It all creates a unique visual profile that suits Batman Beyond well.
Batman Beyond #18 is a solidly entertaining superhero read. The story is interesting, there's plenty of action, and the Neo-Gotham setting always offers familiar-yet-new possibility. The artistic team provides some solid work too, and the comic earns a recommendation. Check it out.
[rwp-review-ratings id="0"]
[rwp-review-form id="0"]