The Batman Who Laughs was created for Dark Nights: Metal by Scott Snyder and Greg Capullo, playing on one of the inspirations of The Joker, The Man Who Laughs by Victor Hugo. A world in which the Joker was killed by Batman but whose death infected Bruce Wayne into genetically transforming to become the Joker's replacement — and who had destroyed his own world.
I had the theory that, with the presence of Sandman, he might be a new form of The Corinthian, but it seems that was a stretch too far. I do that a lot.
But it seems that, as of June, the character will have made it out of the Metal series and remain part of the DC Universe. A bit like how Marvel has Nazi Captain America locked up in a big prison… except DC's evil Bruce Wayne is still out and about.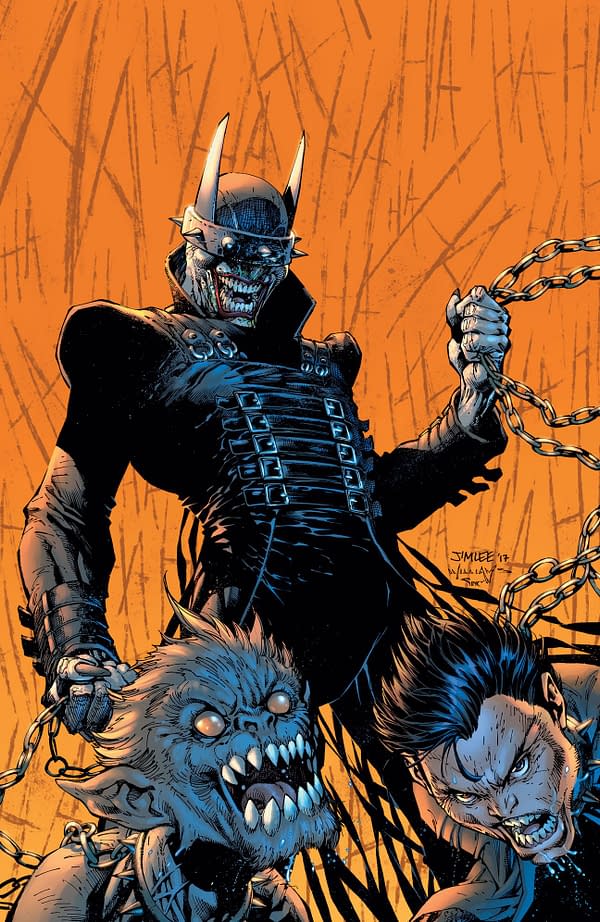 THE IMMORTAL MEN #3

Written by JAMES TYNION IV • Art by RYAN BENJAMIN and RICHARD FRIEND • Cover by JIM LEE and SCOTT WILLIAMS "THE END OF FOREVER" part three! The Immortal Men have risked everything to save the otherwise unremarkable teenager Caden Park. But neither Caden nor the immortal heroes who saved him know the crucial role he's predicted to play in the upcoming war between the Immortal Men. So when the hero Reload falls into the horrifying hands of the Bloodless, Caden Park must learn the Secret History of the DC Universe, and the truth behind his family heritage—and fast—before the Batman Who Laughs has all his pawns in play!

On sale JUNE 13 • 32 pg, FC, $2.99 US • RATED T
It may be that interest in this title may have dropped off after the first issue, as Jim Lee made his excuses and left. But might this bring some of that attention back?
And, yes, he still reminds me of Judge Death…
Enjoyed this article? Share it!