Beast Finally Gets What He Deserves in Age of X-Man: Prisoner X #1
Amongst all the X-Men characters who aren't Wolverine, Beast has to be the worst. This is a guy who once tried to take a cure for his mutant condition, a guy who turned on his childhood friend, Scott Summers. But in next week's Age of X-Man: Prisoner X #1, Beast finally gets what he deserves.
Bishop has been sent to mutant prison for doing the nasty with Jean Grey, a big no-no in the Age of X-Man. When he arrives, he finds Forge as his warden, and what appears to be two Cobra Commanders from the first G.I. Joe movie. Forge lays out the conditions of Bishops's imprisonment…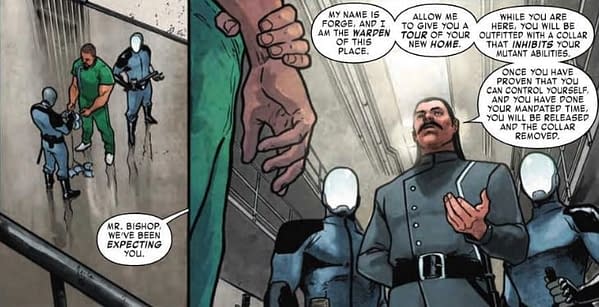 And then, Bishop get a tour of the facilities. They have exercise equipment and athletic facilities. Well that's nice. And who's that in the cafeteria? Well well well. Looks like a certain Hank McCoy has ended up in prison as well. Not only that, but he's stuck on the cleaning crew!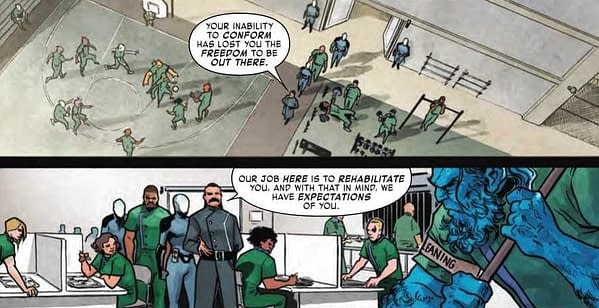 From about the age of 12 to our mid-twenties, we worked on a cleaning crew ourselves (though not in a prison), and it is definitely not a fun job. But if anyone deserves to be stuck with it, it's this sanctimonious furball!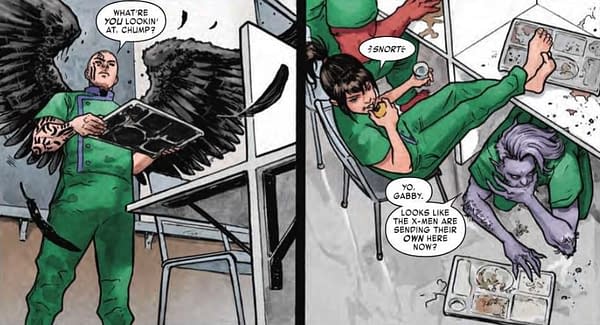 Oh, and look, it's Honey Badger. Now who would lock Honey Badger up in prison? She's the best!
It looks like there's truly no justice in the Age of X-Man… except for Beast. Because Beast deserves it.
Age of X-Man: Prisoner X #1 hits stores next Wednesday.
Age of X-Man: Prisoner X #1
(W) Vita Ayala (A) German Peralta (CA) Patrick Zircher
ENTER THE AGE OF X-MAN!
In the Age of X-Man, when you break the law, you aren't sent to just any prison. You're sent to the Danger Room…a penitentiary filled with the roughest and meanest mutants that don't fit into X-Man's utopia. They each have a reason for being there. And they're all ready to kill each other. But that's about to change, because the newest prisoner just arrived…Lucas Bishop!
Rated T+
In Shops: Mar 06, 2019
SRP: $3.99