Beast Vs Mister Sinister In Immoral X-Men #2 & Wolverine #41 Spoilers
Two different timelines, two different mutants, two very different histories, both playing out in today's Immoral X-Men #2 and Wolverine #41.
---
Two different timelines, two different mutants, two very different histories, both playing out in today's Immoral X-Men #2 and Wolverine #41. Immortal X-Men #2, as much of Sins Of Sinister is, remains at its most fun when it is mixing and matching different strains of mutantity to create new chimera as either individuals or unthinking weapons. Such as the L-Bombs.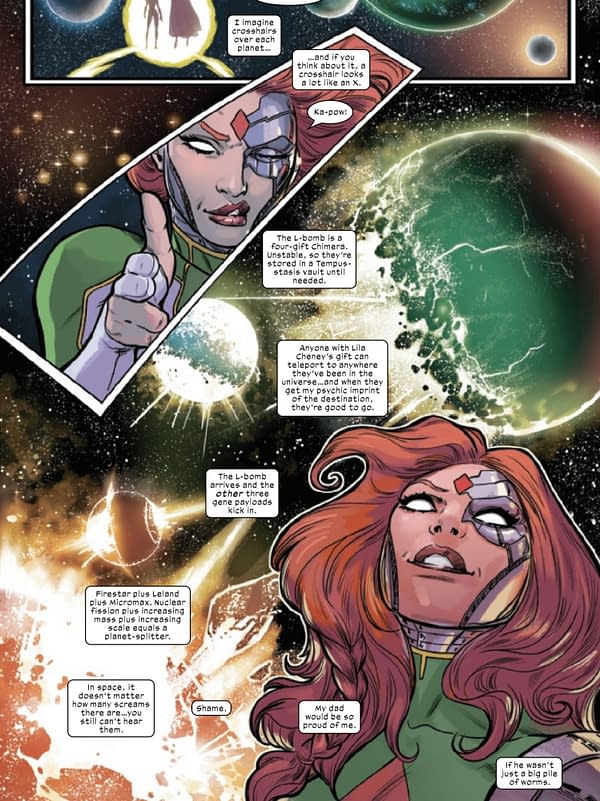 Nightcrawler teleportation is a) too limited and b) a tendency to rebel, to Lila Cheney's intergalactic teleportation it is, with Firestar's ability to generate and manipulate microwave radiation through nuclear fission, with Harold Leyland's mass increase and Micromax size increase (or decrease) create a nuclear explosion that just keeps getting bigger and bigger.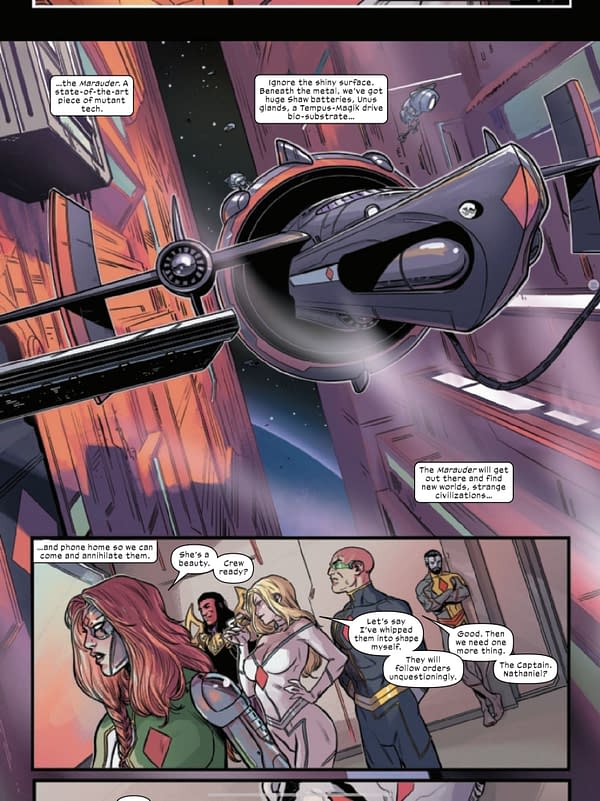 While the Marauder space ship does Star Trek with Sebastian Shaw genes that can absorb all kinetic and thermal energy directed at him and use it to augment strength, speed, stamina and recuperation capabilities, Unus The Untouchable force fields -to protect from danger, and Tempus and Magik providing time travel and dimensional portals through time and space. So it can go everywhere and everywhen all at once. And as for photon torpedoes?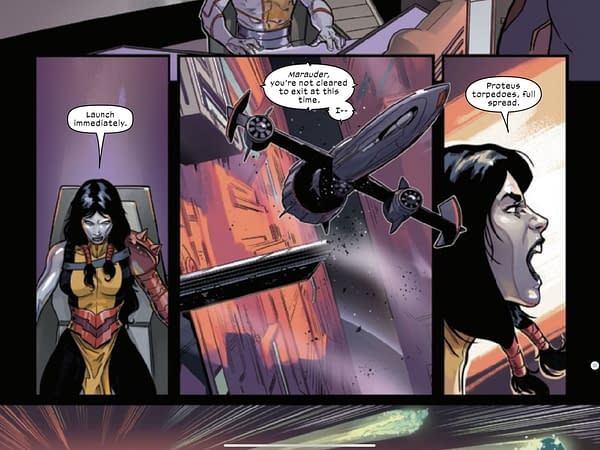 And in case you didn't get all the Star Trek references?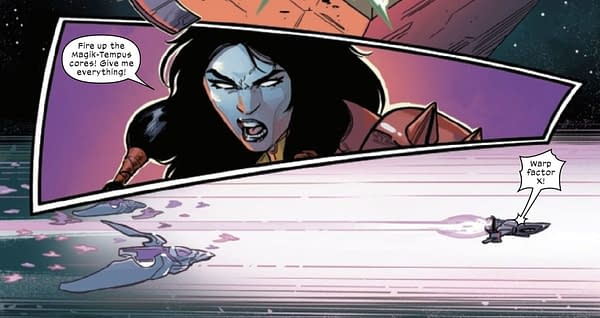 One more for good luck?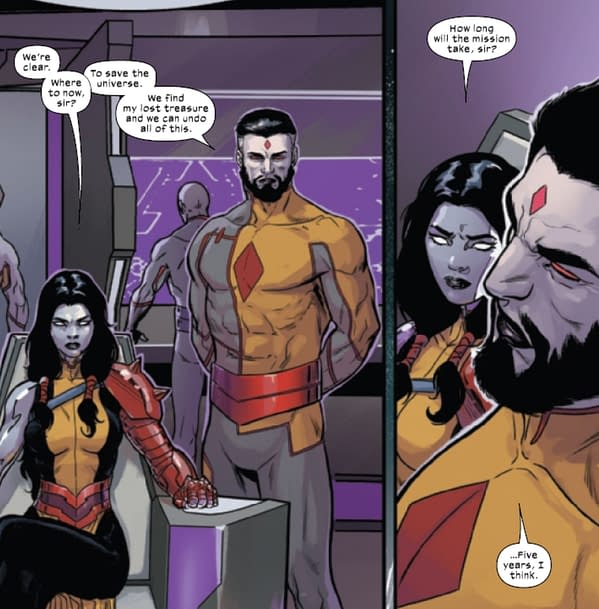 Ot, you know, 895 more years than that. So what other fun mish mashes are around?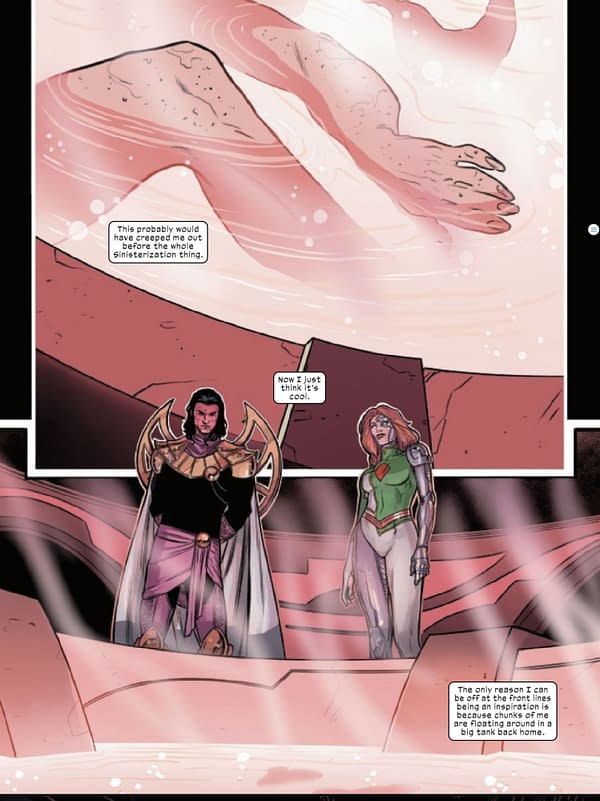 Hope Summers herself, essential for resurrection protocols but notoriously hard for Mister Sinister to clone, has bits of herself grown in Sinster's clone vats which will do the job.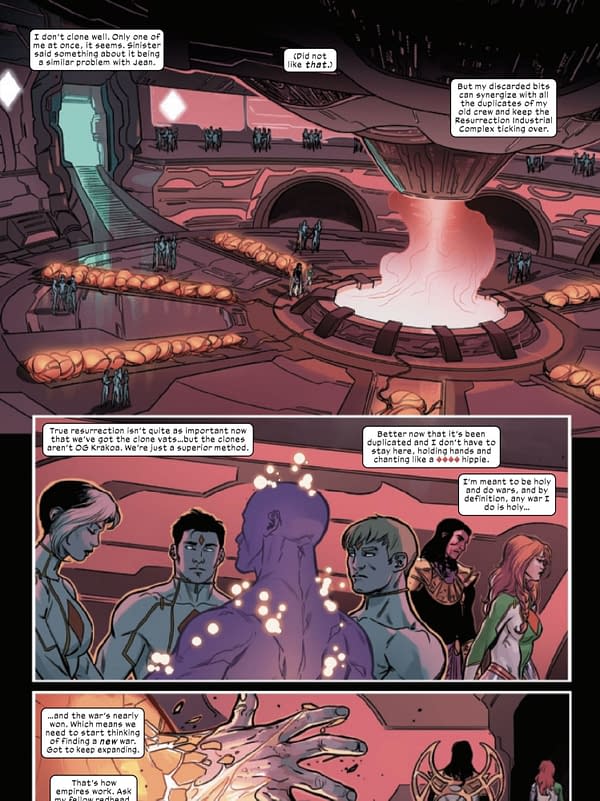 It may be noted that Sinister's clone vats, or pits on Mars, were going to be a thing right from Powers Of X and House Of X, where we first learned that in the future, Mister Sinister would create the chimaera, combining DNA of mutants to create new individuals.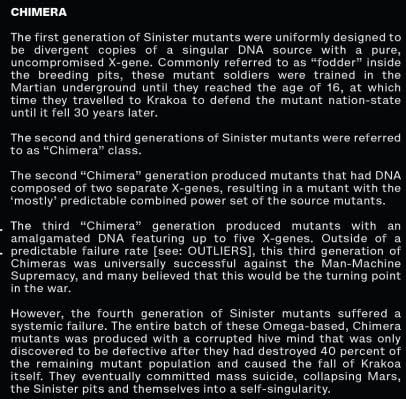 And we get a break down of one future chimaera's DNA sources, for Rasputin, one of the third generation of Chimaera.
A combination of Quentin Quire, Colossus, Kate Pryde, X-23 and Unus The Untouchable. And so she appeared in Power Of X…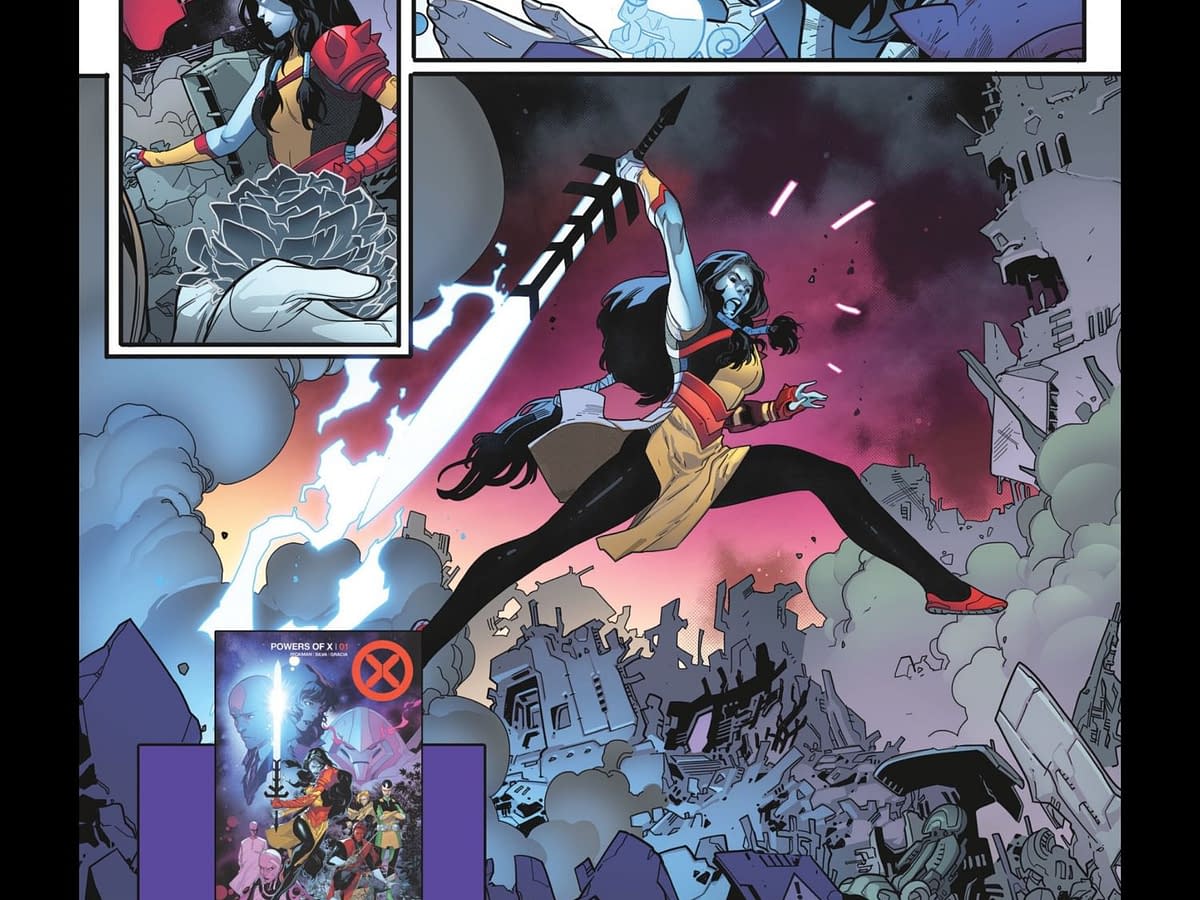 And now she has returned in this new version of the future, of the Sins Of Sinister, known as Rasputin IV to note how many genetic payloads she is carrying.
And it's Kitty Pryde's DNA that lets her wield that soul sword. Of course, it all goes wrong for Moster Sinister, now evolving himself out of a job. And still without the Moira clones he used that could reset the entire timeline. Will it really take almost 900 years to find them?

He"s not the only one with a vat of clones of course. In the earlier timeline, The Beast has become no different to Mister Sinister.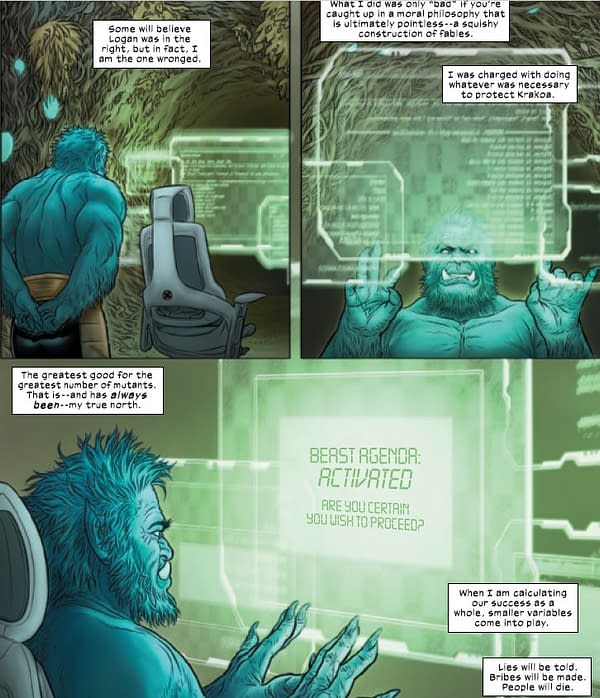 The greatest good for the greatest number of mutants, doesn't really work, but it is familiar. The Tyranny of pragmatism. Turns out that's just what Nathaniel Essex, Mister Sinister was, all four of him. All about saving the world from being destroyed by machines or alien Dominion threat (same thing). All by becoming that threat.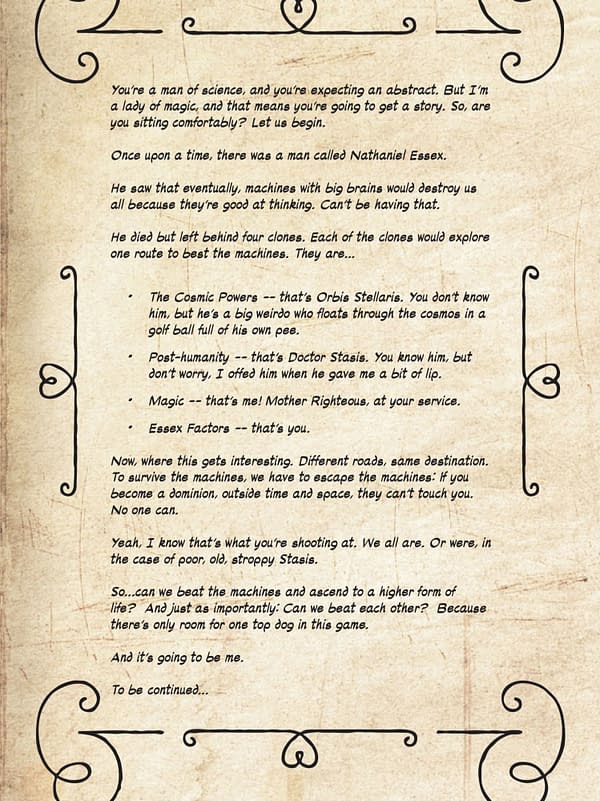 To be fair, as Hope Summers explains it, that is just where they have gone, into space, become a dominating force, albeit it yet, not a Dominion – an alliance of artificial intelligences from various civilisations, the density of which causes a singularity. But this is the direction of travel…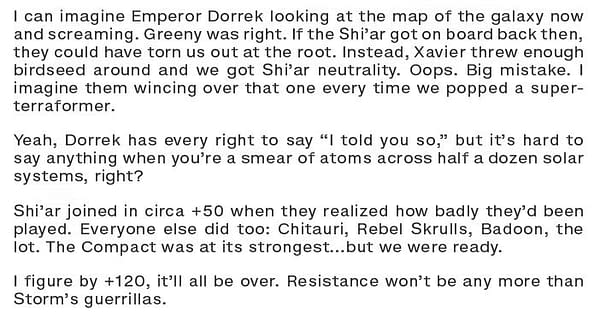 And if Sinister is looking for his Moira clones, might there be someone else who took over his role in genetic modification, and who might have a vat or two on hand?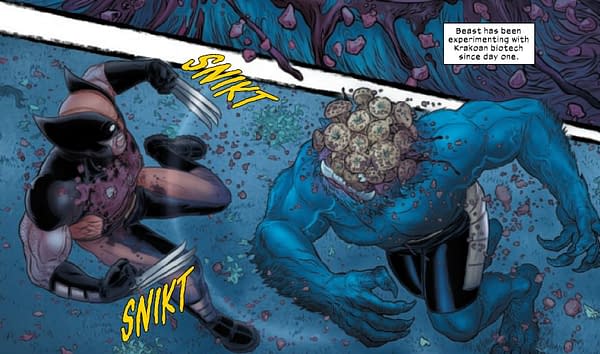 Because The Beast is also just trying to save everyone, like Nathaniel Essex was. Is. Will be.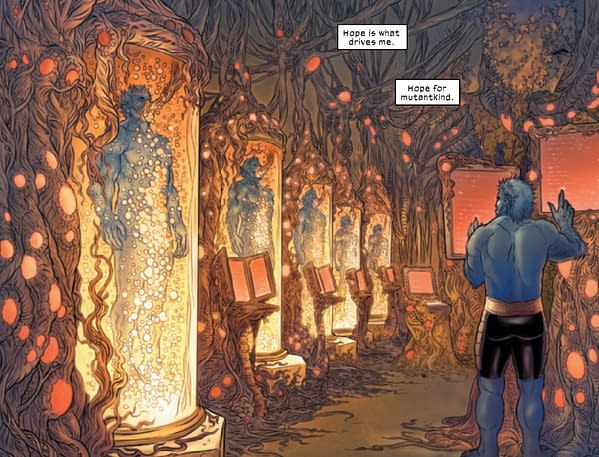 Maybe like Siister, he just wants to make multiple copies of himself and save the world… for later.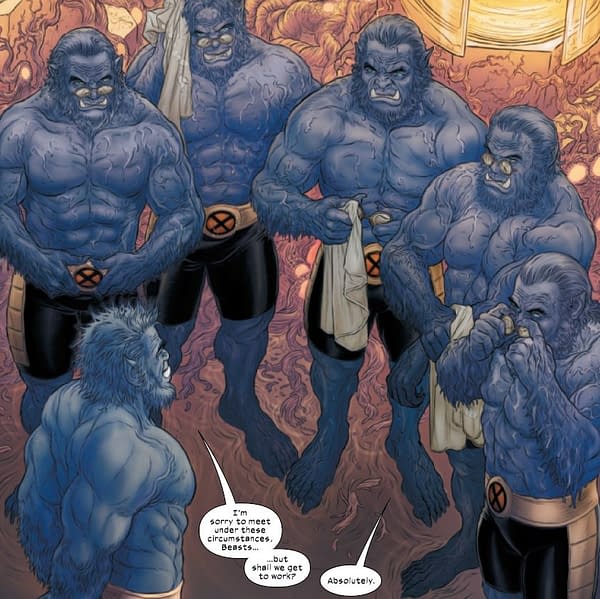 And it's not just himself he is turning into a weapon either. Could one of the many Beasts have taken all of Sinister's Moira's and put them in a… safe place?
IMMORAL X-MEN #2 (OF 3)
MARVEL COMICS
JAN230784
(W) Kieron Gillen (A) Andrea Di Vito (CA) Leinil Yu
PUTTING THE "DIE" IN DIAMOND AGE! Hail the Pax Krakoa! Or perish! But to this hell age is born a hero. Say hello (again) to Rasputin IV…but what can one good chimera do in a universe of sin? The first century of Sinister's plan has come to an end?and whether it's better or worse may depend on the symbol on your forehead. Rated T+In Shops: Mar 15, 2023 SRP: $4.99
WOLVERINE #31
MARVEL COMICS
JAN230895
(W) Ben Percy (A) Juan Jose Ryp (CA) Leinil Yu
BEAST will stop at nothing to protect KRAKOA as he sees fit. Having lost the faith of X-FORCE and WOLVERINE, there's only one mutant McCOY can turn to – himself! Join BEAST, BEAST, BEAST and BEAST, under the leadership of BEAST, into the new Krakoan era! WEAPONS OF X begins here! Parental Advisory In Shops: Mar 15, 2023 SRP: $3.99