A lot of comic book fans were so excited by the first appearance of Major X in Spider-Man/Deadpool #47 that both the first and second issues sold out at Diamond before they went on sale. Earlier today, Bleeding Cool wrote about the plans for a second printing of Major X #2, but now Marvel has revealed the second printing variant cover by superstar creator Rob Liefeld himself.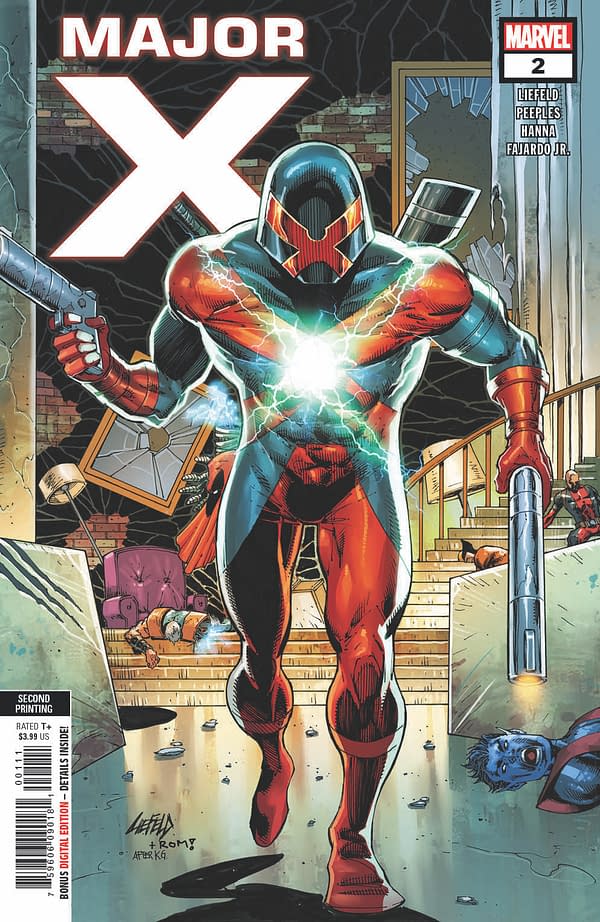 Not bad for a character who debuted with a minor appearance in a satirical super-mega-crossover event. Major X #2 (the first printing) goes on sale April 17th.
Marvel's press release follows:
Ahead of Release, MAJOR X #2 Sells Out and Returns for Second Printing with Exclusive Cover!

New York, NY—April 9th, 2019—Following the sell-out of MAJOR X #1 ahead of its release, Marvel is excited to announce that ahead of its release on April 17th, MAJOR X #2 has sold out and will return to comic shops for a second printing with an exclusive second printing cover by Rob Liefeld!

Major X marks Rob Liefeld's return to the X-Men, and buzz among critics and fans alike is high!

"Liefeld churns out some of his best work here, and if you're a fan of these classic characters, you'll find a lot to love." – Comicbook.com

"Serving as a fun throwback to Liefeld's days drawing Cable, Deadpool, and Wolverine this is a huge success. It offers a ton of action, a curious mystery, and a killer cliffhanger. It certainly accomplishes what it sets out to do." – AiPT!

"If you are looking for a trip down Memory Lane then I would certainly recommend picking this one up!" – Comic Crusaders

MAJOR X #1 debuted on April 3rd and has already gone back for a second printing…check out the exclusive second printing cover for MAJOR X #2!

MAJOR X #2
Written ROB LIEFELD
Art by BRENT PEEPLES
Cover by ROB LIEFELD & ROMULO FAJARDO JR.
Enjoyed this article? Share it!